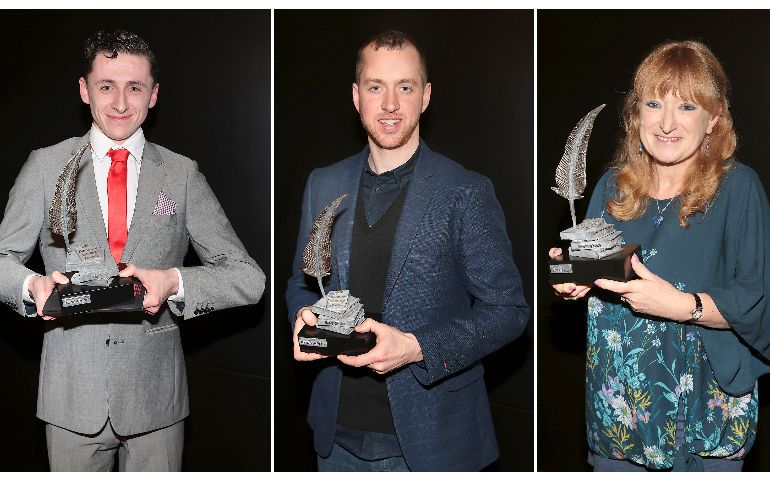 New Irish Writing Celebrated at 47th Annual Hennessy Literary Awards
Hennessy played host to a gathering of literary lovers last night in the historic surrounds of The Honourable Society of King's Inns Dublin to announce the winners of the 47th annual Hennessy Literary Awards.

Poets, politicians, novelists and short story tellers were on hand as Hennessy revealed Aaron Finnegan as the winner of the First Fiction category, Louise G. Cole for Emerging Poetry, and Manus Boyle Tobin for Emerging Fiction. From the three winners Manus Boyle Tobin was named the Hennessy New Irish Writer of the Year. The winners were chosen by esteemed authors Marina Carr, Niall Griffiths and The Irish Times New Irish Writing page editor, Ciaran Carty.
From Dublin, Manus Boyle Tobin holds a M.A. in Creative Writing from UCD. In addition to his winning story The Drizzle on the Windscreen being published in the Hennessy New Irish Writing page, his work has appeared in The Moth and The Poetry Bus magazines. His play Between the Dawns was staged in Smock Alley Theatre in 2017 as part of The Irish Playback. Speaking about his story Manus said: "This story was inspired by glimpses and snapshots of Dublin and its people. By the housing crisis, homelessness and isolation. By each preceding line that gave way to the next. By the taxi driver who had nowhere to return to when he finished his shift."
Roscommon based Louise G. Cole performs her poetry at the monthly Word Corner Café at the Dock in Carrick-on-Shannon, and with the Hermit Collective, a group of writers, artists and musicians who stage pop-up shows in the west of Ireland. Louise also writes fiction and was shortlisted for a Hennessy Literary Award in 2015. Speaking about her work Louise said: "I try to mix humour with the pathos of life's daily sadnesses: frail, elderly parents, humanity's innate cruelty, bigotry and intolerance, displacement, forgetfulness, environmental disasters."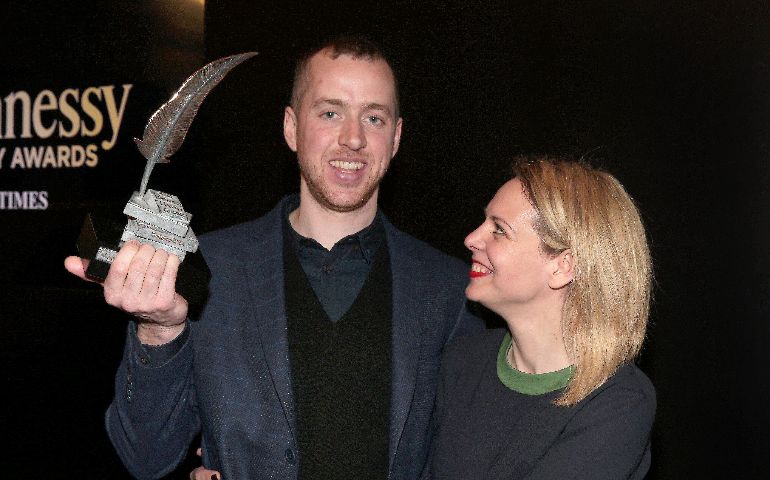 Aaron Finnegan from Louth is a twenty-year-old student in his second year of Drama and Theatre studies at Trinity College Dublin. He is a writer and director with a keen interest in literature and film and Just This is his first published work of fiction. Aaron commented: "The things that grip us in stories are the things we eventually end up writing about. For me, it's the details. It's the music you can find in language. It's the genuine need to connect. I tried to capture the sense that everything is bigger than us, and things always have a way of slipping by you."
Commenting on the awards, Elaine Cullen, Market Development Manager Moët Hennessy said: "Hennessy is intrinsically linked to the Irish way of life and has been a strong supporter of Irish culture for many years. The Hennessy Literary Awards is always a special evening where we get to honour some of Ireland's best new writers. We're proud to welcome Manus, Louise and Aaron into the Hennessy family of New Irish Writing."
Since 2003, the Hennessy Literary Awards has celebrated the success and achievements of established Irish writers and poets by inducting one eminent nominee each year into the Hennessy Literary Awards Hall of Fame. This year's inductee is celebrated novelist Bernard MacLaverty. Two of Bernard's early stories appeared in New Irish Writing. He published his first collection Secrets in 1977 and also received immediate critical acclaim for his 1980 debut novel Lamb, a tale of a teacher in a remote school for delinquent boys in the West of Ireland who absconds with one of his pupils hoping to give both of them a better life. Lamb became a film, starring Liam Neeson and Hugh O'Conor, as did his 1983 novel Cal, dealing with the Troubles, which starred Helen Mirren. His other novels include Grace Notes and The Anatomy Class and last year, after a gap of sixteen years, Midwinter Break was published, arguably his masterpiece, a daringly honest study of an elderly couple facing up to their past and what's left of their lives in the course of a weekend away together in Amsterdam.
Other literary luminaries who have been inducted into the Hennessy Literary Awards Hall of Fame include Vona Groarke, Joseph O'Connor, Deirdre Madden Patrick McCabe, Colum McCann, Frank McGuinness, Anne Enright, Neil Jordan, Sebastian Barry, John Boyne, and Paula Meehan.

The full shortlist of finalists for the Hennessy Literary Awards is:

First Fiction:
Aaron Finnegan from Louth for Just This
Maeve McGowan based in Cork for The Summer of Wasps
Samuel McManus based in Bray for The Dog in the Story
Pat Nolan based in Dublin Women and Other Anthropoids
Marty Thornton from Galway for The Mighty Quinn

Emerging Fiction:
Manus Boyle Tobin based in Dublin for The Drizzle on the Windscreen
Angela Finn based in Dublin for The Architect's House in Summer
Ellen Kelly based in Dublin for This Thing
Niall McArdle based in Dublin for The Light on the Water
Ruth McKee based in Dublin for There's nothing you can do that can't be done
Lani O'Hanlon based in Waterford for Undressing the Muse
Maeve O'Lynn based in Belfast for Inside

Emerging Poetry:
Louise G Cole based in Roscommon for Fur Coat and No Knickers and Dirty Little Dresses
Chris Connolly based in Dublin for Particulars of Bovine Husbandry and Old-age Sensibility
Eoin Devereux based in Limerick for The Bodhi Tree
Billy Fenton based in Kilkenny for Cracked Voices
Majella Kelly from Galway for Lichenology and Funeral
Aoife Lyall based in Scotland for Arcania and Hermit Crab

Join the story at #HennessyLitAwards

Follow Hennessy on Facebook www.facebook.com/hennessyCognacIreland / Twitter and Instagram @HennessyIRL