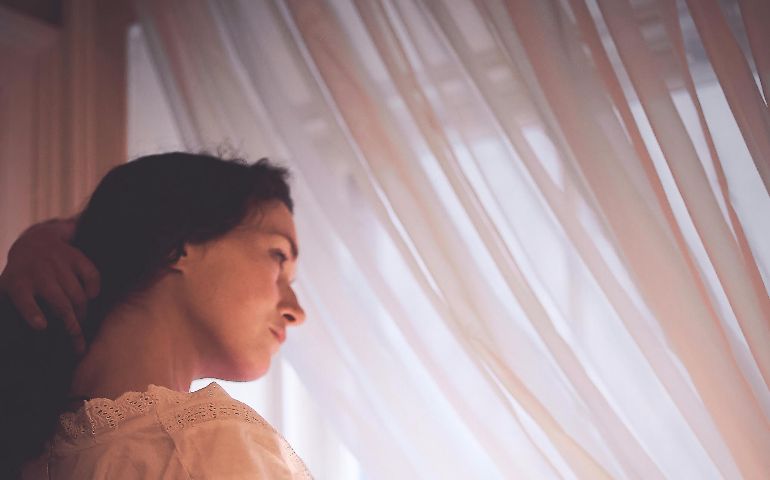 "Molly" stage production returns home to Galway
After a successful run in the Galway Theatre Festival and performances in Oslo and Inis Oírr, Tara Breathnach's one woman show, 'Molly' will return to Galway
for a limited run in the Town Hall Theatre from the 12th to the 14th October.
"Why can't you kiss a man without going and marrying him first?"
"Molly" is a provocative new stage adaptation of James Joyce's final soliloquy  in Ulysses that premiered at the Galway Theatre Festival. In  the middle of the night, Molly Bloom lies awake, plagued by insomnia, wind and her husband's snoring as she reflects on life's ups and downs. A caustic wit is matched with searing honesty in her night time musings.
Petal Pilley, the director, comments;
"The literary character that is Molly Bloom drew my attention sharply because she is not a remote feminine ideal but an immediate 'in your face' kind of woman who invites intimacy of both body and soul, sharing both generously."
Joyce based the character of Molly on his wife, Nora Barnacle who came from Galway. Their published  letters reveal an honesty and frankness that translated into the character of Molly Bloom. Molly's observations on relationships strike a chord with contemporary audiences and her unashamed sexuality is startlingly modern. It is refreshing in this age of bodyshaming to encounter a woman who is at one with her body and physicality.

This vibrant one-woman portrayal from IFTA nominated actress Tara Breathnach  reveals the real woman behind the caricature, earthy, witty, yet vulnerable and sensual.

"Molly" runs at the Town Hall Studio from October 12-14th nightly at 8.30pm. Tickets €15 and €12.
Bookings: Town Hall Theatre 091 569777 www.tht.ie

'Molly' is performed by Tara Breathnach ( A Nightingale Falling, Jack Taylor, Ros na Rún,) and directed by Petal Pilley ( Blue Teapot Theatre Company, Footsbarn). Adapted from Ulysses by Tara Breathnach and Petal Pilley. Lighting and Sound Design by Mike Byrne, Production Manager Judith Wolf. Supported by Galway City Council