Mocha Beans wins gold at Blas na hEireann Food Awards
It is hard to believe that Mocha Beans has been keeping the "West Awake" since 1997! In that time they estimate that they've have served over 9 million customers.
That amounts to a lot of caffeine for a small West of Ireland company. They opened their first store in Cross Street and currently have nine stores nationwide, with a tenth oming soon.
A small company like Mocha Beans faces many challenges from a coffee industry that embraces strong international brands. They understand that competition is inevitable but like to think that they can stand up and compete in this growing market. Winning a gold award at the Blas na hEireann Food Awards is just one marker of their continued success. The awards celebrate great Irish food and drink, and the passionate, driven producers who make it — and that's certainly Mocha Beans.
In honour of their win, they'd like to share the secret to their success: freshly roasted coffee, always. A lot of the competition claim to do so but Mocha Beans do not buy from the big roasters. Instead they like to roast from the raw green coffee bean to the cup. They broker green coffee beans from all over the globe, paying great attention to the conditions of the coffee farmers who need a fair price to keep producing. You can always feel good about the coffee you're drinking when you're drinking from Mocha Beans.
They have continuously perfected their unique blend which they serve daily in store. Mocha Beans will soon be roasting in their on 25 Lower Newcastle Road, Galway. Customers will be able to call in here and see the roasting at work! Their recent success in the Blas na hÉireann Irish Food Awards with a gold medal supports their efforts in providing the best in Irish, and this puts them in a great place going forward. They won a silver medal in 2014 so the gold makes their smile that little bit wider.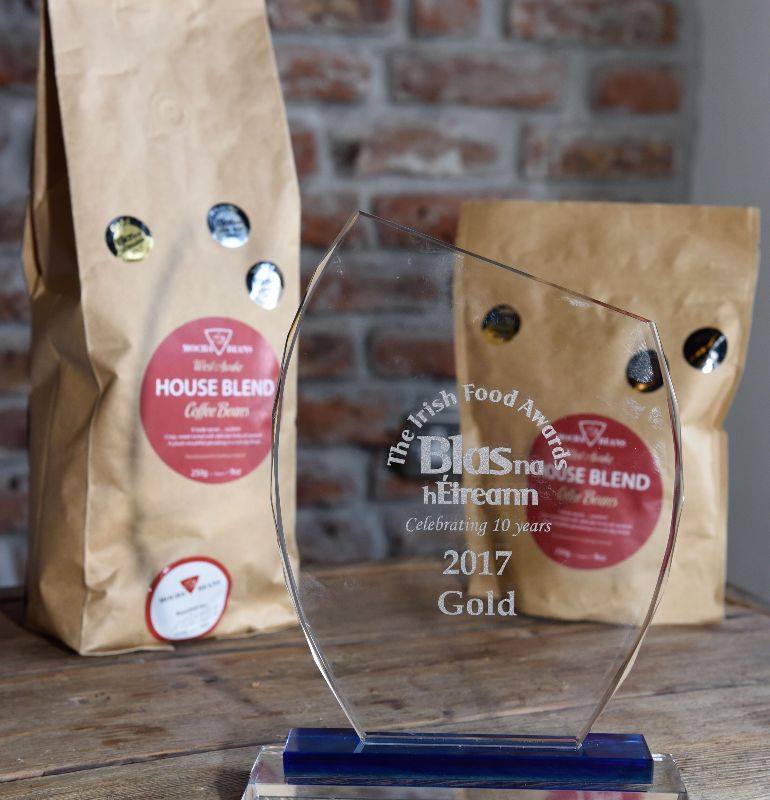 Call in to them of their stores to try their award-winning coffee; or keep an eye out for some other local businesses stocking their beans! If you are interested in serving Mocha Beans Blend or having some for your
home or office please contact them and they will cater to your needs.
Website: www.mochabeans.com
E-mail: info@mochabeans.com
Tel: 091-660333

Locations are as follows:

Soon to be open:
– 25 Lower Newcastle Road, Galway
– Liosban Business Park, Tuam Rd, Galway
– Forster Street, Galway
– Ceannt Station, Galway
– 2 Cross St, Galway
– Upper Salthill, Galway, (beside the church)
– Unit 5 Athenry Shopping Centre, Athenry, Co. Galway
– Westpoint Shopping Centre, Westport, Co. Mayo
– Pearse DART Station, North Platform, Westland Row, Dublin 2
– Pearse Street, Ballina, Co. Mayo