Life on the Rockshore: one weekend on a private island
We spent a weekend on a private island off the coast of Mayo with Rockshore Lager, and it was definitely one for the books. Sunrises, SUP-ing and Rockshore lager on Ireland's west coast… Perfection.
On my way to Westport to catch the boat, fear struck me. I was so excited to go "to the Rockshore" but as always I was running late.
When I got to Campbell's 15 minutes late I was full sure I'd missed the boat (literally) and missed out on a weekend on a private island, drinking Rockshore Lager all night (sounds like heaven, right?). When I got there and saw no bus parked outside, I panicked, and then when I walked into the pub and saw no one else there I panicked even more. Thankfully though, the barman told me the Rockshore crew weren't here yet, and a wave of relief washed over me. Everyone arrived 35 minutes later, and I now know my manager purposely lied to me, telling me to be there an hour before I had to as he knew I'd be late.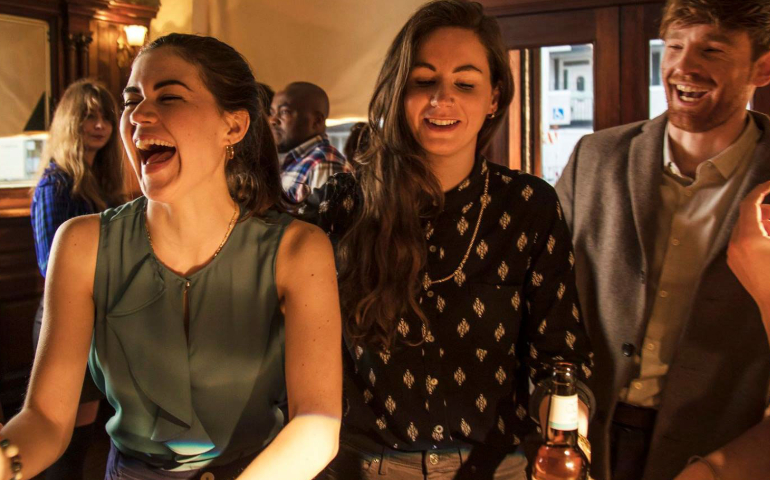 After a lovely lunch in Campbell's Famous Pub, we hopped on the bus, went to the pier, and the island was literally a stone's throw away. One 30 second boat ride later and I had made it to The Rockshore. After a quick snap of the cool welcome sign, we made our way up to the lodge. Up until this moment I knew what my dream home was, but I was wrong. My dream home is Collanmore Island Lodge! The garden blew me away, the outdoor handmade wooden bar/lounge, the upcycled pallet furniture, the hammock circle, not to mention the breathtaking view of Clew Bay.
When I finally made my way inside, I could not believe it. There was a second, even cooler bar, with adjoining hot tub; I swear I would take this place over any 5 star hotel! But these amenities had to wait as we would first be going for a boat tour of the bay.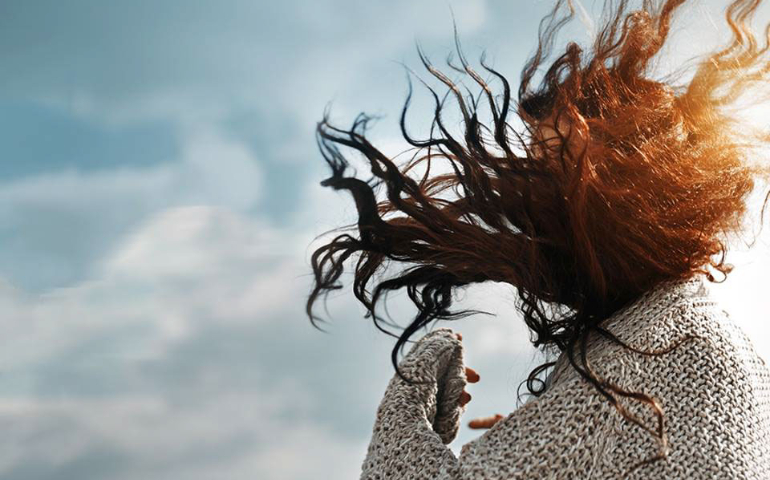 Cruising through the bay, Ciaran (who owns the lodge, very sound guy) told us of the history of some of the islands. Interesting facts which could be used for pub quiz knowledge, there are 365 islands in Clew bay, and John Lennon used to own one of them. Then stopped off on an island which has one of the coolest little lighthouses you'll ever see. On the way back we went seal watching (I saw sooo many seals).
When we got back to Collanmore, Rockshore had a surprise waiting for us in the form of George Kosinski and Kris Goodbody (Yes, that's his real name). The guys own Big Style Atlantic Lodge, a nearby hostel/watersports & adventure company, and took us "SUPing" (means stand up paddleboarding, I didn't know either). Even though I had the grace of a new born foal, it was insanely fun and I will most certainly will be heading to the Big Style Atlantic lodge soon to do that again.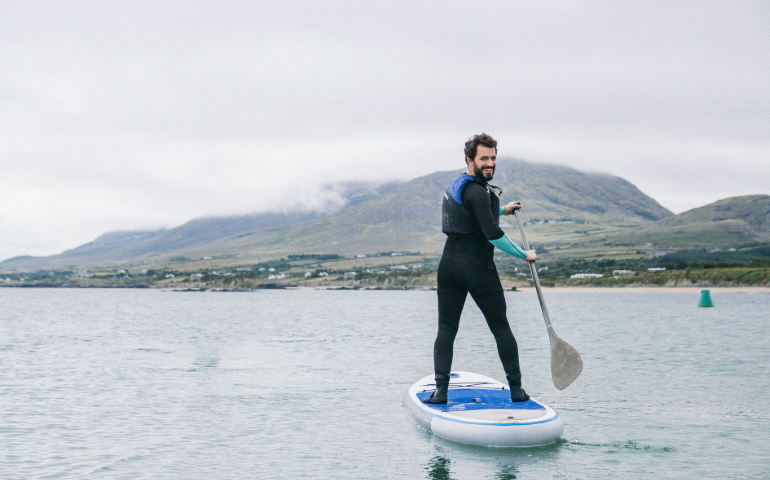 Photo via BigStyle
So after our tough days work, we rewarded ourselves at dinner with a few ice cold Rockshore lagers. As sunset approached, we filled some buckets (yes I said buckets) with Rockshore for a small hike up the hill to see it. Half way up I realised just how unfit I was, but my strenuous effort of what most people found to be a leisurely walk was worth it. Watching the sunset over Clew Bay is something everyone has to experience at least once in their life.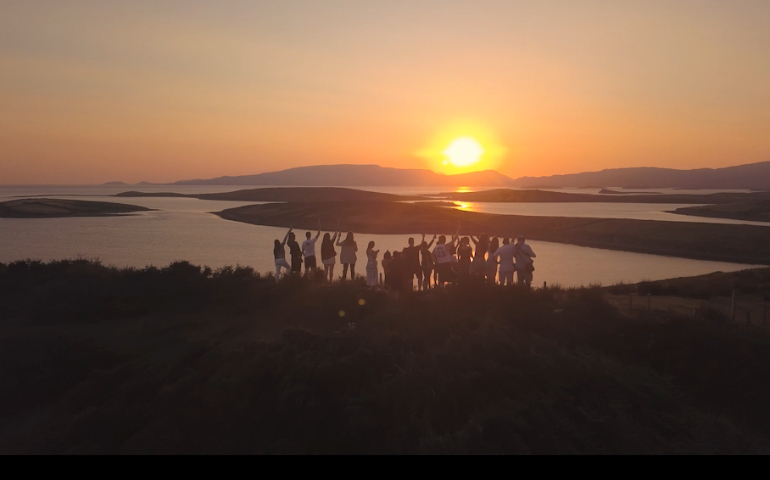 The rest of the night we ensured to take advantage of all the delicious Rockshore lager on tap in the bar. I discovered that I cannot pull a pint to save my life, and I have a new found respect for all bartenders. At 1:30 those of us still drinking in the garden (it was so warm and the view of the bay is just as beautiful under moonlight) decided to go to bed and get up to watch the sunrise at 5:15, because something that beautiful shouldn't be missed.
So I set my alarm for 4:55, and went to sleep. The sunrise was absolutely spectacular! Is what I was told at 9AM when I finally got up. We then spent the morning kayaking with Ciaran, and after lunch it was time to leave. I felt like a child at camp who didn't want to leave. 24 hours just wasn't enough.
One lucky person, however, is going to win 3 full days on Collanmore Island Lodge with 11 of their friends. To win, all you have to do is go to totherockshore.com and enter you details, I wish you all the best of luck.
Featured image via Collanmore Island Lodge