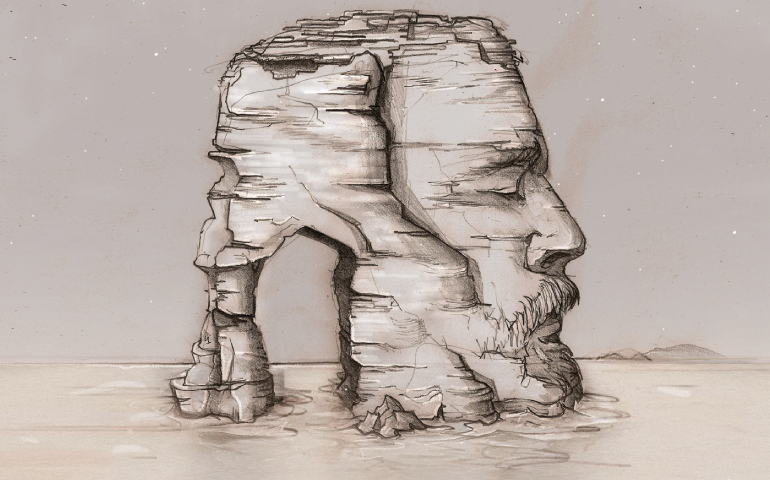 Island Conversations: The Inishbofin festival that is a cut above the rest
"There are two things in life that can kill you. An electric chair and an armchair." So says Seanie Barron, a charismatic larger-than-life character and wood sculptor at this year's outstanding Inish: Island Conversations Festival out on Inishbofin, a festival so inspiring and uplifting I have sun-blushed crow's feet and mouth marks engraved on my face from smiling.
Perhaps it was the weather, the welcomed sunshine that made this the best festival I have attended in my life so far. Perhaps it was the unique format of literature, poetry, film, music, documentaries, discussions, conversations, walks and exhibitions. Or perhaps it was the wide-eyed enthusiastic full-of-beans crowd that came from all over to spend four intimate days on a small island of the coast of Galway. If any of this tickles your fancy, I suggest penning in this rare gem of a festival into your diaries for next year and take a weeks break, or two, as I did and soak all you can of Insihbofin into your beautiful selves.
This is the second year of the festival, organised by film-maker and musician Peadar King whose vision and tireless work along with Deirdre Ní Chonghaile and a collection of non-stop hard working volunteers have made this a special place to visit in June, bringing some of the best artists and musicians to a small island community.
If I were to say to you now, are you ready, let's go, we are heading to an island festival where the main venue is a community hall that usually has a basketball court, you would think I was mad and tell me to feck off. But, this is the case. It holds a few hundred people, yet the hall is surrounded with specialised drapes (where also hung the gorgeous art pieces of Dolores Lyne) that hold sound, creating beautiful acoustics. I asked many of the musicians afterwards that played up on the stage what it was like to perform up there and all were blown away by the sound, by the audience silence and full attention.
All this comes down to Peadar King being a musician and bringing in the best sound equipment to create a venue like no other. The closest I can think of is the Other Voices venue in Dingle. In such a place like this, seated, surrounded by fellow music lovers, some with closed eyes, some lightly tapping knees, all are here to feel the music rattle their bones, it is an experience I shall not forget.
So what happened here? Why should people venture out to a tiny island next year to a small festival when the country is awash with literature and music festivals? Simple. Uniqueness.
In quick succession I will ramble of some of the entertainment and shenanigans that went on over the course of four days. Let's start with the assortment of delicious music. Imagine, onstage together playing an acoustic session Steve Wall, Jack L, Larry Beau and Doug Paisley (whom also played a hypnotic solo set on the Saturday). Imagine Maírtín O' Connor, Garry O' Briain, Cathal Hayden and The brilliant Contempo String Quartet playing together on the same stage in a venue that captures each note and shoves it down your throat to pound your heart.
Imagine the perfect draw-dropping harmonies of The Whileways or Elisa Rodrigues, or the piano playing of virtuoso Martin Tingvall and my favourite find of the festival, Poppy Ackroyd and her acoustic piano session that had me hover away over the island. A lot of these musicians are new to me as I am sure to you too. Look them up. This is why I loved this festival. Peadar has exquisite music taste and he wants each of us to leave with a new voice, slipped into our pockets.
With this selection of writers and actors here, I nearly had a literature overdose. Stunning readings from Kevin Barry, Theo Dorgan, Bernard O' Donoghue, Andrew McNeillie, Claire Kilroy, Edna Longley, Michael Longley and the up-and-coming savage Alan McMonagle. And to top it all we had a reading and interview with the down-to-earth acclaimed actor Olwen Fouéré whom performed a piece from her one woman show Riverrun, this was mind-blowing.
And luckily enough throughout the festival there was James Harold and Vincent Woods on hand to keep us amused and intrigued through interviews with many of the artists. If that wasn't enough, up in the exhibition room we were treated to an engaging intimate Interactive talk with world renowned English artist Norman Ackroyd, teaching us all about etching and how he creates his seascape astonishing pieces of art.
Here's one name I want you to look up. Seanie Barron. Again, this is why I love the outrageous uniqueness of this festival, when, in a packed hall you are introduced to a man who 'makes sticks' or more to the point, carves and shapes wood from foraged pieces of branches or roots from many types of trees to create walking sticks, you are instantly in love with this character and want to hear, more often, hilarious stories and wisdom about his understanding of nature and the environment around him.
Again, more important homework. I beg you to check out three films. The first two "A Turning Tide In The Life Of Man" Directed by Loïc Jourdain and "Atlantic" From the director of "The Pipe", Risteárd Ó Domhnaill. Both are about the state of the fishing industry in Ireland and worldwide. Two completely different movies that will leave you punching walls with anger and so well informed, it will change the way you eat fish and show you how our government treats its own people.
The third, Deargdhúil: Anatomy of Passion, directed by Paula Kehoe and featuring performance artist Maureen Fleming, beautifully introduces us to the life and poetry of renowned Irish poet Máire Mhac an tSaoi. This powerful film capturing time and history was so well edited, directed and produced it drew a bunch of emotions from myself, simply blowing away.
As well as some crazy hilarious theatrical shows around the island called "Close to the Bone" by The Skeleton Crew', an island walk on the Sunday with archaeologist Erin Gibbons and local historian Tomas Burke, a delicious hog roast all within the surroundings of foam-washed shorelines, grey-wall-stitched hills, old forts, blue skies and wonderful people, sure where else would you want to be.
As I said, I've never been to a festival like it. I'm already counting down the clock till next year. This is no big commercialised money grabbing phone in the air shitetalk festival. It a place of community, of love for music, literature and the arts, it evades pretention and pretentious artists where we are all one on a small island with nowhere to go but to come together and enjoy each other's company; local, visitor, artist, musician it does not matter in the end who you are as long as you enjoy your time and hopefully come away with new interests and friends, no better place, no better people.
Article by: Stephen Byrne