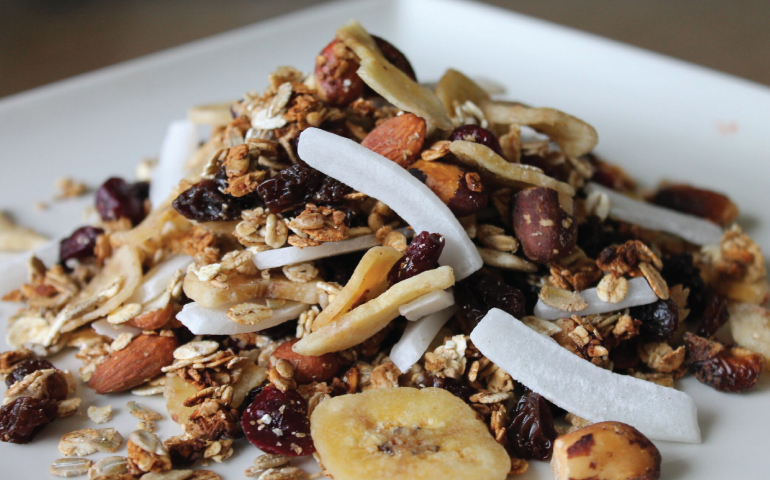 Homemade Super Granola
Homemade Super Granola – The reason I am doing this recipe today is I ran out of my Granola. There is something that I like to do two times a year, and that is in conjunction with the Holland & Barret penny sale that comes around every so often, and that is to go in and spend around 20 euros buying ingredients for Granola (today cost (17.49). I always recommend to friends and colleagues to do the same because with this sale, you really can pick up great deals and make a bucket load of Granola that will last you for months. I love to make this recipe, it is packed full of nutrition, protein and energy and a great way to start your day, especially if you like to keep fit or work long days (or sick of porridge), the goodness just keeps rolling from it. And best thing is, you control what you put in, it is not store bought and takes about 10-15 minutes to make. Buy some air-tight containers from the Euro store and keep in a dry place. Add low-fat or full-fat Greek yogurt, cinnamon and blueberries and I love to add hazelnut, coconut or almond milk to mine. You can take out any ingredients here that do not tickle your fancy, but keep the main grains.  Make your list and off with ye shopping.
D. F. V.
Ingredients
Part 1
– 1 bag rolled oats
– 1 small bag rye oats
– 1 small bag barley flakes
– 1 small pkt whole unsalted cashew nuts
– 1 small pkt whole almonds
– 1 small pkt brazil nuts
– 1 small pkt of sunflower seeds
Part 2
– 200g maple syrup (optional)
– 200g honey
– 1 large Table spoon of cinnamon
Part 3
– 1 small pkt golden raisins
– 1 small pkt dried cranberries
– 1 small pkt banana chips
– 1 small pkt coconut strips
Method
1.) Preheat oven to 180c. Add all of part one in a large bowl, mix well with your hands or wooden spoon. With part two, just lightly melt together in a sauce pan. If you are training and like adding whey powder to your foods, add some into the mix, taking of the heat and adding around a scoop. I also love maple syrup and if you do too, be sure to add some in here.
2.) Mix in the melted syrup with part one, mix well with a spoon. Place on a large baking tray, spread well. With such a big mix you may need a couple of trays. Bake at 180c for 15 minutes, give a little stir half way through, and get a nice brown on the ingredients.
3.) Take out and let cool. Add part 3. Mix well. And that is it, simple and enough Granola to feed an army. Place it in air-tight containers and store. Eat and enjoy the benefits of your own delicious Granola.
And don't forget, if you manage to make it look pretty, take a snap and share it on the This is Galway Facebook or Instagram page.
---
Sources: I bought everything in Holland & Barret but if there is a local health store you prefer by all means use it. Make in bulk. It will work out much cheaper in the long run and better made by your own hands.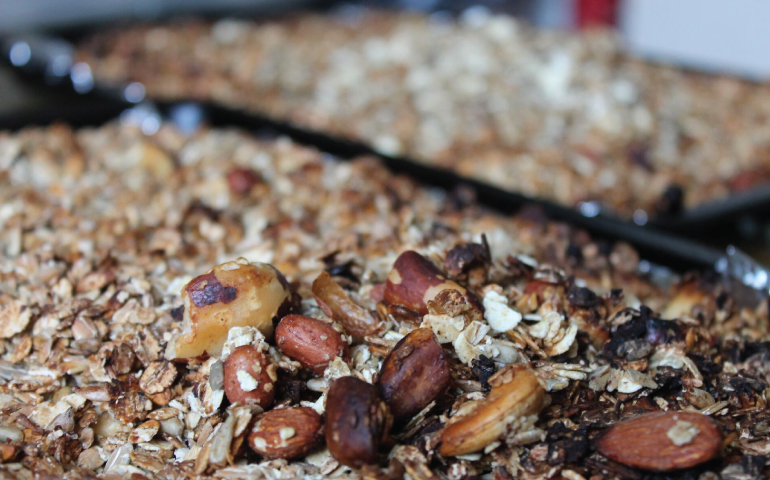 About the Chef
You wouldn't know by looking at him, but Stephen Byrne likes to eat, a lot. He has cheffed worldwide; Canada, Australia, San Francisco, Dublin and now resides in Galway. Not afraid of the unhealthy appetite, he has a keen interest in simple whole foods, a love for Asian flavours and an awful sweet tooth. With years of experience, he will create weekly recipes of meals he devours regularly, and hopefully inspire people to cook at home and embark on a healthier lifestyle.
He writes on his site: http://therantingbeast.com/