Homemade Protein Packed Fudge
I remember early in my career the joy of making fudge and the skill and process involved. Well, it's not so much the skill but the timing and getting the heat and cooking temperature spot on. It's great fun to make but the ingredients involved I rarely use these days in my cooking; sugar, milk/condensed milk, butter and so on, but I wanted fudge, healthy tasty fudge that takes NO cooking at all and I think I have created just that. This is delicious, flavoursome, soft and a handy snack. And I included protein powder (using pea protein powder keeping it vegan) so I can munch before and after training. This is the simplest recipe yet, seriously fecking simple. You can add any flavours you like, fruity or alcohol, the list is endless just stick to the same process. These make a brilliant snack if you train a lot and work beautifully for breakfast and lunch… ahh for anytime. Give this a bash.
VE. GF
Ingredients
– 60g pea protein powder (or powder of choice)
– 140g nut butter (your choice, peanut, cashew, almond etc)
– 50g maple syrup or honey
– 10g coconut flour
– 20g dried fruit of choice (I used dates and apricots)
– 1 teaspoon Neal's Yard Sweet Mixed Spices or cinnamon or nutmeg.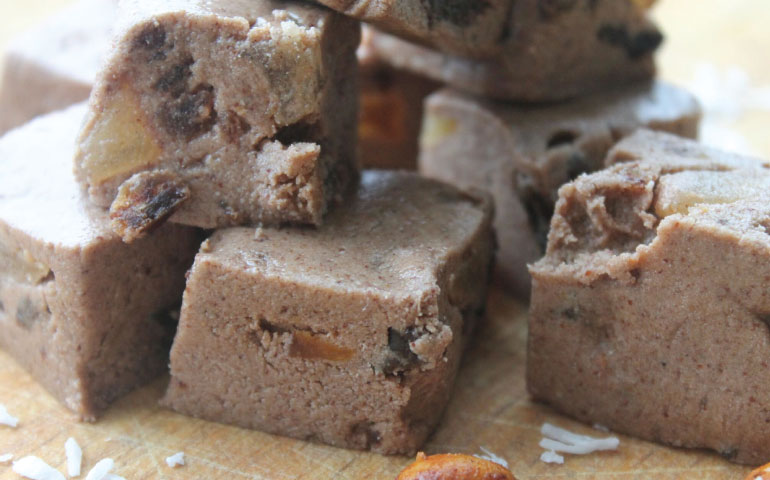 Method
1.) Chop up the dried fruit into small pieces.
2.) Place all ingredients in a bowl and mix well with a spatula or wooden spoon.
3.) Place the mix in to a deep non stick tray or earthenware dish with a piece of parchment paper on the bottom.
4.) Leave in the fridge overnight. Take out and cut in to small bite size squares.
And don't forget, if you manage to make it look pretty, take a snap and share it on the This is Galway Instagram or Facebook page.
Sources: Spices and protein powder from Holland and Barrett, dried fruit and coconut flour from Evergreen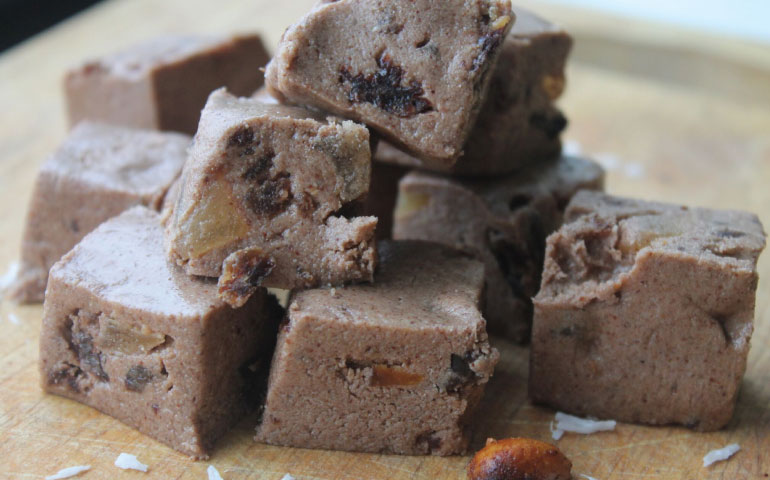 About the Chef
You wouldn't know by looking at him, but Stephen Byrne likes to eat, a lot. He has cheffed worldwide; Canada, Australia, San Francisco, Dublin and now resides in Galway. Not afraid of the unhealthy appetite, he has a keen interest in simple whole foods, a love for Asian flavours and an awful sweet tooth. With years of experience, he will create weekly recipes of meals he devours regularly, and hopefully inspire people to cook at home and embark on a healthier lifestyle.
He writes on his site: therantingbeast.com