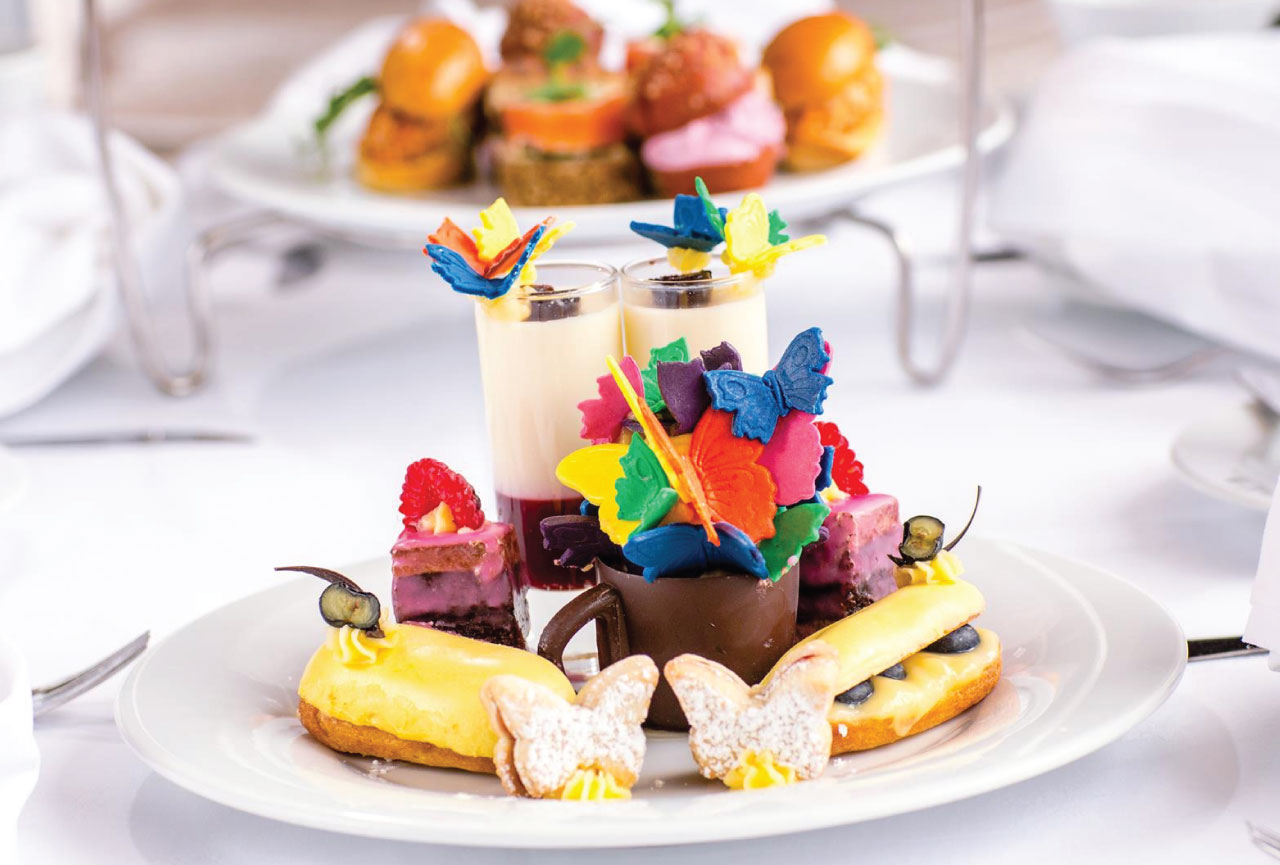 Hats off to new Afternoon Tea at the g Hotel
Long recognised as the best Afternoon Tea in Galway, the g Hotel has just introduced a new millinery inspired edition celebrating their design director and haute couture milliner Philip Treacy.
For over 25 years Galweigan Philip Treacy has designed many ground-breaking head pieces that delight and often astonish with their beauty and imagination. Described as creating 'works of art that live timelessly in fashion history' by Vanity Fair, some of Treacy's most iconic creations have now inspired a new Millinery Afternoon Tea series at the g.
Head Pastry Chef and skilled Chocolatier Kristin Jahnke has selected a stunning butterfly head piece once showcased by Naomi Campbell as the muse for her first edition. The piece was beautifully photographed on the runway by David Chapelle its vibrant brilliance looking as though a cloud of butterflies floated around the stunning Naomi Campbell. The drama and colour of this Philip Treacy creation made it an obvious choice for the new Millinery Afternoon Tea but it is additionally relevant as a photo of Naomi Campbell already hangs in the g Hotel as she modelled in Philip Treacy's first ever runway show. The photo of Naomi is one of a number of special touches and intricate details that milliner Philip Treacy introduced to the g Hotel as design director.
To experience his vision first hand, escape to the stylish surroundings of the stunning Signature Lounges at the g where you can indulge in an exquisitely presented Millinery Afternoon Tea at €46.00 for two guests sharing. Tantalise your taste buds with a selection of savoury sandwiches with freshly based scones and local preserve accompanied by the delicious hand crafted sweet delicacies served with your choice of freshly brewed coffee or loose tea selection.
MILLINERY AFTERNOON TEA MENU
Freshly Baked Scones
Served with Preserve & Clotted Cream
Savoury Selection
Brie and Roasted Red Pepper Mousse, Spinach, Walnut Nut Muffin
Croque Monsieur, Dijon Baked Ham, Smoked Gruyere, Béchamel, Tramezzini Bread
Roast Striploin of Beef, Roasted Beetroot, Rocket, Parsley Pesto, Rosemary Flat Bread
Atlantic Crab, Maire Rose, Cucumber, Apple, Mustard Cress, Soda Bread
Assortment of Sweet Treats
Black Forrest Terrine, Black Cherry Jelly, Vanilla Kirsch Panna Cotta, Chocolate Decor, Amarena Cherry
Opera Cake Petit Four, Chocolate Sponge, Chocolate Buttercream, Raspberry
Éclair, Lemon Curd, Fresh Blueberries, Chocolate Décor
Tiramisu Chocolate Cup, Mascarpone Cream, Coffee
Butterfly Biscuit, Sweet Pastry, Strawberry Jam

Enhance your Afternoon Tea with a glass of prosecco each in addition to the full Afternoon Tea menu listed above. The enhanced option is €59 for two people sharing.
Afternoon Tea is served at the g Hotel every day from 12pm to 6pm. On Saturday, Sundays and Bank Holidays there are two sittings at 1.30pm and 4.00pm. The Millinery Afternoon Tea will be served until 22nd November and will return again after the festive season on 8th January. To make a booking at the g Hotel call the team on 091 865200 or email eat@theg.ie.