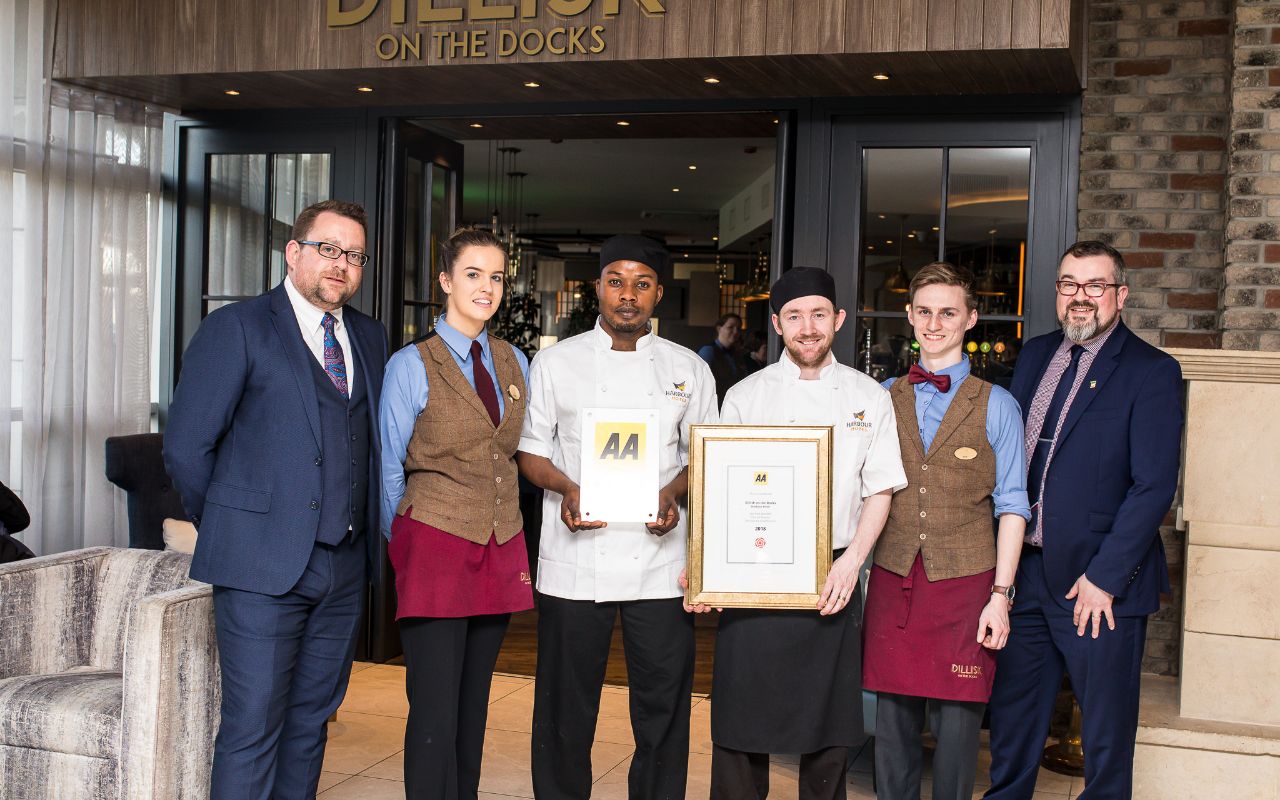 Galway Restaurant awarded AA Rosette and AA4 Star status in the same week
Dillisk on the Docks are celebrating their first birthday this week and what better birthday present than being awarded their first AA Rosette for its culinary excellence.
The excitement didn't stop there as Harbour Hotel Galway, where Dillisk on the Docks is located received four-star status.
One of the most prestigious awards in the industry, the rosettes are given for quality of cooking. AA Rosette Awards are assessed as part of unannounced inspections and are a hugely respected accolade in the industry. These Rosettes are awarded to restaurants serving food prepared with care, understanding and skill, using good quality ingredients. These restaurants will be achieving standards that standout in their local area.
Dillisk on the Docks opened its door one year ago and the innovative cooking based on mouth-watering flavours, local seasonal supplies and fresh artisan ingredients by head Chef Patrick Anslow has been contributed to the winning formula of the kitchen. Dillisk on the Docks is based in Harbour Hotel, Galway situated on the docklands of Galway only minutes' walk from Galway's city centre.
Stephen O Connor, General Manager says:
"We are absolutely thrilled with the AA Rosette. The main ethos behind Dillisk on The Docks isauthenticity, local, delicious and remarkable food and thankfully this has proved successful. We aim to consistently provide our customers with impeccable service by demonstrating authenticity and warmth with knowledge, professionalism and integrity in our work.A huge thanks to all the team that worked in Dillisk on the Docks since its inception a year ago. The Rosette is for them because of them!"
He added: "We are especially proud that within the same week Harbour Hotel received an AA 4 Star Status, this is in addition to its Failte Ireland 4 Star grading. This is down to the determination, dedication and professionalism of all the staff and again we are delighted with this extremely fantastic news!"

AA Inspectors were impressed by the range of dishes served in the Dillisk on The Docks which is overseen by Harbour Hotel Head Chef, Patrick Anslow who leads a team including Gary Meehan, Sous Chef.
Harbour Hotel having recently renovated and upgraded their bedrooms is owned by Galway couple Marie and John Lally and forms part of the hotel group MHL Hotel Collection owned by John Malone, John Lally and Paul Higgins including newly branded The Galmont Hotel and Spa, Glenlo Abbey Hotel, The Strand Hotel Limerick, The intercontinental Dublin, The Westin Dublin, Hilton Hotel Charlemont, Trinity Hotel and of course Harbour Hotel. Many of the team at Harbour Hotel are from the West of Ireland, others have been captivated by the charm of life in Galway City and have decided to call it home. All share a passion for the culture, spirit and beauty of Galway and enjoy sharing the best of their local knowledge with visitors to the area.

This commonality instils a sense of community within the team at Harbour Hotel, they take great pleasure in working together to create a friendly, inviting atmosphere where guests feel comfortable and well taken care of. When you stay at the newly awarded 4 Star Harbour Hotel in Galway city you can expect excellent service from people who enjoy what they are doing and want to help you to make the most out of your stay.
New Dock Road, Galway
(091) 894 800
Facebook @dilliskonthedocks
Twitter @Dilliskotdocks
Instagram @Dilliskonthedocks