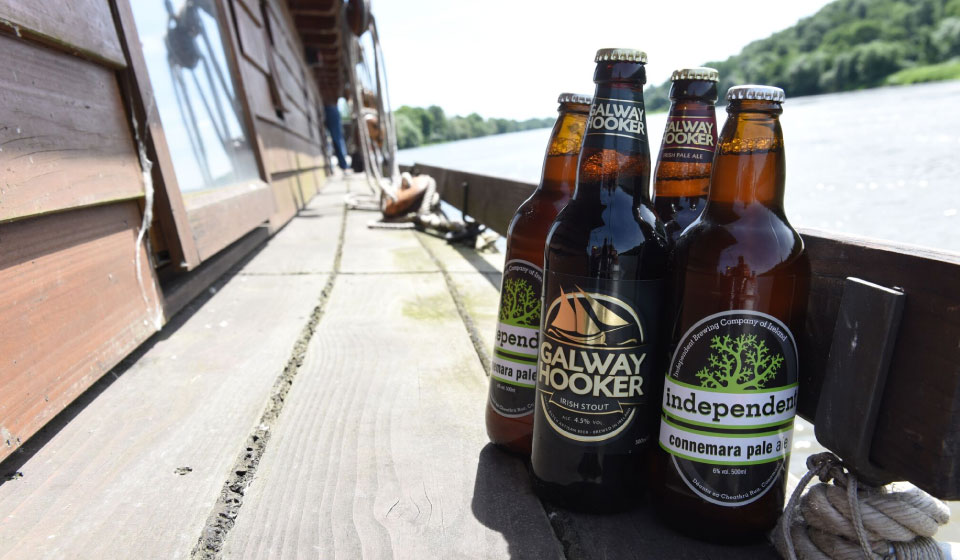 Galway Indie Beer Week
From the 23rd June to 2nd July, breweries across Ireland will be opening their doors and inviting their local communities to join them for Indie Beer Week, a celebration of independent Irish beer making.
"Nearly every county and community in Ireland now has an independent brewery in its midst", said Aidan Murphy, founder of Galway Hooker Brewery, "Indie Beer Week is an opportunity for people to discover the great beer being made all around them, and we are delighted to be able to join in and bring the celebrations to Galway. This is what Indie Beer Week is all about – the simple pleasure of enjoying a well-made local beer with your friends and neighbours."
In Galway, Galway Hooker Brewery and Independent Brewing are both participating in Indie Beer Week. A series of brewery open days and tours is planned.
Galway Hooker is planning a Brewery Tour and Tasting evening on Friday 23 June. On Tuesday 27 June they will host Ireland's first Beer Yoga event with Sinead McKiernan from Love Yoga – Meditation and Beer – the perfect combination. Details for both events can be found on the "Galway Hooker Beer" Facebook page.
Out west in Carraroe, Independent Brewing is promising boats, bbq and beer. They will be throwing open the doors on Saturday the 24th June from 2pm. Indie Beer Week coincides with the annual Féile an Dóilín event in Carraroe and Independent Brewing will be running a brewing demonstration along with beer tastings and a barbecue by Irish Charcoal. A shuttle bus will run from the brewery down to the local beach where the main Féile an Dóilín events will be happening.

Besides making great beer, local breweries often act as a hub and catalyst for other local activities. "This is something we really want to shine a light on with Indie Beer Week" said Kev O'Hara from Independent, "that small breweries can act as a cultural and economic catalyst in a region. We want to show our commitment to our local communities and say thanks for the way they have embraced us".

In the spirit of cooperation Galway Hooker and Independent will be running a joint brewery tour and food pairing experience day trip on Saturday the 1st July with Sheena Dignam of Galway Food Tours. Full details of this event is available on the Galway Food Tours Facebook page.

Indie Beer Week kicks off on June 23rd and runs until July 2nd 2017. The initiative is cofunded by the participating breweries and the Local Enterprise Office. For a full calendar of events, please go to www.indiebeerweek.ie