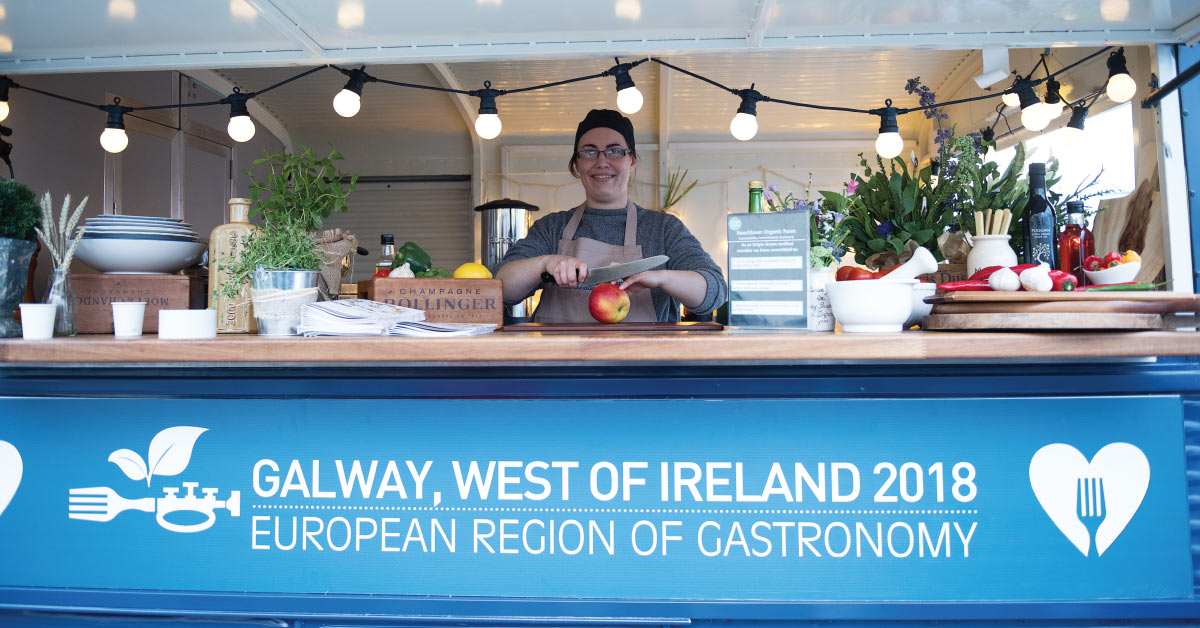 Galway Gastronomy Food Van Heads to the Galway Races
The organisers of The Galway Races are delighted to announce that the Summer Festival is hosting special features and exciting activities to mark the illustrious designation of Galway, West of Ireland as a European Region of Gastronomy (ERoG) this year — including a pop-up by one of County Galway's top gastropubs and showcases of local oysters.
The eye-catching Gastronomy Van will take up residence in the racecourse's Mayor's Garden during all of Race Week, highlighting the best of Galway's vibrant food sector, culture and heritage.
Michael Moloney, General Manager at Galway Races, commented, "It's great to have the Galway ERoG van here with us Race Week. Galway is now renowned as a food destination, so what better place to showcase our food than Ireland's largest race meeting, the Galway Races Summer Festival."
The evening race meeting on Monday the 30th of July will host a pop-up by the acclaimed gastropub Brownes of Tuam. Esteemed food writers John and Sally McKenna selected this local-ingredient restaurant — an old pub and grocery store, now run by Amanda Fahy and Stevie Lane — as one of their hottest dining spots in Galway and the West for 2018.
The Tuesday evening meeting will welcome two innovative local drinks and food producers — Juicy Lucy cold-pressed fruit and vegetable juices and Healthy Treats Kitchen natural snacks' range — whose cutting-edge products racegoers will get the opportunity to sample and chat about.
The region's wealth of first-class oyster producers will also be showcased, including Kelly Oysters at Wednesday's evening meeting, Maree Oysters on Thursday's Ladies' Day, and Dooncastle Oysters at both Friday's evening meeting and Saturday's daytime meeting.
The closing daytime meeting on Sunday the 5th of August is Family Day when the Galway, West of Ireland ERoG activities will have a healthy options theme that will see the vibrancy and quality of the region's local vegetable produce being showcased, with Green Earth Organics presenting its freshly made, healthy fruit and vegetable smoothies.
Racegoers should stay tuned to social media throughout Race Week when live Twitter competitions to celebrate Galway, West of Ireland ERoG will take place every hour with the opportunity to win special spot prizes including platters of oysters and more.
For more information about Galway, West of Ireland 2018 ERoG, see the official website www.galwaygastronomy.ie and follow @gastronomy2018 on social media.
The Galway Races are taking place from Monday the 30th of July until Sunday the 5th of August. For more information and to purchase tickets in advance, see the website www.galwayraces.com.