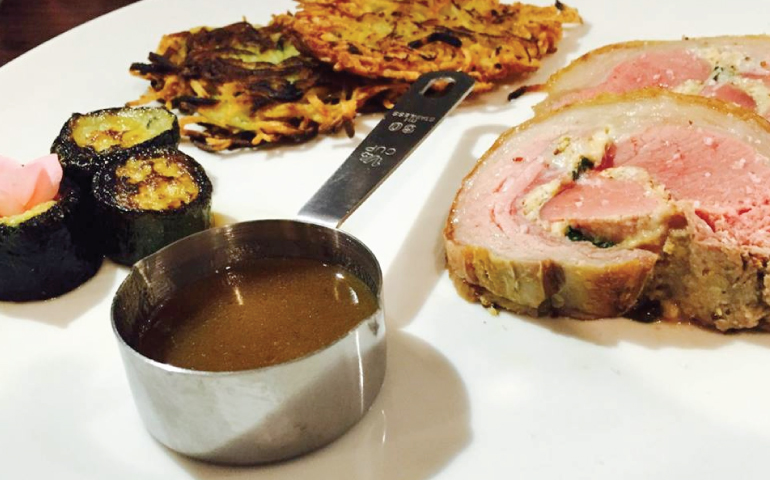 French Flair off Eyre Square
French Flair off Eyre Square – There's a lot of good things a happening around this side of town….  We have "Loam" a recently Michelin Star restaurant, cool coffee shops: "Badger & Dodo" and the "Jungle Cafe", "Tribeton"- opening soon in the old Meadows & Byrne building,  its exciting and wonderful to see.
Le Petit Pois is also one of those new exciting places; you might recall this used to be a well known restaurant, dating back 15 years " The Arch Way Restaurant".
Set on Victoria Place the warm cozy seating area outside entices you in; heading up a short flight of stairs the room opens up to an atmospheric space; exposed white walls, colorful light fixtures and cartoonistic pictures (drawn by the owner's best friend) , really make this a spacious, bright and cheerful room.
The owners Michelle and Phillipe, both originally from Paris and worked in IT. They both had the same 2 dreams : The first, open a restaurant and the second move to Ireland. So for 15 years they spent every summer holiday with their 4 children in Ireland. They finally made the move over a year ago and in July of this year they opened Le Petit Pois.
Michelle, spends most of her time in her kitchen, she has always had a passion for cooking and would always be creating original dishes for her family back home.  She changes the menu every fortnight, making traditional and delicious French dishes.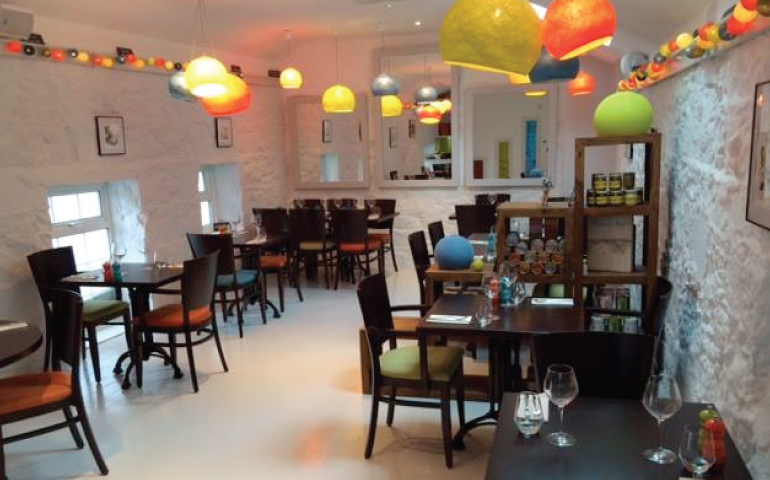 Phillipe is as equally passionate about his wines as Michelle is about her food. He has a terrific list of wines that are nowhere to be found in Galway or Ireland as he imports all his own. For a wine lush like me this is terrific and exciting, he explains the producers  as I sample different grape varieties and blends, bringing this wine  experience to life….. especially after the second bottle. 🙂
The last time I was in the "Escargots de Bourgogne" caught my eye. They were served  in beautiful  garlic and shallot butter, they are a timeless classic but hard to find in Galway…. those little buggers are so good! 9€
This was  followed by another traditional soft and rich  "Blanquette de veau"; this recipe dating back to the 17th century is a staple in French cuisine.The veal slow cooked and slightly caramelised was very tender simmering in a luscious cream and butter sauce sharpened by the tastes of onion, carrot, mushroom  and tarragon. 21€
After half an hour of sipping on my wine and having chats with the very pleasant and attentive staff. I was finally ready for dessert.
I went for  a delicious mi cuit chocolat cake with a marmalade center. The bitter dark chocolate was a terrific combination with the slightly bitter and liquid marmalade bite in the center. 8€
I recommend if you want to try a different glass of wine with each course that you opt for the menu that includes 2 Courses and 2 glasses of wine 37€ or 3 courses and 3 glasses of wine for 48€
I have yet to make it in for lunch but I hear they also have a great lunch offer with a choice of a Soup, Salad, Pie, Dessert any 2 for 13€.
For me Le Petit Pois has nailed it! Offering traditional french cooking , good wine and terrific atmosphere! Que demander de plus!
By Sheena Dignam for This is Galway