Frank Corry collaborates with Michelin-starred Loam on one of a kind art project
Sought after artist Frank Corry has delved into the world of food and fine dining for his latest project. He's joined forces with Galway's Michelin-starred Loam restaurant and its artisan suppliers to create a unique series of art works, named the 'Loam Atoms'.
Corry has spentthe summer and autumn months collecting sample materials from the restaurant and the local suppliers it collaborates with; Leaf & Root Farm (Loughrea, Co. Galway), Castlemine Farm (Roscommon, Co. Roscommon), Gubbeen Farm (Schull, Co. Cork), America Village Apothecary (Baile Mheiriceá, Co. Galway), Burren Flower Farm (Boston Tubber, Co. Clare), Ballyhoura Mountain Mushrooms (Ballyhoura Mountains, Co. Cork), Gannet Fishmongers (Galway), Velvet Cloud Irish Sheep's Milk (Claremorris, Co. Mayo), Galway Goat Farm (Dunmore, Co. Galway), Gourmet Game (Scariff, Co. Clare) and Ulli Rost (forager in Gort, Co. Galway).
These raw materials (including preserved and foraged ingredients from the restaurant, smoked wood and charred tar from inside Fingal Ferguson's Gubbeen smoker and mammoth tooth from his knife-making workshop) have been painstakingly processed (ground, grated, pounded, dried, blended, sieved and separated) by Corry in his Co. Wicklow studio, to create an array of pigments from which he'll
produce the 6 to 8 pieces that form the 'Loam Atoms' series. Every material used has been photographed and documented along with accompanying text, detailing the location and the date it was harvested/collected.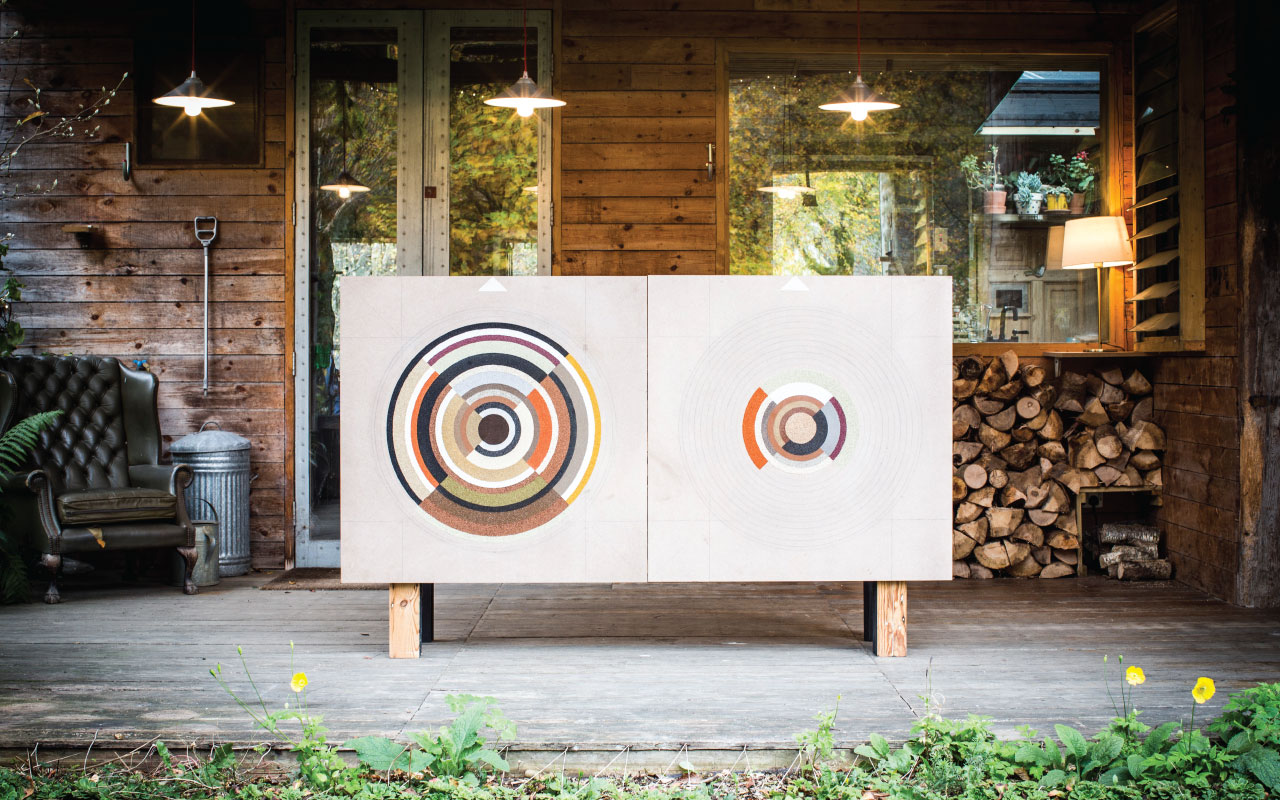 Corry, who originally trained as a chef in the North in the early 1980's before graduating from the National College of Art & Design
in 2000, first approached Loam's head chef, Enda McEvoy, about a potential collaboration in the spring. He was excited by the parallels between the art and the food world and was attracted to McEvoy because of his imaginative use of native Irish ingredients
and his sustainable approach – things which Corry felt compelled to capture.
Corry will be hosting an official exhibition launch at Loam (Fairgreen Road, Galway) on Sunday 10th December (6pm start), which is open to everyone and displaying his 'Loam Atoms' in the restaurant for the next few months before selling each of the pieces to interested buyers.
Frank Corry:
"For me the art world should and thankfully is mirroring what we have seen in the food world. Fantastic chefs like Enda working in a wildly imaginative way that is in constant evolution, utterly embracing and accessible and only becoming more so. I find the parallels very exciting, the aims similar and the increased incentivizing of a wider audience willing to see/try something new
free from the old misconceptions, assumptions and exclusivity."
Enda McEvoy:
"What we liked most about the project when Frank proposed it, was that he set himself an almost impossible task using products and materials from people I really admired – highlighting the hard work they put in and trusting in the materials that he collects. We see our product at the restaurant as a creative collaboration with our suppliers in a similar sense to Frank's project,
based around similar ideas. The added bonus of getting to know Frank throughout the project has been a hoot!"
Follow the conversation online by searching for #LoamAtoms on Twitter and Instagram