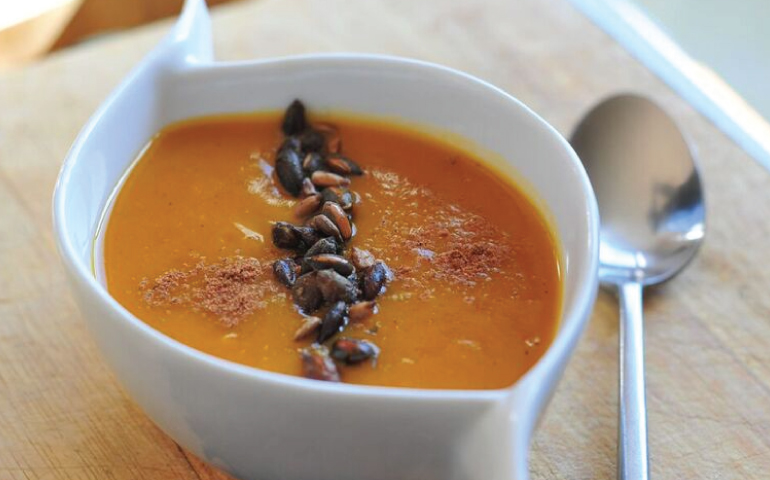 Fast, Simple, Squash, Honey and Spice Soup
With the Cúirt International Festival of Literature in full swing, and not much time to cook at home I decided to whip up a pot of savage soup so I can pop back from events for a quick bite. There are thousands of soup recipes but unbelievably, people do not bother to make soup. To some it's time consuming and with a lot of recipes, this can be the case. I've a minimum-effort, fast damn delicious soup here that you should try and make, a pot to last a couple of days. Perfect for lunch, cheap as…  And it will only take around 20 minutes. Just put on the stove and go read or jog or sing. I make soups at home simply because the next day a lunch is ready, and it will stop me spending money. Try it.
GF. DF. V.
Ingredients
– 2 ½ L Water (vegetable stock optional)
– 2 Butternut Squash
– 2 Large spoons of honey
– 1 T/S Curry powder, 1 t/s cinnamon
– 1 Orange
– Salt and black pepper
Method
1.) Place your water into a large pot to heat.
2.) Peel, deseed, roughly chop the squash and add to pot (optional: wash seeds, dry, toss in cayenne and salt, roast for 7 minutes. Great snack or add to soup when serving)
3.) Grate orange skin and add to pot alongside the spices, salt and pepper. Juice the orange and hold it back. (Eat the damn flesh, no waste)
4.) When the squash is cooked, add honey and orange juice.
5.) Take off the heat, add to blender or use hand mixer.  (If too thick, thin with a little water)
6.) Serve with a little sprinkled cinnamon and toasted seeds.
---
Sources: Veg from Ernies Fruit and Veg on Sea Road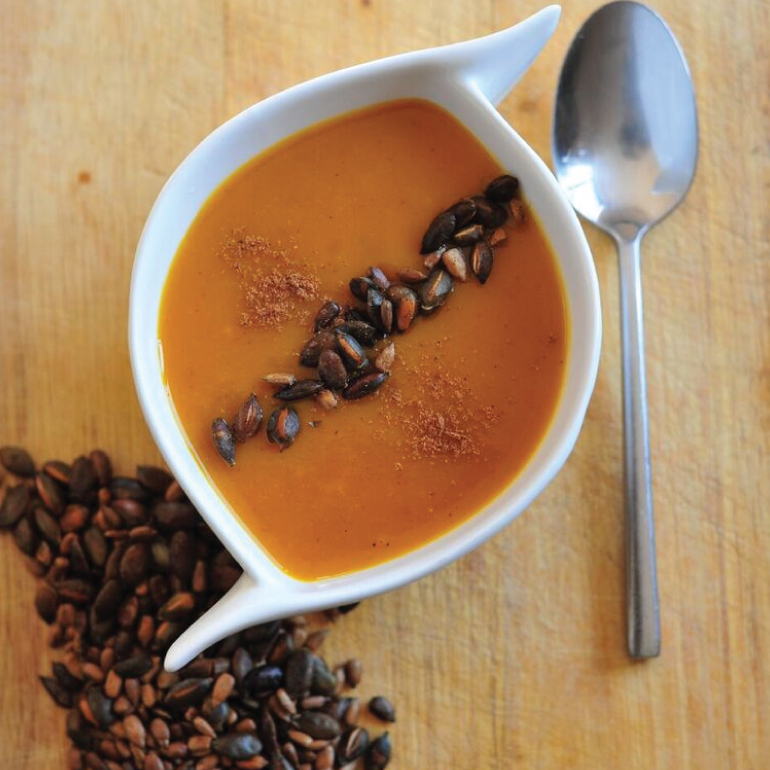 About the Chef
You wouldn't know by looking at him, but Stephen Byrne likes to eat, a lot. He has cheffed worldwide; Canada, Australia, San Francisco, Dublin and now resides in Galway. Not afraid of the unhealthy appetite, he has a keen interest in simple whole foods, a love for Asian flavours and an awful sweet tooth. With years of experience, he will create weekly recipes of meals he devours regularly, and hopefully inspire people to cook at home and embark on a healthier lifestyle.
He writes on his site http://therantingbeast.com/