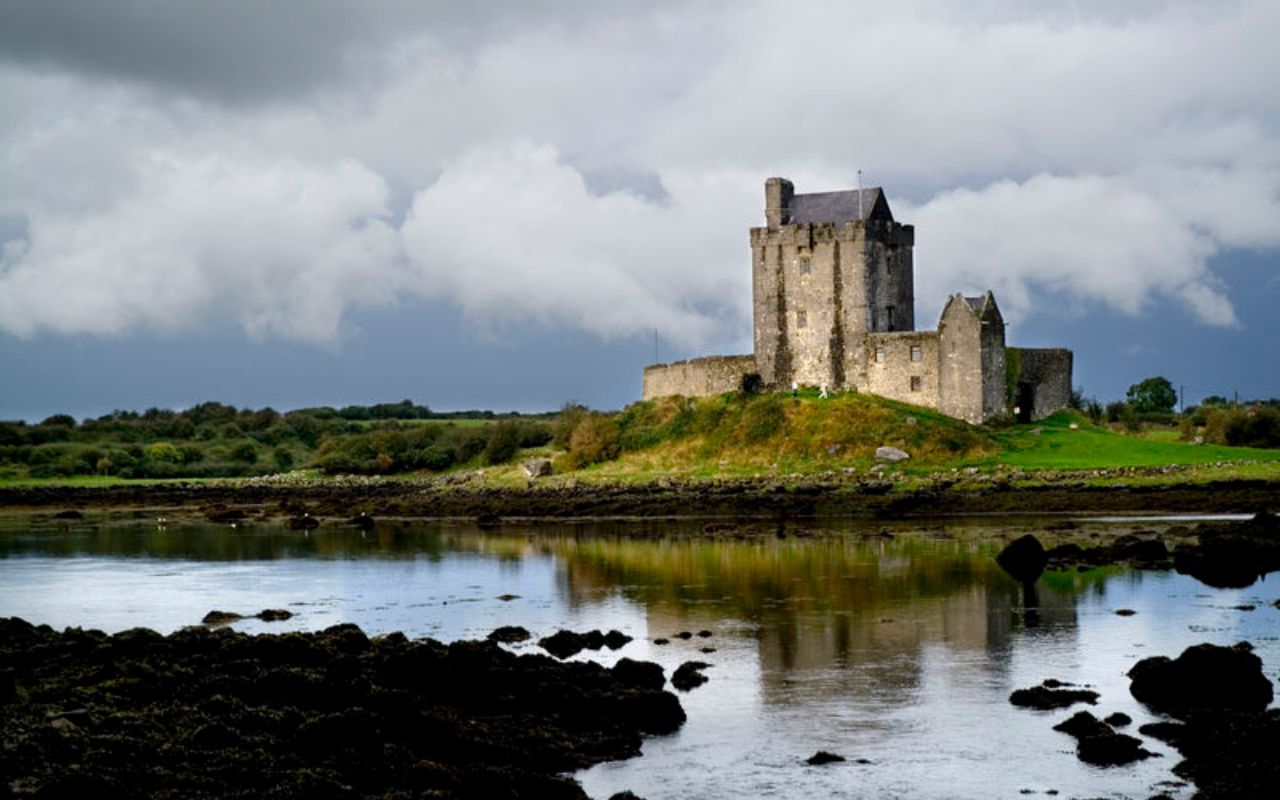 Kinvara, Galway: eat, drink, sleep, explore
Kinvara is a stunning sea port village situated on the south of Galway Bay and about 40 minutes from Galway city by car. It's a popular stop for tourists on their way to the Cliffs, and makes a lovely weekend getaway in the warmer months.
Kinvara harbour is a great source of fresh fish so there's no shortage of great seafood and with sights like Dunguaire Castle, there's plenty of history to immerse yourself in. It's also the gateway to the Burren, so the natural beauty of the area makes it perfect for long scenic walks. A village full of community spirit, that welcomes visitors with open arms, Kinvara is a great place to spend an some time outside of the city.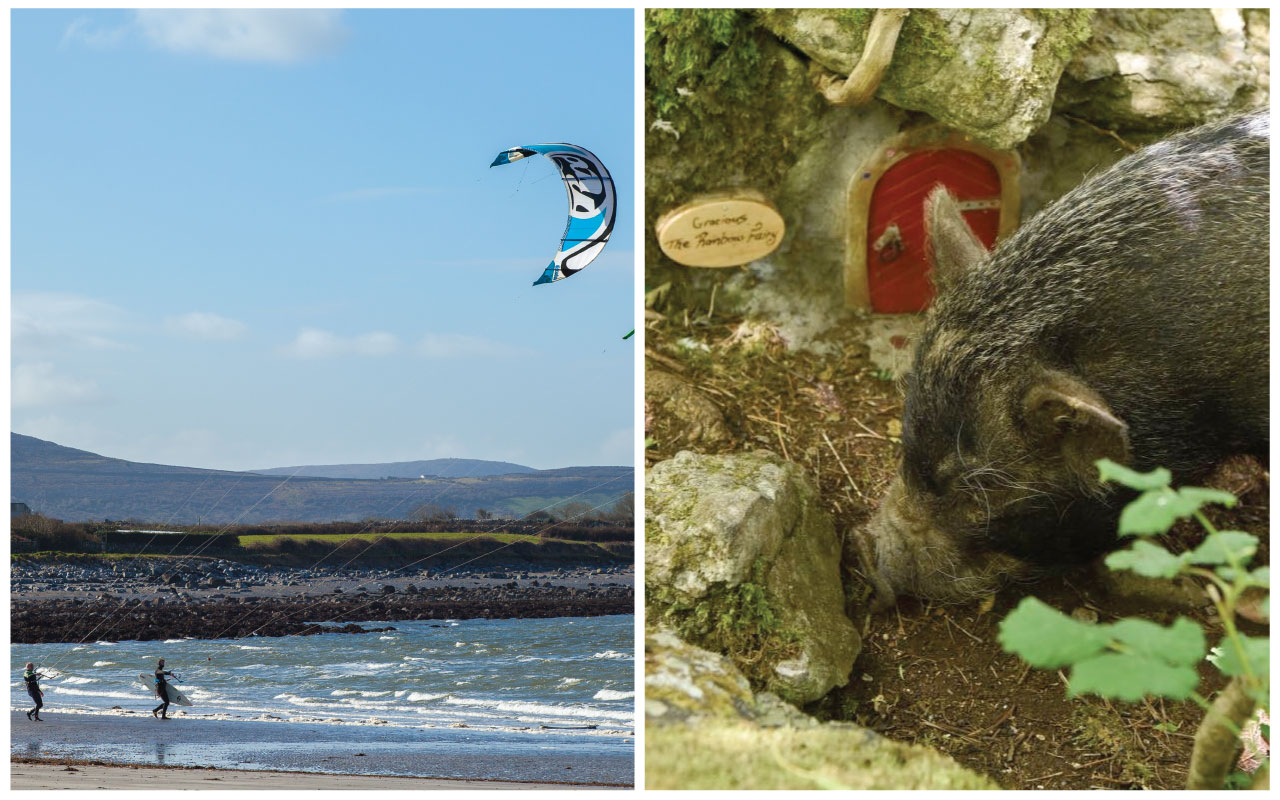 Left: Traught Beach; Right: Burren Nature Sanctuary
1. Things to See & Do
Kinvara is the perfect place get outdoorsy with historical ruins, a beautiful landscape and one of the most beautiful castles in Ireland. So make sure to spend some time exploring the history, arts and culture that Kinvara has to offer!
Dunguaire Castle
Built in the 1500's and located at the edge of Galway Bay, Dunguaire Castle was once home of the O'Hynes clan. It has everything needed to transport you back in time to the 16th century. From April to October you can attend a banquet at the castle and enjoy traditional food and goblets of mead at the long medieval tables of the Banquet Hall. Listen to inspiring recitals of the great Irish writers such as Yeats and O'Casey by performers in period costume and a musical introduction by the Castle Singers. It's particularly ambient place for couples; if you're lucky you might end up being presented with an iconic Claddagh Ring during the evening. This incredibly picturesque castle is a must see during your trip to Kinvara!
Dungory East, Kinvara, Co. Galway //  More Here
Burren Nature Sanctuary
Reconnect with nature at the Burren Nature Sanctuary! Identify the natural collection of Burren flora and butterflies in the Botany Bubble, lose yourself in the organic meadow and disappearing lake. Don't forget to stop by to pet the goats, pigs and donkeys. The Burren Walk is certainly very special, rumour has it there's even some fairies living in the woodland! With a creative seasonal menu café, the Burren Nature Sanctuary has the privilege of being on the Burren Food Trail and is very family-friendly. With fish cakes, savoury scones, organic salads and hidden vegetables for kids, you can pop by here after a day of exploring.
Cloonaleesee, Kinvara // More Here
Kinvara Walks
Bask in the beautiful Burren Landscape, the Karst Limestone geology and fauna as well as the fascinating agricultural and religious history of Kinvara with Kinvara's guided Burren Walks. Their knowledgeable and experienced guides will help you find the best spots and provide informative insights to the area. The Burren is home to rare bonsi Arctic and Mediterranean wildflower, dense hazel scrubland and seasonal disappearing lakes called turloughs, making it one of Ireland's six National Parks.
Rock Rose Cottage, Funshin More, Kinvara, Co. Galway  // More Here
The Red Route
One great way to see Kinvara is to take an easy stroll along the Red Route, a trail which goes from the Quay, along the bay past the stunning Dunguaire castle. You will walk past historical ruins such as Seapark House, which was turned into a temporary fever hospital during the famine and the nearby cemetery where many who died during the time were buried. Remind yourself of the history of the town and the generations of people that have lived there as you walk along Kinvara Bay, in the town whose Irish name means "Head of the Sea".
Kinvara, Co.Galway // More Here 

Traught Beach
Not only is Traught Beach perfect for taking in the best of the Atlantic during a scenic drive by Galway Bay, it's a great place to go for a splash during the summer as it is a 2017 International Blue Flag awarded beach and is lifeguarded during the season. The clean and wheelchair accessible bathrooms also help to make it a really nice spot to go for a swim and enjoy the beautiful scenery. Traught Beach is part of the Galway Bay Complex, a Special Area of Conservation, so keep an eye out for any wildlife you may find. Why not take a picnic lunch, shovel and spade and go for a paddle?
Doorus, Co Galway
Kinvara Pottery
Pop in for a pottery class at Kinvara Pottery. They have drop in sessions for people with some experience and provide sessions in a six week block for beginners but one on one sessions are available upon request. With all the clay and tools you need to make your masterpiece this is the perfect spot for creative souls to get their hands dirty. They also sell some lovely pieces like handmade vessels, wall panels and sculptural forms, which would make a perfect gift for a loved one.
Chrysalis Art Studio, Kilcolgan, Galway // More Here
Kinvara Farmers Market 
Kinvara Farmers Market runs every Friday between March and October, selling local produce such as fish as fresh as you can get, scrumptious baked goods, organic, seasonal fruit and veg and much more. It's also a great place to pick up some art as paintings by local artists, locally made jewelry, soaps and woodwork will be available at great value. Pick up a cup of tea, coffee or soup and browse through the stalls whilst enjoying the upbeat music of talented local musicians.
Courthouse Rd, Dungory West, Kinvarra, Co. Galway // More Here
Burren Yoga Retreats
Need a little more zen in your life? Look no further than Burren Yoga Retreats. Offering week long and weekend breaks in the beautiful Burren area. You will not only receive the best in yoga and mindfulness meditation instruction but also guided outings to local attractions like the cliffs of Moher and the Aillwee Caves. You will also get the chance to try activities like surfing, hill walking and kayaking. Fueling these activities with healthy tasty and nutritious food, you will get to sample amazing local cuisine and quality vegetarian meals prepared by their talented cook. These retreats are a great way to meet like minded people and reconnect with the great outdoors.
Burren Yoga Centre, Cappaghmore, Kinvara, Co. Galway // More Here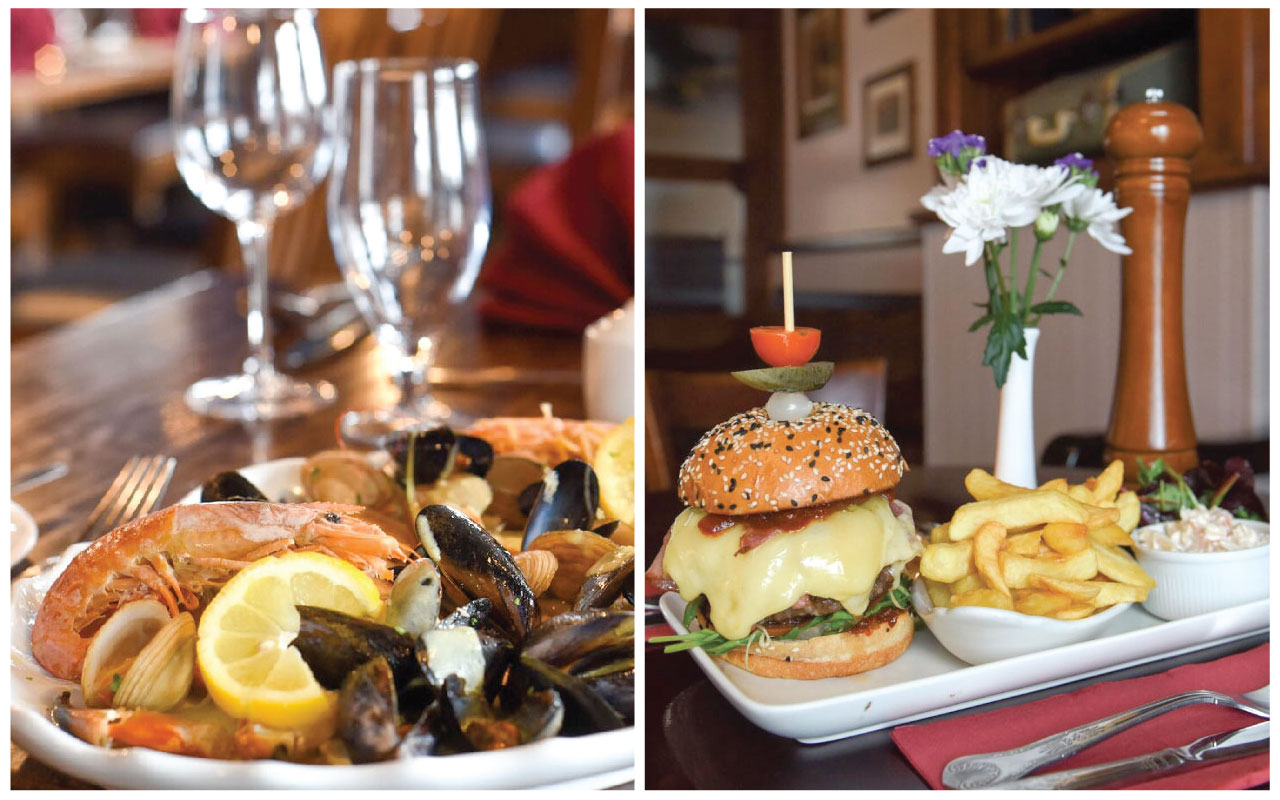 Left: Pierhead Bar & Restaurant; Right: Thatch Bar & Restaurant at the Merriman Hotel
2. Where to eat and drink
Whether you're in search of delicious seafood, trusty Italian or tradition Irish pub grub, Kinvara has something, you'll want to fill your stomach with after a day of exploring.
Pierhead bar & restaurant
With stunning views of Galway Bay and beautiful boat paintings on the walls, this is a lovely place to enjoy quality shellfish delights such as fresh mussels, crab claws or lobster or if sea food isn't your thing, why not go for a nice juicy steak. If you're a sports fan, it makes a great spot to pop in for a beer and catch the match. In the colder months, warm yourself up with a nourishing soup or authentic Irish Coffee. The friendly service and live music make it a great place to spend an evening.
The Quay, Dungory West, Kinvara  // More info
The Thatch Bar & Restaurant @ The Merriman Hotel
It's open all year round, with a wide-ranging menu of dishes created with local, fresh ingredients. The spacious venue is a nice option for big occasions or just a casual meal. Taste their delicious Atlantic chowder; a slice of Merriman Fish Pie or Roast of the Day and a selection of desserts and artisan Irish cheese to finish off your fantastic meal. Hearty meals at affordable prices, so it's not your usual pub grub — all under one of Ireland's biggest thatch roofs.
Ave Maria, 3 Main Street, Dungory West, Kivarra  // More info
Connolly's Bar
Whether you're an Irish music veteran or you're a first time visitor from overseas, Connolly's Bar is a must stop. It's renowned for it's live traditional music sessions. You're sure to have the craic at Connollys' Bar, whether you pop in for a quick pint of Guinness by the open fire or spend the evening there listening to and joining in with talented musicians, the friendly staff will make you feel welcome and the lively atmosphere will brighten up your day.
The Quay, Dungory West, Kinvara, Co. Galway //  More Here
Gentian Café & Wine bar 
Have breakfast by the sea while sipping their famous coffee. There is casual outdoor seating as well as a welcoming internal terrace. This brasserie serves good old-fashioned, quality comfort food in a friendly setting. Try out their wraps, sandwiches and cakes for lunch and an Atlantic salmon steak for supper. With views of Kinvara Bay and a cosy setting featuring local stone, the Gentian Cafe and Wine Bar makes a great place to chill out and relax.
Dungory West, Kinvarra // More Here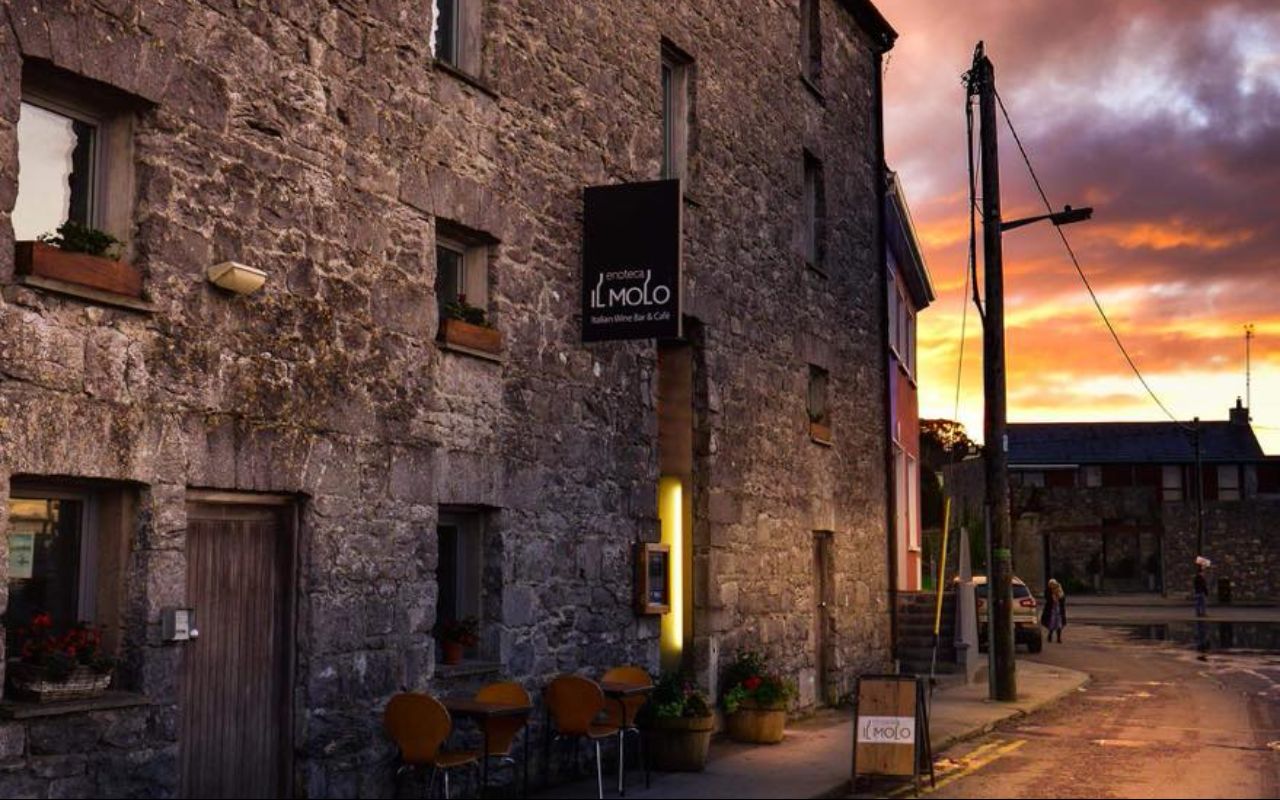 Enoteca Il Molo
This Italian wine bar and cafe serves high quality food made with the very best local and Italian ingredients. Why not try their pizza made from specially imported flour, used to make dough that is left to rise for 72 hours before cooking. They have a fabulous wine list of mostly Italian wines at great prices to enjoy with your food. The stone walls contribute to the classy, modern design and the friendly and welcoming staff will be happy to guide you through the menu and make your visit an enjoyable one.
The Quay, Kinvara, Co. Galway // More Here
Keogh's of Kinvara
This traditional Irish bar and restaurant in the heart of Kinvara is a favourite with locals and visitors alike. Their food never disappoints and is great value for money. Get a taste of the west of Ireland with their Wild Atlantic Way fresh cod and chips and their grilled Irish Angus sirloin steak sandwich is sure to hit the spot. The friendly and accommodating service combined with delicious food and traditional atmosphere makes it a great spot for a family dinner or for a few drinks in the evening.
Main St, Dungory West, Kinvara // More Here
Siar Design 
Siar Design is a coffee stop offering arts, music, local tourist information and a cultural hub for Kinvara and the surrounding area. Located in the Quay, it's the perfect place to stop for a coffee and a delicious home made baked treat, enjoy some local art or even purchase some to take home. Whatever your reasons for popping by Siar, you're sure too be greeted with a smile.
Brogan House, The Quay, Kinvara, Galway, Ireland // More Here
Hazel Mountain Chocolate
If you've got a sweet tooth, Hazel Mountain Chocolate will be your heaven. Their chocolate factory is one of the most remote in the world. There is so much time and passion put into this chocolate, the chocolate makers begin by hand roasting, cracking and winnowing cacao beans before stone grinding it for 40 hours. It is then aged for 3 weeks before their chocolatiers create their award winning range of bean to bar chocolates. The organic cafe has been listed in the top 10 tea rooms in Ireland. Try something sweet, made by the highly trained pastry chefs or enjoy a lunch made with organic vegetables grown on the cafes' 300 year old family farm.
Oughtmama, Bellharbour, County Clare (8 min from Kinvara) // More Here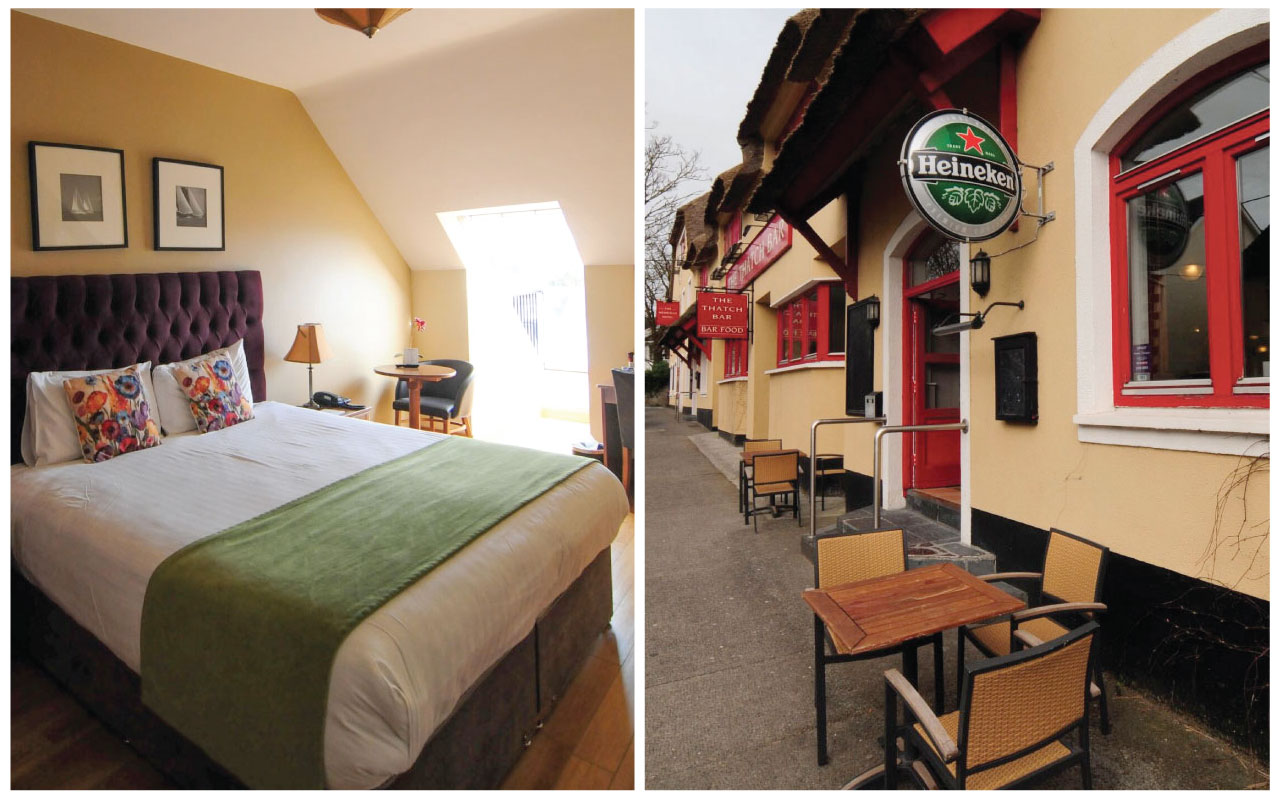 3. Where to Sleep
However long you plan to spend in Kinvara, friendly locals will make you feel welcome and the cosy accommodation options for your stay will only help to make you feel like Kinvara is a home away from home.
Kinvara Guesthouse
Check in to this luxury 4 star Bed & Breakfast guesthouse situated in heart of Kinvara. Their elegant, comfortable and affordable bedrooms are equipt with a flat-screen TV, tea & coffee making facilities and an en-suite bathroom. Kick your day off with the great breakfast that's included in your rate. Ideally positioned at the gateway to the spectacular Burren Region and on the shores of Galway Bay, you will have endless scenic walks waiting for you on your doorstep and with some great eateries and local drinking holes withing walking distance, you won't be stuck for something to do in the evenings.
The Square, Main Street, Kinvara // More info
The Merriman Hotel
Located on the main Street of Kinvara, with 32 en-suite bedrooms which have been finished to a high standard. With the Thatch Bar and Kings bistro, you don't even need to leave the property to get a great meal or enjoy a few drinks in the evening. Its' quaint, recently renovated thatch roof fits perfectly into the village atmosphere. The warm, bright and comfortable interior make it a cozy and relaxed setting to spend a night or two during your trip to Kinvara.
Ave Maria, 3 Main St, Dungory West, Kinvarra, Co. Galway // More Here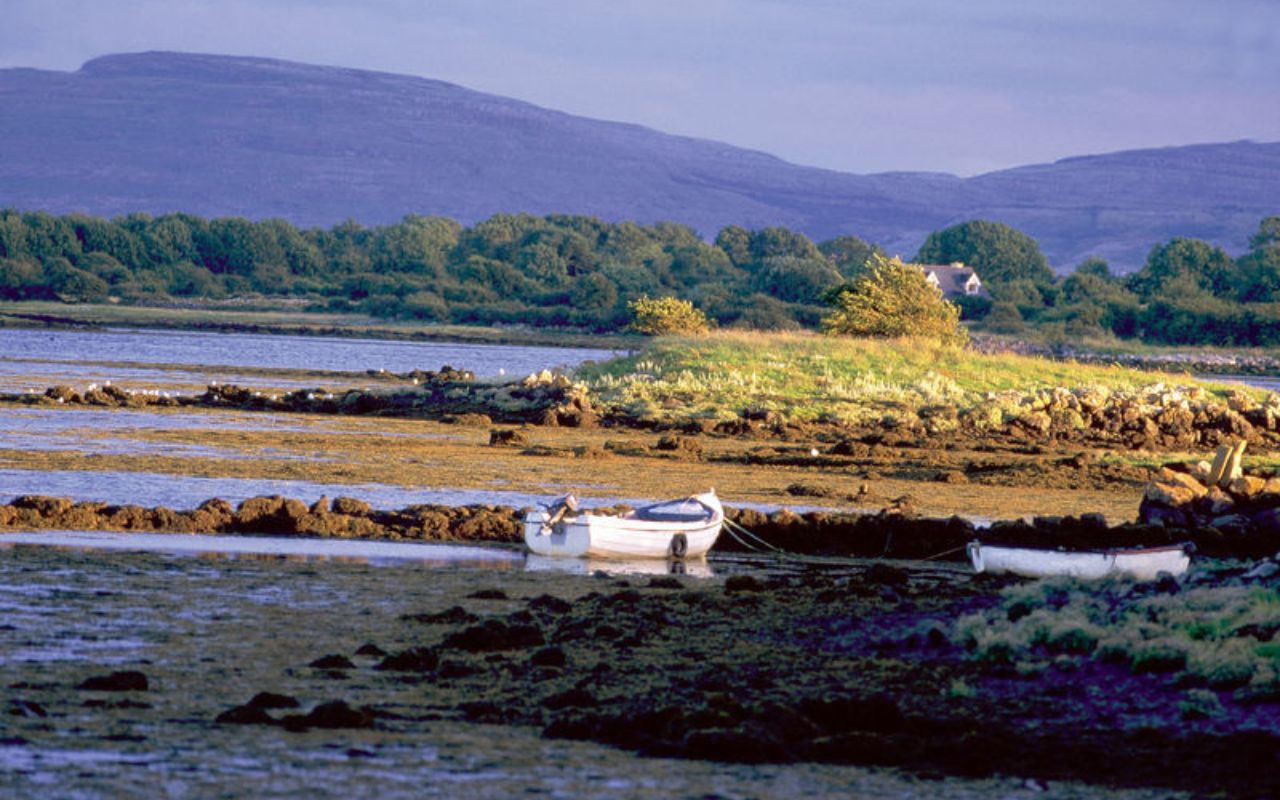 4. Check Out Kinvara's Festivals
Kinvara is not short on culture and history and that is celebrated with these two festivals that take place every year.

The Cuckoo Festival

4th-7th May 2018

Held every year on the May Bank Holiday weekend, The Cuckoo Festival or Fleadh na gCuach is a traditional Irish music festival in which the local pubs hold a host of music sessions. Arts and crafts, poetry and drama also come to the forefront in the village during the festival. Kinvara has no shortage of talented musicians to entertain visitors for the festival. With 15 years of success under it's belt, this is an established festival that's definitely worth checking out.

Cruinniu na mBad 

10th-12th August 2018

This festival celebrates the traditional commerce that existed in Kinvara years ago. It recreates the age-old tradition of ferrying turf. You will get to see the famous Galway Hooker boats, which sailed between Connemara and Kinvara bringing turf to Kinvara and grain and produce back to Connemara. Visitors are entertained with boat races as well as other events including; "sean-nois" singing, traditional music, photographic and craft exhibitions, horse-shoe throwing and tug-of-war competitions. Since its' start in 1979, this festival has stood the test of time almost as well as the majestic Galway Hookers themselves.

Words by Lauren O'Rourke