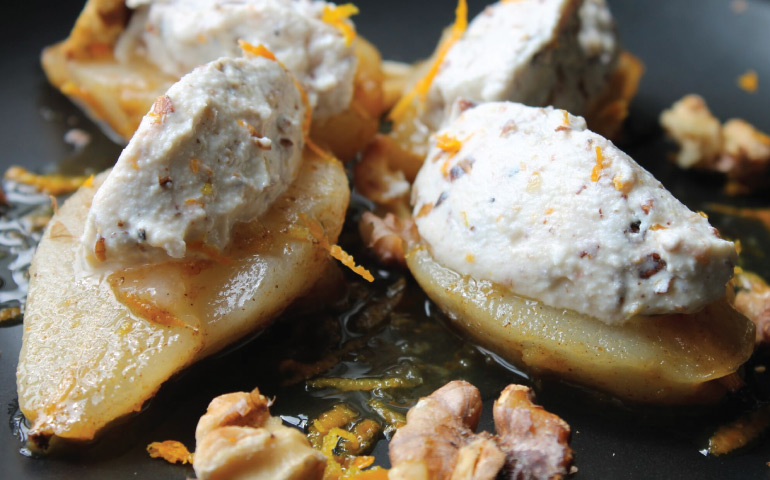 Easy Peasy Roast Pears, Ricotta & Walnuts
I was given a bag of fresh pears for free, so after a big lunch I'm doing something I never really do… eat a dessert (sharing it here of course and hopefully keep some for the housemate). Keeping it as simple as I can, and this, cannot get any simpler, you will do this in 10 minutes. I also have to give myself a huge pat on the back, it's bleeding savage.
If you are having a dinner party, this recipe is your man, or woman, or fruit, very easy to knock up, looks stunning, and tastes sublime. You can use mascarpone instead of the ricotta if you like (or the homemade ice-cream from a previous recipe), I just prefer the texture and flavour of ricotta and it combines very well with orange and walnut.
If you really want to impress, make your own ricotta, it's actually quite simple. You're basically just coagulating the proteins from milk (cow, goat, sheep, dinosaur) using lemon juice, takes about a half hour. Give it a bash, plenty of directions on the net and yes I know there are many pros and cons to eating ricotta but shove that where the sun doesn't shine, today is dessert eating time.
Ingredients
– 4 pears
– 1 orange
– 100g walnuts
– 1 small piece of ginger
– Honey
– 100g ricotta
– 1 tsp cinnamon
Method
1.) Preheat the oven to 180
2.) Place the walnuts on a baking tray, roast for 5 minutes. Leave to cool.
3.) Peel the ginger and pears, cut in half, scoop out the core of the pears with a tea spoon.
4.) Grate the skin off the orange and the ginger. Cut the orange into quarters.
5.) In a mixing bowl, add 1 tablespoon of honey, half of the grated ginger and orange skin, a teaspoon of cinnamon, the juice of a quarter of the orange. Stir well with a spoon.
6.) Add the pears into the bowl, toss them or use your hands, cover them well with the components, place on a baking dish or pan cut side down. Pour over the pears the remaining juice from the bowl. Bake in the oven for 10 minutes.
7.) Using the same bowl, add the ricotta, a tablespoon of honey, the remaining ginger and orange skin, crush the walnuts with your hand and add also, mix well.
8.) When the pears are cooked, leave to the side for around 5 minutes. Then add on top the ricotta as well as some juice from the pan. You can wipe the drool from your face afterwards.
And don't forget, if you manage to make it look pretty, take a snap and share it on the This is Galway Instagram or Facebook page.

---
Sources:
Pears from a secret admirer, ginger and orange
Ernies
Fruit and Veg Store. Ricotta from Sheridans Cheesemongers. Walnuts from Evergreen.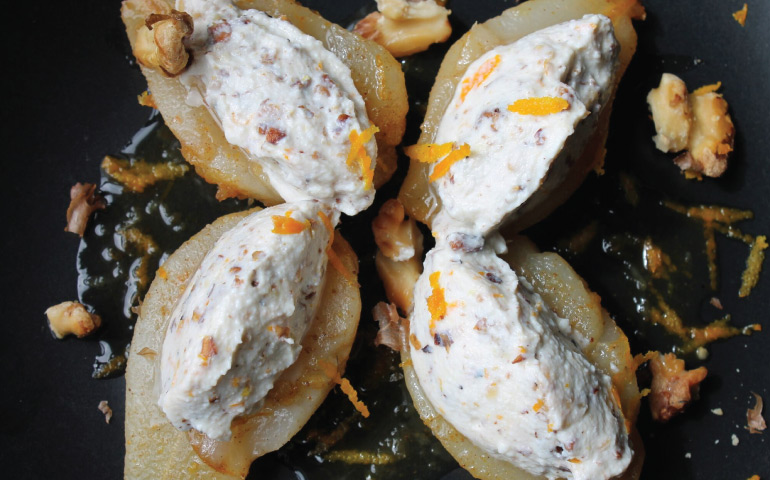 About the Chef
You wouldn't know by looking at him, but Stephen Byrne likes to eat, a lot. He has cheffed worldwide; Canada, Australia, San Francisco, Dublin and now resides in Galway. Not afraid of the unhealthy appetite, he has a keen interest in simple whole foods, a love for Asian flavours and an awful sweet tooth. With years of experience, he will create weekly recipes of meals he devours regularly, and hopefully inspire people to cook at home and embark on a healthier lifestyle.
He writes on his site: http://therantingbeast.com/