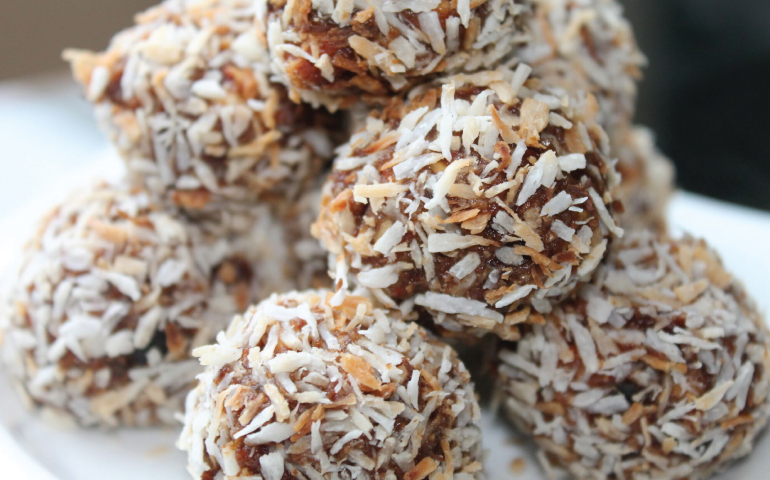 Dark Chocolate, Date, Coconut and Protein Truffles with Crunchy Almonds
I'm a biscuit addict. A monster. So, I see a lot of trendy homemade snacks lately so I thought I'd create my own that can take the place of biscuits…for now. I also wanted a snack that will make me feel happy  (dark chocolate and phenylethylamine) healthy (no sugar, flours) and can be used before or after a workout hence the protein powder. Some lime juice gives these a little punch and toasting the coconut adds a better flavour. These worked out sublime and I am going to keep making plenty of different flavours (think dried apricots and figs) and pack the fridge up. They should last longer than two weeks. Take out the milk and the best before date should expand, but, let's be honest, not a chance of these lasting two minutes in a fridge they are goddamn tasty. Go for it.
WF. DF. GF. VE
Ingredients
– 250g pitted dates
– 60g whole almonds (nibbed can do fine)
– 70g dark chocolate
– 1 lime
– 1 tsp cinnamon
– 30g pea protein powder (or powder of choice)
– 100ml of coconut milk (any milk, orange juice or water)
– 50g desiccated coconut  
Method
1.) Turn the oven on to 180c. Spread the desiccated coconut out on to a baking tray and toast for no more than 2 minutes to get a nice light brown colour.
2.) Toast the Almonds for 5 minutes. Leave to cool.
3.) In a blender or food processor, roughly blend the almonds in to small pieces. Take out and leave to the side.
4.) Add the chocolate, dates, cinnamon, protein powder and juice of the full lime into the processor and blend together.
5.) Slowly add in the milk or water to make a dough like consistency. The mix does not have to be smooth.
6.) Place the mix in a bowl and fold in the almonds. Mix well and put in the fridge for 5-10 minutes.
7.) Take out and roll into balls, any size you like. Roll the balls in the toasted coconut. Cover well. Leave back in the fridge. Eat anytime.
Tips: I bought Celtic Chocolates Dark Chocolate Bars. They are dairy free, gluten free, egg free, wheat free, perfect for vegans. Also, you can do this mix without nuts or protein powder. Actually, you can substitute any of the ingredients here; just stick to the same process.
And don't forget, if you manage to make it look pretty, take a snap and share it on the This is Galway Instagram or Facebook page.
---
Sources: Chocolate and protein powder from Holland & Barrett. Dates, almonds and coconut from Evergreen.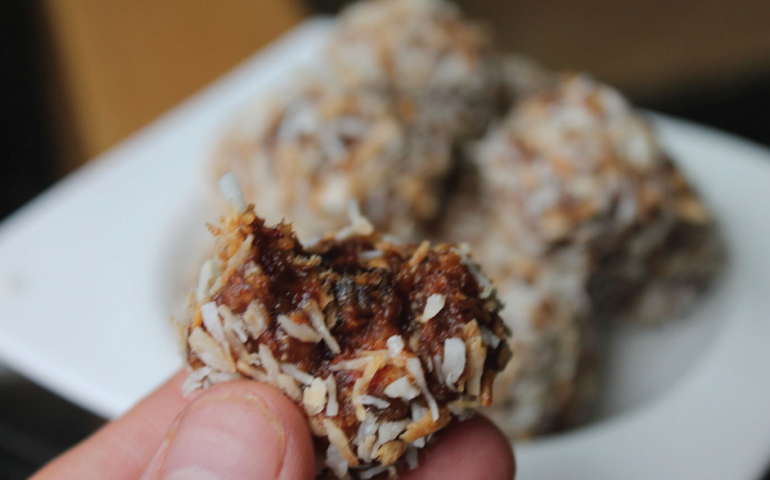 About the Chef
You wouldn't know by looking at him, but Stephen Byrne likes to eat, a lot. He has cheffed worldwide; Canada, Australia, San Francisco, Dublin and now resides in Galway. Not afraid of the unhealthy appetite, he has a keen interest in simple whole foods, a love for Asian flavours and an awful sweet tooth. With years of experience, he will create weekly recipes of meals he devours regularly, and hopefully inspire people to cook at home and embark on a healthier lifestyle.
He writes on his site: http://therantingbeast.com/