Dark Chocolate Porridge with Coffee Infused Honey, Apple and Walnut
Feeling Good and Pumped the Feck Up Porridge
I've a hectic few weeks ahead with little time for fluting about with fancy breakfasts as is the norm in this house, so I need a quick-ish breakfast that will keep me flying it throughout the day and wake the brain up. This is normally porridge. But I've become bored with it over the last couple of years so it is dire need of a makeover so lo and behold, chocolate-coffee-porridge, win win. Porridge for the slow releasing carbs, dark chocolate for the anti-oxidants and phenylethylamine, coffee for that beautiful morning buzz and flavour. I used the beans here, organic minus the chemicals but you can use any coffee you want. This recipe tastes sublime and will have you pumped up for a long day ahead. You do not need to do the apple or walnuts especially if you do not have the time, but trust me, all ingredients combined will blow the pants off you. Give it a blast.  
 
Ingredients
– 60g rolled oats
– 250ml hazelnut, coconut or almond milk
– 30g dark chocolate
– 20 coffee beans or 3 teaspoons of ground coffee
– 70ml honey
– 1 apple (I used a pink lady)
– 20g walnuts
 
Method
1. Soak the oats over night in 200 ml of the milk of choice along with 20g of grated chocolate. (Optional, you can just go ahead and do this first thing in the morning)
2. Turn your oven to 180c and roast the walnuts for 5 minutes. Leave to cool on the side.
3. Cut the apple in half, take out the core, cut each half into 4 segments.
4. In a pan, add 1 large tablespoon of honey and turn on to a medium heat.
5. Place the apple in honey and pan fry each side until the apple is soft (takes about 5 minutes.)
6. Take out the apples from the pan and leave to the side.
7. Add in the rest of the honey and turn to a low heat.
8. Grind your beans and add to the honey (if using ground coffee add in as is)
9. Leave on a low heat until the honey is liquid and the coffee dissolved and cooked through.
10. In the meantime, cook your soaked porridge on a low medium heat for around 4-5 minutes, simmering, stirring regularly. Add the extra 50ml of milk to make it creamy.
11. Pour into a bowl, grate the rest of the chocolate over, add the apple and walnuts pour 2 table spoons of the honey mix over too (you will have some mix left for porridge on other days, store in a jar)…go mad for the day.
 
Tip: Soaking the oats over night makes it quicker in the morning. Also add any fruit you like, extra berries, fried bananas etc. For that extra goodness add some protein powder as I do.
 
And don't forget, if you manage to make it look pretty, take a snap and share it on the This is Galway Instagram or Facebook page.  
---
 
Sources: Oats, walnuts, coffee, chocolate from Evergreen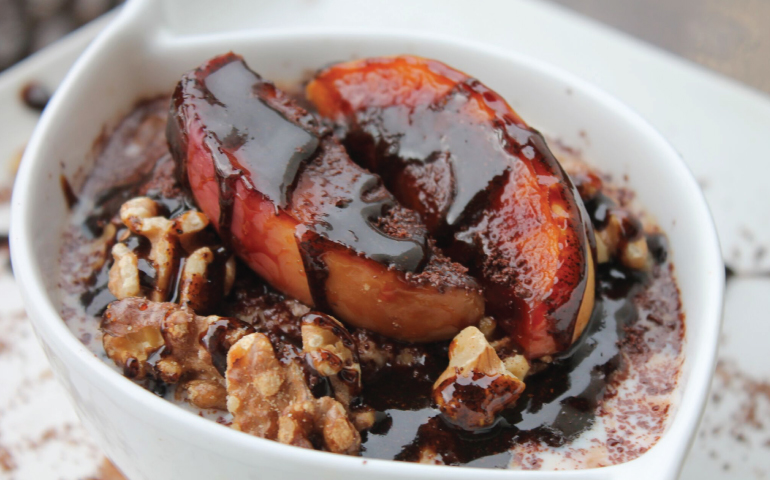 About the Chef
You wouldn't know by looking at him, but Stephen Byrne likes to eat, a lot. He has cheffed worldwide; Canada, Australia, San Francisco, Dublin and now resides in Galway. Not afraid of the unhealthy appetite, he has a keen interest in simple whole foods, a love for Asian flavours and an awful sweet tooth. With years of experience, he will create weekly recipes of meals he devours regularly, and hopefully inspire people to cook at home and embark on a healthier lifestyle.
He writes on his site: http://therantingbeast.com/