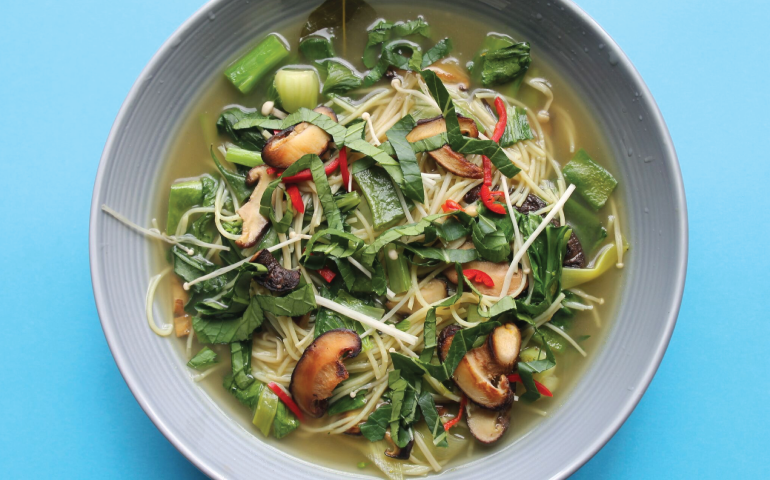 Damn Best No Bull Green Vegetable Broth
I remember around 13 years ago, eating a broth on the side of the road at 5am on a street in Hội An Vietnam. It was made by an old woman from water and other ingredients. Very very simple, it was fecking delicious. No fancy pants cooking, no expensive flavourings, just simplicity and a combination of key ingredients. Most areas now around Ireland have a local Asian store. They are the best places to visit which I tend to do regularly. So, visiting my local one I have attempted to cook something similar here for my lunch, fast and flavoursome (keeping it veggie for a change though I do recommend turkey or pork if you want to use meat) and want you to do the same. Staying away from chicken and fish stocks, fresh or stock cubes and just using water it was a challenge, but it worked wonderfully (but I have no problem with you using stocks at all.) Make this stock and add whatever vegetables you like. I have gone mostly green here, adding in the veg at the end to keep it crunchy and fresh. Add a little lime and soy sauce at the end and it will blow you away.
VF.
Ingredients
For the Stock
– 1 small onion
– 2 lemongrass stalks
– 1 large piece of ginger
– 1 red chili
– 1 large piece of turmeric
–  6 cloves
– 10 dried kaffir lime leaves
– 2 ltr hot water
– Sea salt to taste
– Sesame oil
For the Broth
– 4 small pak choi
– 120g shitake mushrooms
– 100g enoki mushrooms
– 200g fresh green peas
– 1 bunch choi sum
– 1pkt beansprouts
– 1 bunch Chinese broccoli
– 4 lime leaves
– 180g rice spaghetti (or noodles of choice)
For the side
– 1 lime
– Soy sauce of your choice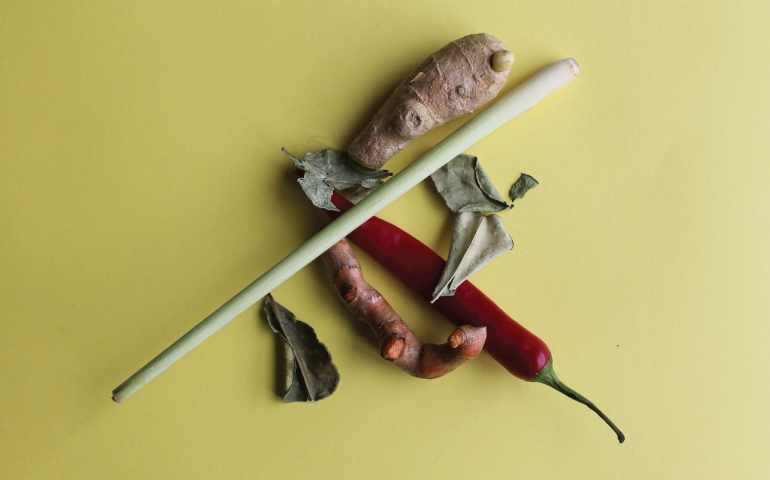 Method
1.) To make the stock. Heat a medium size pot. Add a small drop on oil. Roughly chop the onion and add.
2.) Grate the ginger and turmeric, no need to peel. Chop the lemongrass into small pieces and add all to the pot along with the lime leaves and cloves.
3.) Half the chili. Deseed and roughly chop one half to add to your pot and keep the other half for your broth.
4.) Keep stirring until soft, sweating out the flavours of your ingredients.
5.) Add the water. Simmer for around 20-25 minutes. Taste and season.
6.) To make the broth. In a large pot, add a little oil.
7.) Slice the shitake mushrooms and chili, add to the pot. Stirring until the mushrooms have softened and lightly coloured.
8.) When you are happy with the flavour of your stock, pass it through a strainer. Pour into the pot with the mushrooms.
9.) Simmering, add the rice spaghetti, stir them until they separate.
10.) Trim the bottom of the enoki mushrooms and add along with the lime leaves.
11.) Roughly chop the pak choi, green beans, choi sum and broccoli.
12.) When your noodles are cooked, add in the green vegetables, stir well into the pot and take off the heat. Leave to the side for 5 minutes then serve.
13.) Garnish with bean sprouts and a wedge of lime. Use as much soy sauce as you like to your dish.
That's it. It may look like a lot but trust me it is damn simple. Once you start making fast healthy broths like this you will become addicted and change the way you eat for the better, while showing off your talents.
And don't forget, if you manage to make it look pretty, take a snap and share it on the This is Galway Instagram or Facebook page.
---
Sources: Veg, spices, noodles and sauce from Asiatic Manila Abbeygate Street.

About the Chef
You wouldn't know by looking at him, but Stephen Byrne likes to eat, a lot. He has cheffed worldwide; Canada, Australia, San Francisco, Dublin and now resides in Galway. Not afraid of the unhealthy appetite, he has a keen interest in simple whole foods, a love for Asian flavours and an awful sweet tooth. With years of experience, he will create weekly recipes of meals he devours regularly, and hopefully inspire people to cook at home and embark on a healthier lifestyle.
He writes on his site: http://therantingbeast.com/