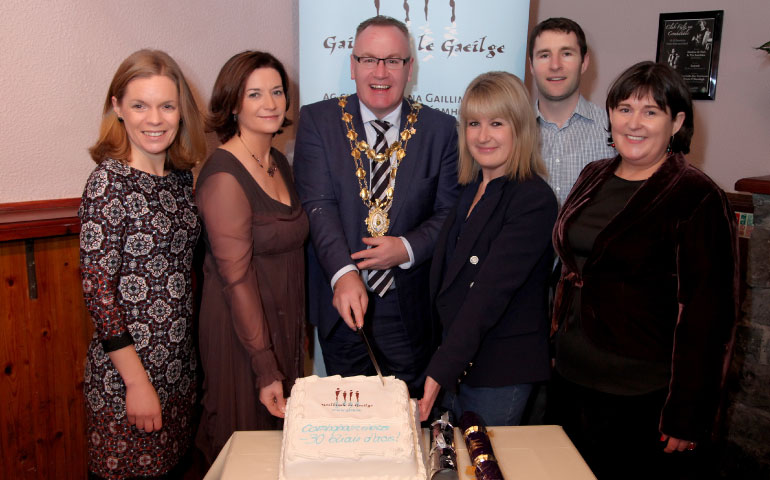 Cóisir Nollag brings a successful year to a close for Gaillimh le Gaeilge
Cairde Ghaillimh le Gaeilge were in celebratory mood as they kicked off the festive season at their 'Cóisir Nollag' in Club Áras na nGael recently.

This year, the organisation celebrated 30 years in business and at the event Cathaoirleach Ghaillimh le Gaeilge, Bernadette Mullarkey, welcomed the Mayor of the City of Galway, Cllr. Pearce Flannery and thanked him, fellow Councillors and Chief Executive, Brendan McGrath for the funding of €50,000 to Gaillimh le Gaeilge for 2018.
The Cathaoirleach also thanked An Roinn Cultúir, Oidhreachta agus Gaeltachta for their support and reflected on the year that has past. Gradam Sheosaimh Uí Ógartaigh, Galway's bilingual business award was a great success with the largest ever number of new entrants in 2017 and a prizefund worth in excess of €23,000 sponsored by local and national companies. One of the biggest shopping centres in the west of Ireland, Ionad na Faiche Móire /the Eyre Square Shopping Centre, Galway scooped the overall prize.
Gaillimh le Gaeilge also provided the service 'Gaeilge sa Ghnó' to businesses and organisations in the city. They worked with 81 Galway based businesses from a variety of sectors during the year, an increase of 42% on last year. As a result of this work, 74 businesses used the Irish language in various ways within their businesses.
Work has commenced on the Irish Langauge Plan for Galway city in association with Comhairle Cathrach na Gaillimhe and other key stakeholders which will roadmap the future of the Irish language for the city.
Mayor of the City of Galway Cllr. Pearce Flannery spoke at the event and said:
"I congratulate you all on the bilingual work that you are doing in the city, not just this year, but over the last thirty years which contributes enormously to Galway's success as a unique cultural city."

He also made reference to the Irish Language Plan for Galway City:

"A new steering group, Coiste Stiúrtha Pleanála Teanga Gaillimh was jointly established by Gaillimh le Gaeilge and Galway City Council earlier this year to support, guide and oversee the progress and the delivery of an Irish Language Plan for the City and I am pleased to be a member of the coiste.

The Consultant to carry out the work should be in place by mid–January and the work on the plan will commence shortly after that."
Among the Cairde in attendance were: Maeve Joyce, Bainisteoir Chumann Tráchtála na Gaillimhe, Galway City Councillors as well as Stiúrthóirí and Cairde Ghaillimh le Gaeilge.
Griffin's Bakery kindly provided a special cake to mark the occasion and the Cairde were entertained by Mick Creehan agus a chairde.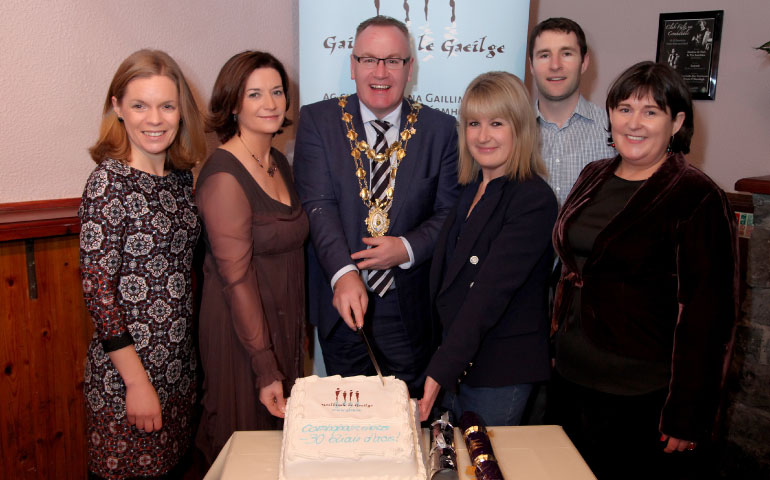 There is another busy year in store for Gaillimh le Gaeilge in 2018. A new website will be launched in early January funded by An Roinn Cultúir, Oidhreachta agus Gaeltachta. Gradam Sheosaimh Uí Ógartaigh, Galway's Bilingual Business Awards in association with the Galway Advertiser and with support from the Galway Chamber will be launched on the 30th January. This prestigious award is now open to businesses and organisations based in Galway but not involved primarily in the promotion of the Irish language or subject to the Official Languages Act 2003.
Gaillimh le Gaeilge provides a 'Gaeilge sa Ghnó' service, free of charge to help businesses/organisations prepare for the Gradam. If you would like more information about Gradam Sheosaimh Uí Ógartaigh, please contact Gaillimh le Gaeilge on 091 568876, eolas@gleg.ie or visit www.gleg.ie. You can follow Gaillimh le Gaeilge on Facebook, Twitter and Instagram.