Chocolate, Cranberry and Ginger Biscuits, and of course, Tea
So, after a lengthy spell away from recipe creating and food writing, I'm just about ready to slowly begin writing for This is Galway again and to begin I thought, why not start with good oul cookies…since I'm all out in the house and need some for tea. I also have a cold so wanted some very over the top spicy ginger biscuits and plenty of chocolate. These are very simple to create and you replace the sugar with either maple syrup or honey. Try make these as gingery as possible; do not hold back and grate in as much as you can. The ginger marries the cranberries very well and the buckwheat flour adds a delicious nutty flour. Add in some protein powder as I have done here if you need or want protein snacks. I'll be putting the kettle on for these. Enjoy.
GF. DF. SF
Ingredients
– 150 g buck wheat flour
– 50g protein powder (of choice, I use pea protein which keeps these vegan but you do not need protein powder at all, it's optional)
– 100g cashew nut butter
– 100g cranberries
– 40g or 1 large piece of ginger
– 70g dairy free dark chocolate ?
– 80g honey or maple syrup
– 2 teaspoons of  Neal's Yard spice mix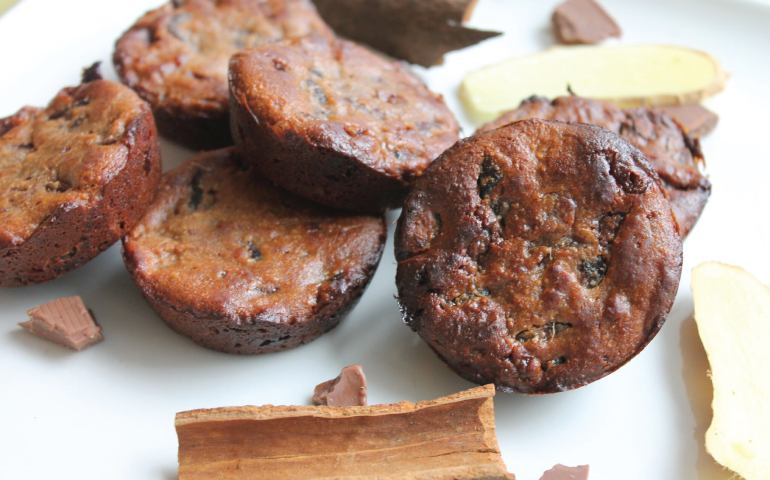 Method
1.) Pre-heat the oven to 160c
2.) Peel and grate the ginger.
3.) Grate half the chocolate and chop the rest into small pieces.
4.) In a bowl add all ingredients and mix well with your hand or spatula until you get a nice soft dough.
5.) Place them on a greased tray or use parchment paper, flatten with your hands or a spatula. I used a muffin tray today to keep a nice round shape, why, I've no idea.
6.) Bake for 15 minutes. Take out and leave to cool.
These are so simple and quick. They should be crispy on the outside and beautifully soft in the middle.
And don't forget, if you manage to make it look pretty, take a snap and share it on the This is Galway Instagram or Facebook page.
About the Chef
You wouldn't know by looking at him, but Stephen Byrne likes to eat, a lot. He has cheffed worldwide; Canada, Australia, San Francisco, Dublin and now resides in Galway. Not afraid of the unhealthy appetite, he has a keen interest in simple whole foods, a love for Asian flavours and an awful sweet tooth. With years of experience, he will create weekly recipes of meals he devours regularly, and hopefully inspire people to cook at home and embark on a healthier lifestyle.
He writes on his site: therantingbeast.com