Goji Berry, Almond and Chocolate Chip Protein Cookies
Goji Berry, Almond and Chocolate Chip Protein Cookies, yep you heard right!
So, as someone who is known to be disgustingly a biscuit beast, seriously I would eat a packet with one cup of tea. Now with the Euro's on, consumption has doubled. No shame (he lies.) But this week I decided I would make my own for the house. Yes, there are hundreds of thousands of cookie recipes, well here's another, sugar free and fecking savage. I have many recipes so took one and played with it, changed it up significantly, keeping the method. Try these. Perfect biscuits if you crave a snack when/if you train, run, swim, any activity. Use them like protein bars except your brain will thank you for the cookie style chocolate feel. Change things up too. I used Goji berries because these are good and chewy (with great health benefits) but you can use any dried fruit. Use peanut butter or cashew butter, healthy flours instead of protein powder, but if you do use these ingredients here you will be rewarded with a healthy nutty damn good biscuit, just need a cuppa cha.
GF. DF. VF. SF.
Ingredients
– 100g almond butter
– 100g pea protein powder (any protein powder or buckwheat flour)
– 80g ground almond
– 120ml hazelnut milk
– 100ml maple syrup or honey
– 150g goji berry
– 100g dark chocolate buttons
– 2tsp Neal's Yard sweet mixed spice
Method
1.) Heat oven to 160c
2.) Break the chocolate into small pieces
3.) In a bowl, mix with your hands all the ingredients into a soft dough.
4.) Separate the dough into small balls (around 30g each) makes around 18-20
5.) Place them on a greased tray or use parchment paper, flatten with your hands or a spatula.
6.) Bake them for 15 minutes. Take out. Cool.
Very simple. Hopefully they will be a little chewy on the inside. I have some left over 2 days later and they were still fine. Also. You can substitute any ingredients for whatever you desire.
And don't forget, if you manage to make it look pretty, take a snap and share it on the This is Galway Instagram or Facebook page.
---
Sources: All ingredients from Evergreen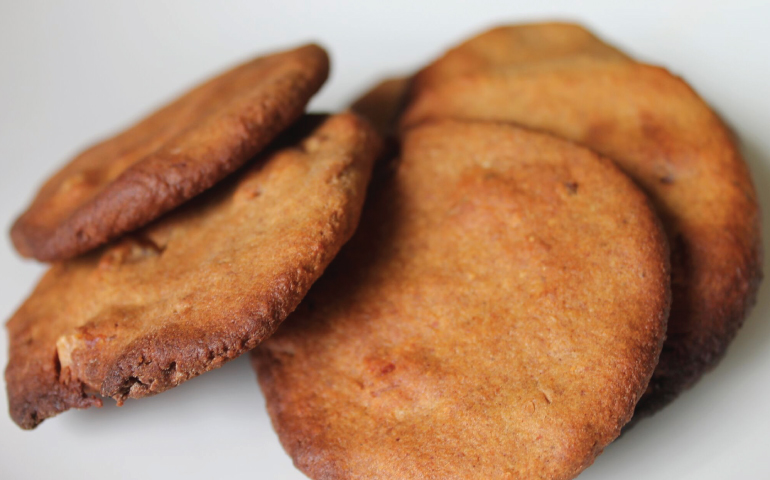 About the Chef
You wouldn't know by looking at him, but Stephen Byrne likes to eat, a lot. He has cheffed worldwide; Canada, Australia, San Francisco, Dublin and now resides in Galway. Not afraid of the unhealthy appetite, he has a keen interest in simple whole foods, a love for Asian flavours and an awful sweet tooth. With years of experience, he will create weekly recipes of meals he devours regularly, and hopefully inspire people to cook at home and embark on a healthier lifestyle.
He writes on his site: http://therantingbeast.com/