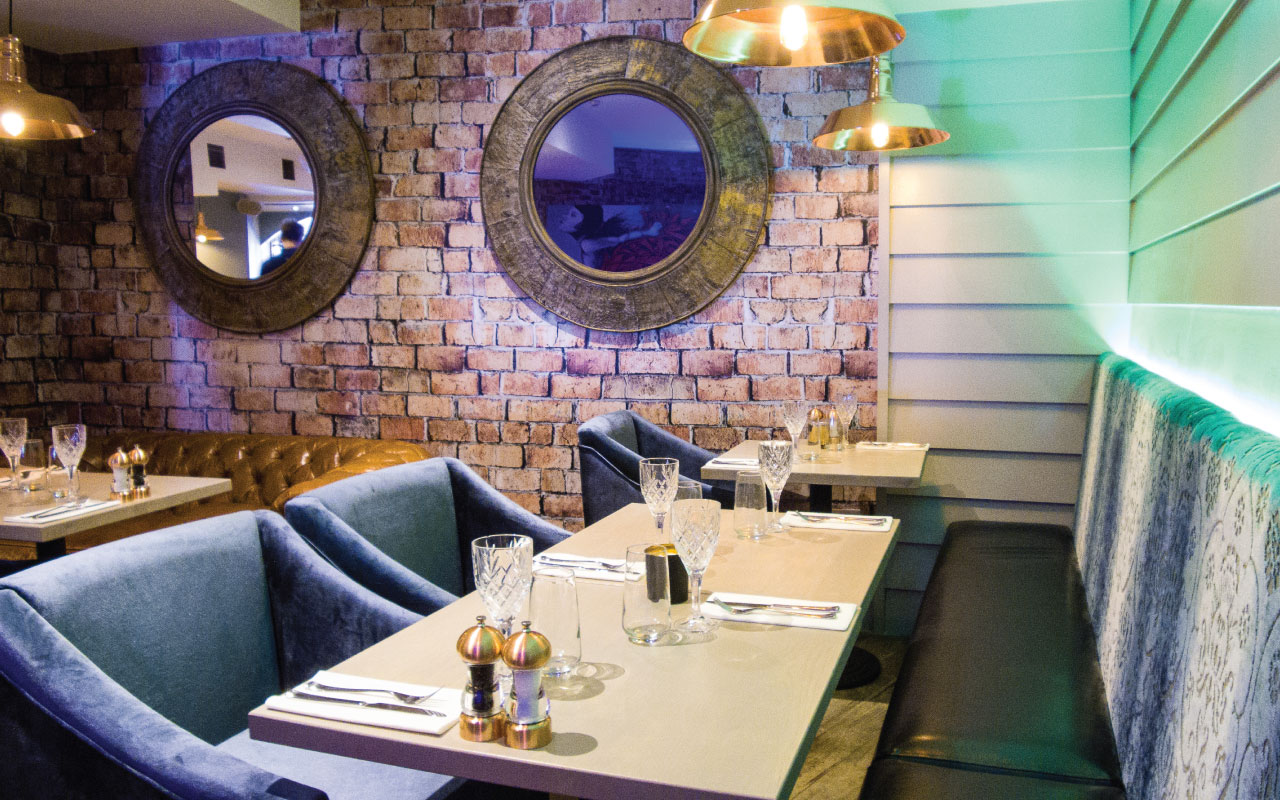 A celebration of food, art and music at SALT – It's time to revisit Salthill
SALT bar and restaurant in Galway's most famous seaside village has opened its doors. Located at 163 Salthill, SALT brings a stylish and bohemian feel to one of Ireland's most popular coastal destinations.
The chic SALT interior and succulent food offerings will excite customers and transport them into a world where abstract art and plush chesterfield sofas meet delectable dishes and creative cocktails. Add live sultry jazz sounds, coupled with a warm and inviting ambiance and it's easy to see why SALT looks set to become the new hot spot on the Galway social scene.
The synergy between the art deco interior, contrasting industrial light fixtures and petrol blue velvet high stools, just works. Marry this with the signature drinks, extensive wine list, prosecco on tap and of course the wide selection of independent beers and you'll see why having a tipple at SALT is a feast for the taste buds.
In Galway, Salthill holds a very special place in the hearts of its people. But it's not just the Galwegians who have a soft spot for the picturesque village. All over Ireland, Salthill means something different to everyone – whether it's childhood nostalgia of a family picnic on the beach or an ice-cream by the sea, teenage memories of swimming in the water or diving from Blackrock, or indeed recollections from later years of enjoying a stroll along the prom or a dance at the Hanger. Undoubtedly, Salthill evokes special memories for us all and now, with the opening of SALT and an explosion of the senses, things are about to get a whole lot more interesting!
SALT will be open from 12 noon daily with a lunch, dinner and light bite offering. The lunch menu boasts a Fish Bouillabaisse (selection of sea food, langoustine and vegetable broth, garlic aioli with gruyère cheese and crostini bread); and a gourmet range of salads and sandwiches including the Chargrilled Bavette of Irish Beef with cress, wild rocket, pickled onions, radish, Cashel blue bonbon and horseradish dressing.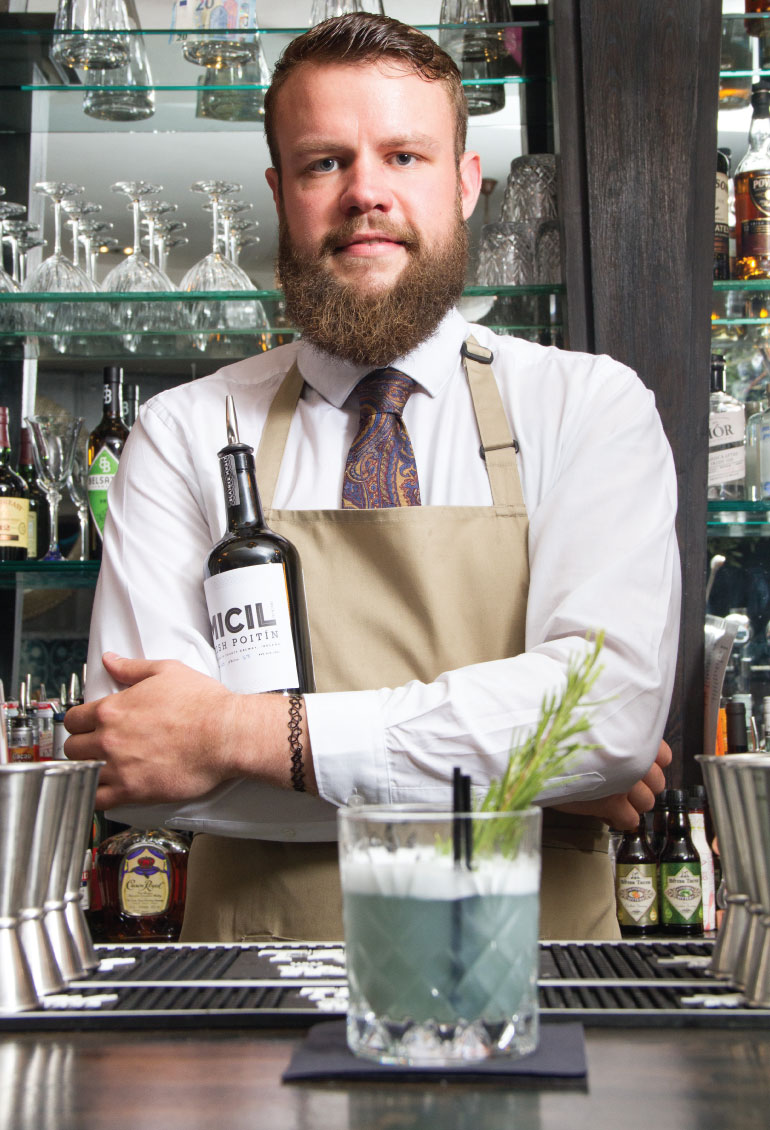 Among the other tasty treats is a super combination of Heritage tomatoes, Toons Bridge mozzarella, McGeough's air-dried Connemara ham, basil leaves, balsamic and olive oil emulsion; or try the King Prawns, Monkfish and Salmon Skewers, marinated in yoghurt with mixed spices, charred lemon, baby gems, pickled cucumbers, carrots, red onions, mint and lime yoghurt, served with or in a toasted pitta bread.

The grill will be fired up from 12 noon and as well as the Daily Catch and 8oz Beef Burger, there's a mouth-watering Selection of Tacos on the menu (fish and chips, crispy pork belly or baked goat's cheese, served with baby gem, red onion salsa, guacamole and pickles). There are lots of choices from the sea too with a Mixed Grilled Selection of Fish and Shellfish and of course Fish and Chips SALT Style – a roasted pavé of cod with crispy batter skin, mint pea purée, house salad, chips, capers and parsley aioli.

Dinner begins at 5pm nightly and to whet the appetite, why not sample Baby Squid a la Plancha, served with tomato fondue and charred baby fennel; Salmon Tartare (mini doughnuts served with lobster mayonnaise); or Baked Camembert Bonchoix for two (crudités, rhubarb jam, toasted sourdough). The Heritage Tomato Salad is also a delicious option, with dried basil leaves, beetroot tempura, black olive and goat's cheese bonbon, while the Black Pudding with apple smoked pancetta puffs and gribiche sauce is certain to excite the taste buds.

For the mains, there's a Sweet Potato, Cauliflower and Aubergine Korma served with cardamom basmati rice, coriander yoghurt, pickles and pitta bread; while the North African-Style Plate of Irish Lamb will surely turn heads with a wonderful mix of all-spiced neck, ginger and dried fig shoulder and mint and harissa rack. The Fisherman Selection looks and tastes superb too and includes organic salmon, oyster beignet, salted cod potato cake, scallops, asparagus, carrot, samphire, salmon caviar and chive sauce.

For those with a sweet tooth, the in-house baked desserts are to die for with delicious combinations such as Roasted Peaches with mint and star anise soup, shortbread and vanilla cream; Strawberry and Basil Panna Cotta with crushed meringue; a Chocolate Delice with salted caramel, Teeling whiskey ice-cream and hazelnut crumbs; and an Apple and Cinnamon Tarte Tatin, served with honey-glazed grapes, rum and raisin crème analgise.

For more information on all things SALT, check out SALT Galway across all social platforms or at www.saltgalway.com