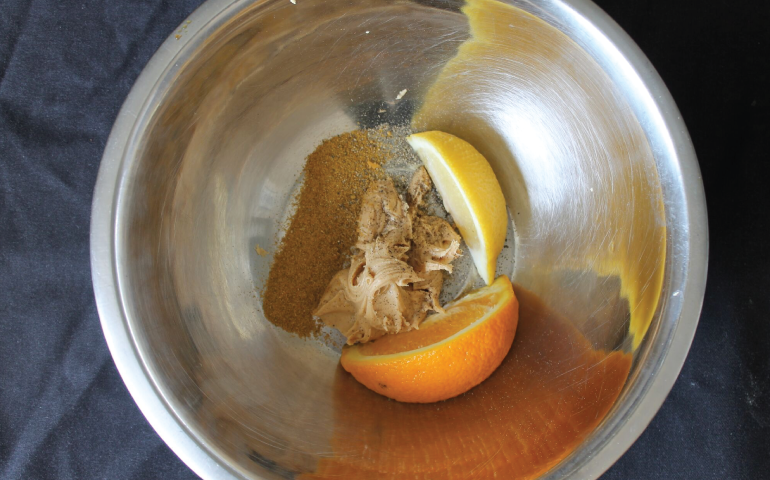 Boring Boring Chicken Breasts!
So, something very very simple this week. It's not pretty and a little camera shy. I don't eat much chicken. Boring even if locally farmed. But that's my own taste. There are many who love and live on the meat. The reason I'm whipping up this recipe is for Ronan in my gym (and for many others) who train, eat a lot of meat and get extremely bored with what they consume. I hear the same complaint about the chicken meals sports people eat, how boring it is and tastes, so here is a very quick recipe to pump some gorgeousness into the meat. Healthy with some extra protein in the peanut butter. I usually do this with turkey. It works best if you can leave the meat marinate overnight.  I like to cook some brown rice and add the juice that is left over from the cooking to the rice, savage. All should try this, really tastes fresh and damn good.
Ingredients
– 2 chicken breasts
– 1 orange
– 1 lemon
–  large tablespoons of peanut butter (or any nut butter)
–  tbsp of curry powder
– Black pepper
– Sprinkle of salt
Method
1.) In a bowl, place the peanut butter, salt, pepper, curry powder. Give it a little whisk.
2.) Squeeze in the juice of the orange and lemon. Whisk well until all ingredients are smooth.
3.) Slice the chicken breasts horizontally in half to make 2 thinner pieces.
4.) Place in a baking dish with the marinade and make sure the chicken is well covered with the sauce. If cooking straight away, put in the preheated oven at 160c for 20 minutes. If marinating overnight (recommended) cook at 160c for 25 minutes.
That's it. So so simple and damn tasty.
And don't forget, if you manage to make it look pretty, take a snap and share it on the This is Galway Instagram or Facebook page.
---
Sources: Veg from from Ernies Fruit and Veg Store on Sea Road. Chicken from Collerans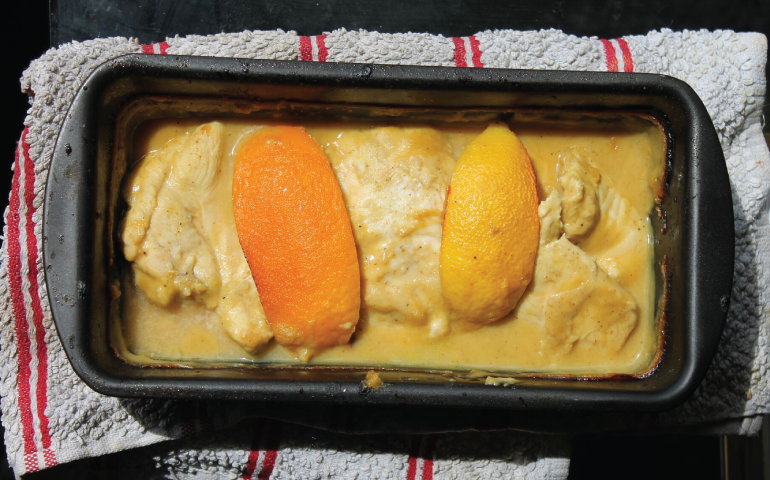 About the Chef
You wouldn't know by looking at him, but Stephen Byrne likes to eat, a lot. He has cheffed worldwide; Canada, Australia, San Francisco, Dublin and now resides in Galway. Not afraid of the unhealthy appetite, he has a keen interest in simple whole foods, a love for Asian flavours and an awful sweet tooth. With years of experience, he will create weekly recipes of meals he devours regularly, and hopefully inspire people to cook at home and embark on a healthier lifestyle.
He writes on his site: http://therantingbeast.com/