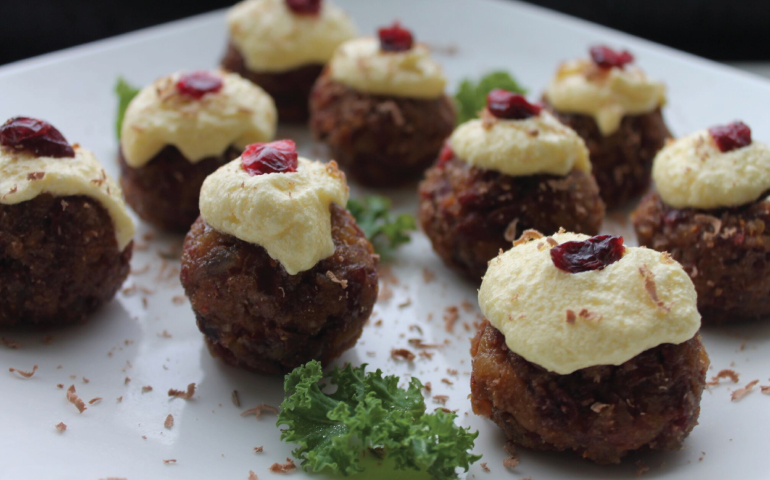 Boozy Mini Bitesize Alternative Christmas Puddings
Christmas Pudding. A product that divides a nation and causes in-house wars. A dish that has its origins from medieval times and to some should have remained there. Traditionally a boiled pudding with fruit, eggs and suet; not an appetizing arranged sentence. Personally, I don't mind it, but around this time of year, I see it purchased for the Christmas and then thrown away, and waste drives me nuts. So, I've decided to create an alternative. A bite size after dinner dessert that can be made very easily and served after your Christmas dinner or at parties. There is no cooking involved apart from heating some alcohol, and it is dairy and gluten free. The final product worked out sublime, and very easy to make. You can just keep them in the fridge, serve when ready and kick out the traditional pudding and hopefully please everyone (yes I know, I know, there will always be one.)
GF
Makes 10
Ingredients
– 130 g dried apricots
– 100 dried cranberries
– 100g dried dates or prunes
– 120ml brandy or whisky of choice (alternatively almond, hazelnut or coconut milk)
– 50g ground almonds
– 1 lime
– 70g vegan dark chocolate
– 1 orange
– 2 t/s of Neal's Yard Sweet Mixed Spices (see tip below) or grated nutmeg
For the Icing
– 150g icing sugar
– 30g vegan butter
– 1 small piece of ginger
– Orange juice
Method
1.) In a small pot, add 100ml of the alcohol, the apricots and cranberries. Bring to a boil and simmer for no more than a minute. Stir once or twice. Take off and leave to cool, letting the alcohol seep into the fruit.
2.) In a food processor, add the dates or prunes, spice mix and ground almond.
3.) Grate the skin of both the orange and lime. Add into the mix along with the juice of a whole lime.
4.) Add the remaining 20ml of alcohol and the fruit and juice in the pot to the mixer.
5.) Blend together until you get a dough like consistency.
6.) Roughly break up the chocolate with a knife. Add to the mix and blend again into the mix for another 10 seconds.
7.) Happy with the taste of the mix, boozy enough? Roll the mix into two bites size balls or one bite size if you are making these for a large party.
8.) Place into the fridge while you make the icing.
9.) Either using a mixer to whip or your hand (I used a bowl and a whisk) Add your butter, a grated piece of ginger, the juice of a small wedge of orange, a dash of alcohol and whisk together.
10.) Add in the icing sugar in stages until it becomes smooth and creamy.
11.) Take out your balls from the fridge (queue the laughing) and add a small amount of the icing on top. Place back in the fridge for 5 minutes. Decorate as you please.
---
Tip: I use Neal's Yard Sweet Mixed Spices a lot in desserts and other recipes. It's an assortment of coriander, cassia, ginger, nutmeg, fennel, cloves and cardamom and it tastes sublime. You can substitute any spice you like if you do not have or cannot find this mix, but I recommend it. It is always in Holland and Barrett.
And don't forget, if you manage to make it look pretty, take a snap and share it on the This is Galway Instagram or Facebook page.
---
Sources: Spices and Chocolate from Holland and Barrett, Vegan Butter, Dried Fruit, Icing Sugar from Evergreen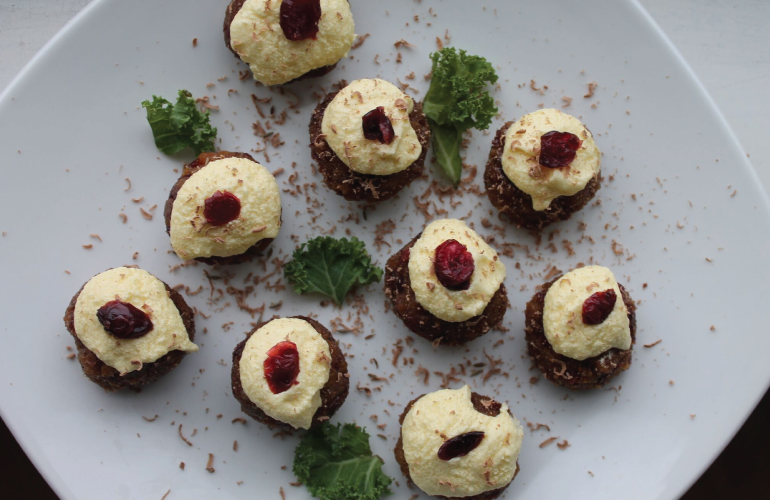 About the Chef
You wouldn't know by looking at him, but Stephen Byrne likes to eat, a lot. He has cheffed worldwide; Canada, Australia, San Francisco, Dublin and now resides in Galway. Not afraid of the unhealthy appetite, he has a keen interest in simple whole foods, a love for Asian flavours and an awful sweet tooth. With years of experience, he will create weekly recipes of meals he devours regularly, and hopefully inspire people to cook at home and embark on a healthier lifestyle.
He writes on his site: http://therantingbeast.com/