Happy birthday John Keogh's! Two years, multiple award wins and thousands of happy customers
In just two years, multiple national awards have combined with a core local customer base to make John Keoghs – The Lock Keeper one of Ireland's best-loved gastro pubs and social get together destinations!
In 2017 John Keoghs – The Lock Keeper was named as one of Irelands best gastro pubs by Hospitality Ireland, the westend pub took home gold at the Irish Pub Awards by winning Best Pub Food and Best Customer Service in Connacht.
The accolades didn't stop there. The Irish Independent named John Keoghs in their Top 20 Gastro Pubs in Ireland.
John and Sally McKenna are also big fans stating that: "The extraordinary transformation of Galway's food and hospitality cultures can be seen through the prism of the success of John Keogh's – The Lock Keeper. With dynamic Connemara chef Joe Flaherty in the kitchen, John Keogh's has driven the culinary standards ever higher, establishing themselves as a beacon of good food and good times in Galway's bustling West End. The character of the kitchen can be seen in their distinctive signature dishes – nut crusted duck cake; whiskey-cured salmon; Guinness and Clew Bay oysters – but in truth everything about John Keogh's is distinctive, and dynamic."
The gastro pub which is located on Dominick Street in Galway's food hub has also been recognised by EuroToques Ireland, the organisation of chefs & cooks dedicated to preserving the Ireland's culinary heritage and inspiring the future.
John Keoghs – The Lock Keeper has been a very welcomed addition and is now firmly ranked among the places to go in Galway's westend. The bars at John Keoghs are filled with snugs and partitions with genuine pub antiquities, and this along with an open fire and a warm welcome makes this the place to eat and drink in Galway.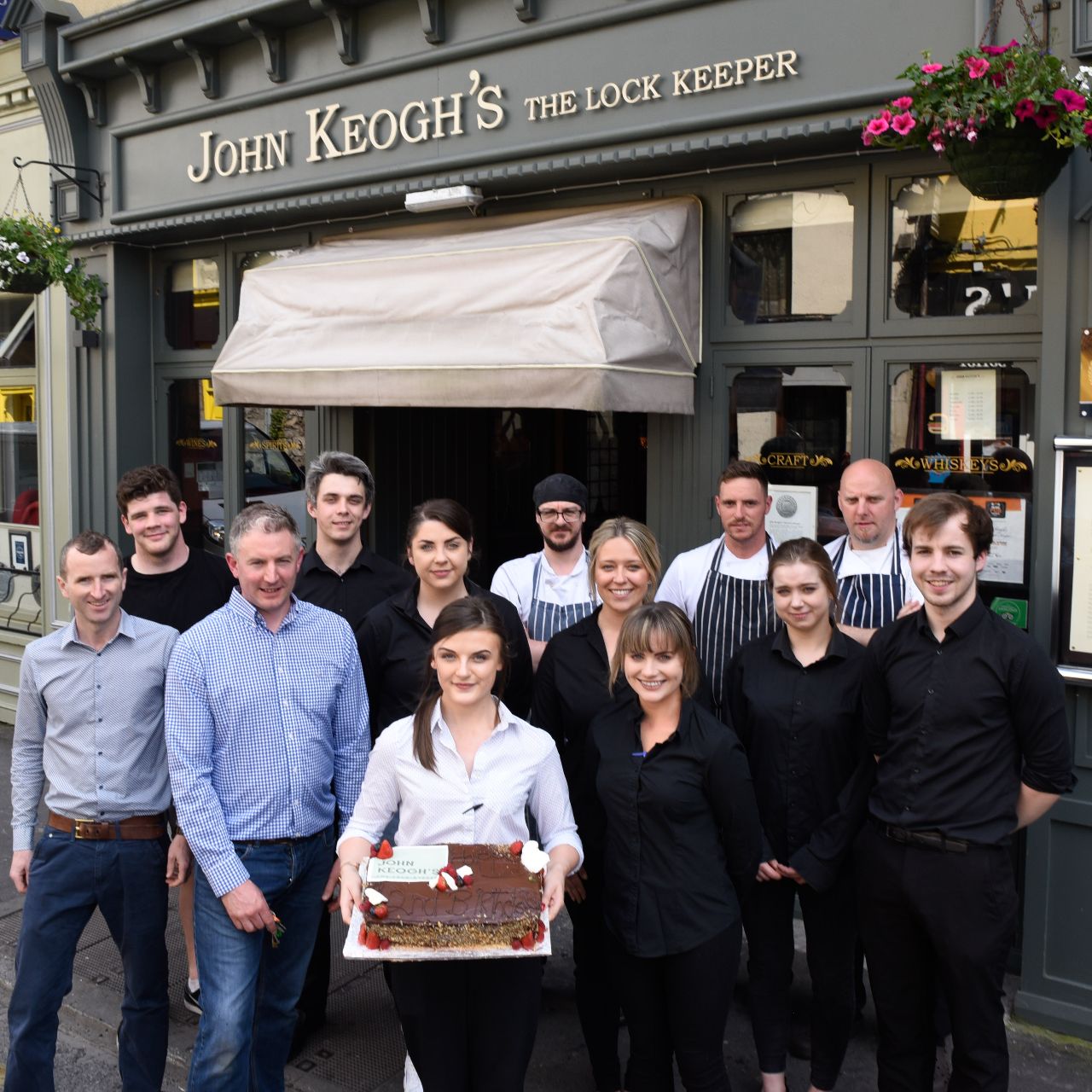 With a private function room that can host from 20 to 100 guests, a party in John Keoghs is all about great party food cooked to order and brilliant service. Guests have their own private bar and as described by a customer "it is worth pointing out this is no ordinary finger food. The food was of gourmet quality."

The private Occasional Room has its own bar, sound system, air conditioning and is on the same level as the main bars. Options for a DJ, small band or just background music from a playlist are all available.

Whether you are popping in for a light bite, Sunday lunch or dinner, John Keoghs has that feeling of welcome you get from a place that is familiar. The interiors, staff and drinks offering along with their award-winning food combines to make John Keoghs a place you will return to again and again.

Dinner is served on week nights from 5pm and lunch from 1pm on weekends. Get social with John Keoghs, The Lock Keepers across all social media platforms, call 091-449431 or check out John Keoghs on Tripadvisior or www.johnkeoghs.ie. Private functions catered for.