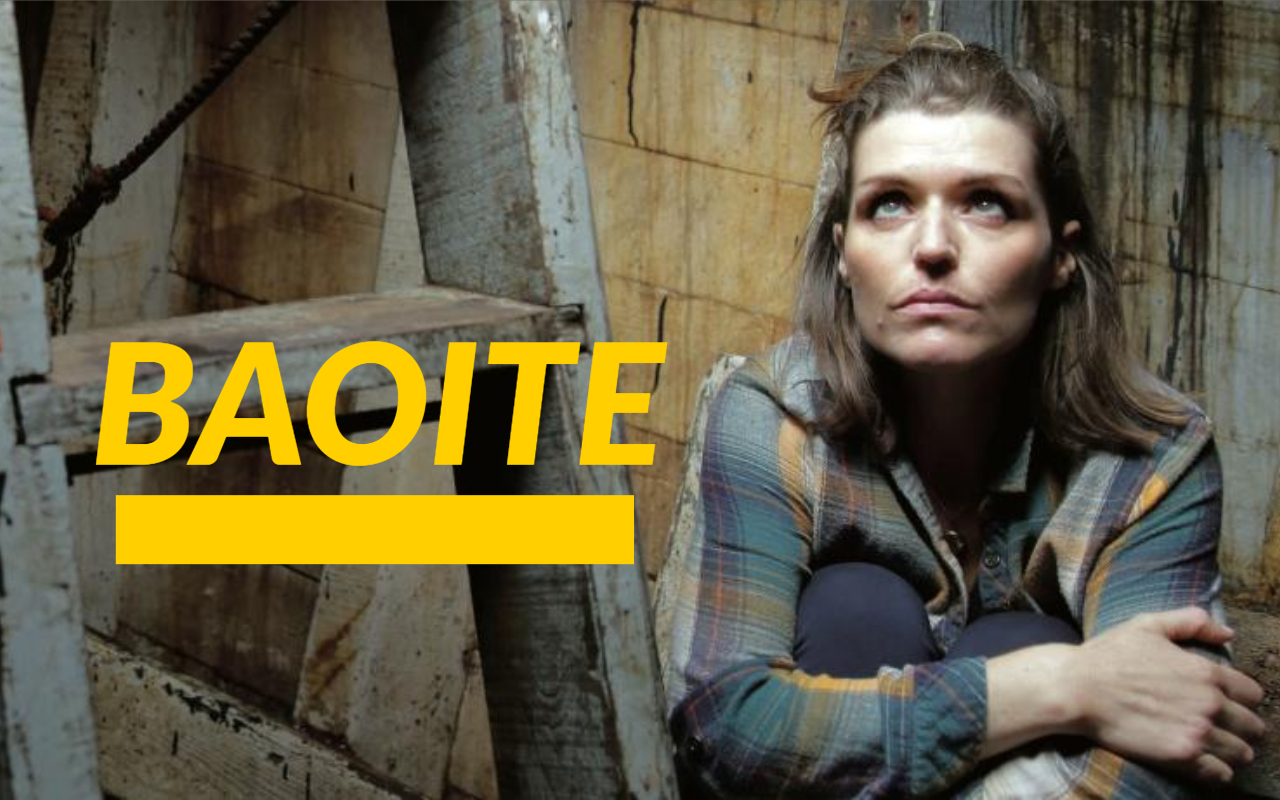 BAOITE: Irish theatre for the modern age
Abbey Theatre's major new show BAOITE tells the story of a fishing family and their desperate fight to defend their coastal community from the threat of offshore fracking. Performed in Irish with English subtitles, BAOITE is Irish theatre for the modern age.
BAOITE is written and directed by Darach Mac Con Ioaire, who works almost exclusively in Irish. His credits include the hit TV crime series Corp + Anam, which won IFTA awards in 2011 and 2015. He was also the Artistic Director of An Taibhdhearc from 2000 to 2005, where his show BAOITE will premiere this summer.
BAOITE is a co-production of Abbey Theatre and An Taibhdhearc, presented in association with the Galway International Arts Festival.
Tell me about your fabled writing shed on the side of the mountain in Connemara…
My dad bought an old prefab classroom in Dublin in 1981, put it on the back of a lorry and brought it to his home place of Casla in Conamara. Born and bred in Dublin, our family used to holiday there when we were children – 3 months in Conamara with no running water or electricity – it was great! Now it's where I write – it's perfect – quiet and totally out of the way. (It has sanitation now!)
John Cleese has a great take on creativity and the 'how to be creative' conundrum. Reassuringly, he reckons creativity is not a talent, but a way of working – all about getting your head into the open mode. The key to this is dedicated time and space to create. I can attest to this. With four young children at home, having a studio away from the house is a must to get any work done.
What's your research process?
There's a fine line between research and procrastination. The internet is a game-changer in terms of reading up on relevant material, but it can easily become the enemy. It's many a day that I've spent trying to justify 8 hours surfing the net as work related! Part of getting the head into the open mode is silencing the din inside – the voices telling you that there's loads more important things to be done at this moment than writing. A key to a successful day's work though is shutting out all access to the web, turning off your phone, and sitting quietly for 15 uncomfortable minutes – until your head finally manages to start focusing on the work at hand. The most important research tools I reckon you have as a writer are discipline, life experience, curiosity, and empathy.
BAOITE has a big cast and crew. Does it come naturally to you to work collaboratively?
Writing is solitary work – I could spend 2 years working on my own on a project. This isolation does have its effects on your social and parenting ability, but as I direct my own work, the balance comes once the work goes into production. Suddenly you find yourself working with designers, artists and musicians, which is a welcome release from the blinking cursor staring up at you from the screen. The buzz is amazing. A total mix of wonder and fear – everyone experiencing that adrenaline rush as the show begins to take shape and new discoveries are made.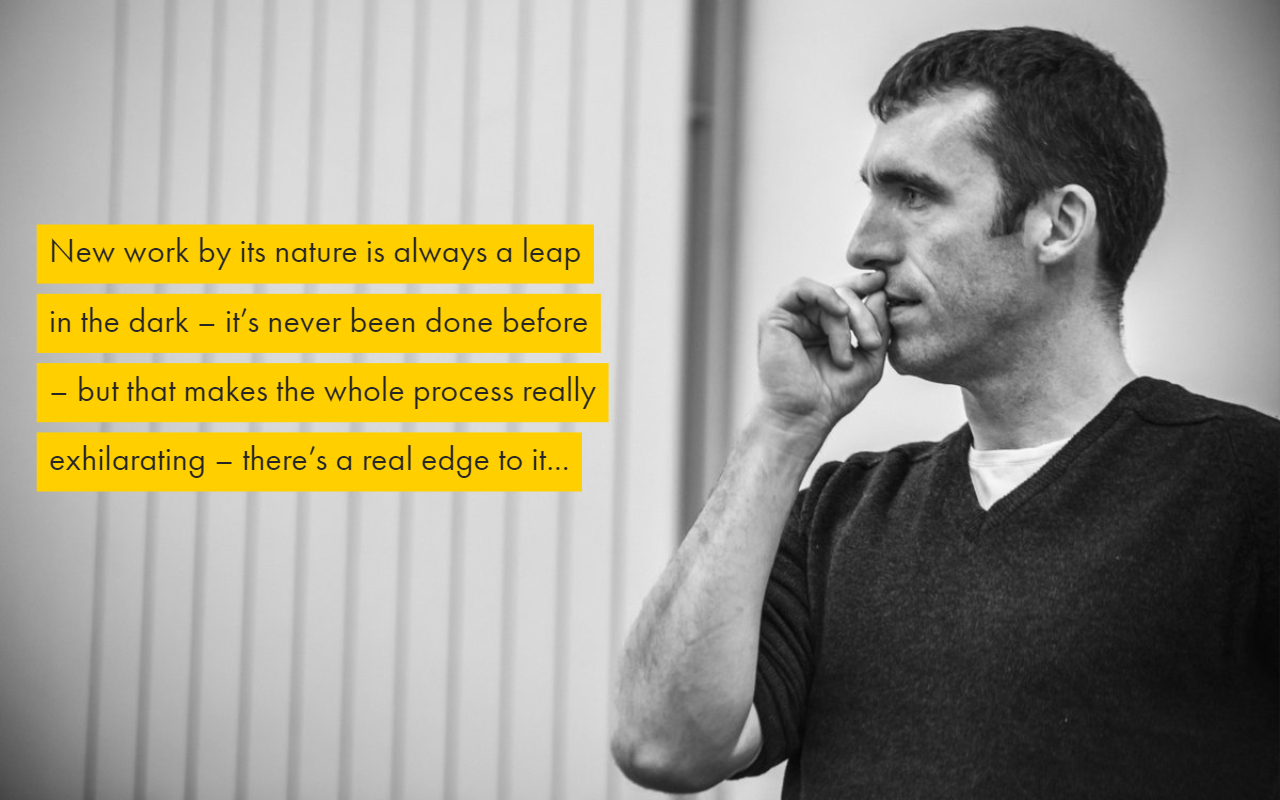 The style of this production features interesting choices: the set design, musical arrangements, and staging. Is there anything else you can say at this point?BAOITE is definitely up there with the most challenging project I've worked on to date. Live music accompanies an ensemble cast of fabulous actors including Siobhan O'Kelly, Diarmuid De Faoite, Macdara Ó Fátharta and Seán T. Ó Meallaigh. It's a wonderful cast and crew and a total privilege for me to collaborate with such talented artists and musicians to realize this new play. New work by its nature is always a leap in the dark – it's never been done before – but that makes the whole process really exhilarating – there's a real edge to it…
Ethics seems to be a theme of yours…
Secrets and lies fascinate and infuriate me. Especially the secrets of official Ireland. We have a sorry history of church and state hypocrisy and the collusion of vested interests on an industrial scale. We haven't broken all of these shackles yet. BAOITE addresses these themes of lies and omertà to the backdrop of one of the biggest conflicts in the West of Ireland since the foundation of the State – The Corrib Gas project.
Set in that context, BAOITE is a story about one woman's need to have children and how she takes a stand against her whole community to try and make her attempts at IVF finally work. The fracking ties it all together, from the IVF process and the effects it has on relationships, and then ultimately the prize at the end – be it the gas or the family – if you're lucky – but at what price…?
BAOITE premieres at An Taibhdhearc as part of this year's Galway International Arts Festival from Thursday 12 – Sunday 22 July. Nightly @ 7.30pm. Matinees on Sat 14th & Sunday 22nd @ 2pm. No show Sunday 15th. Tickets €25/€20 from www.antaibhdhearc.com or 091 562024
Performed in Irish with English subtitles