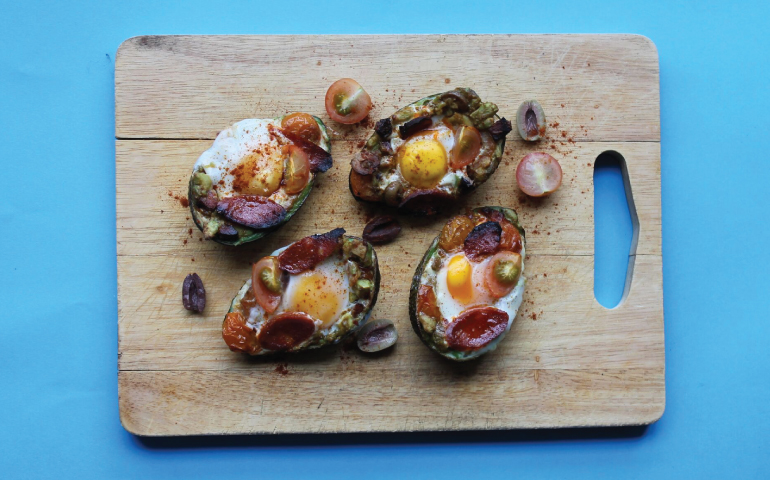 Baked Eggs with Gubbeen Chorizo in Avocado Shells
On a rare occasion when I want to treat myself to a tasty brekkie I have baked eggs. Not many people I know go to much effort for breakfast let alone bake eggs. But you really should try this, it takes small effort, tastes amazing and looks like you were born, working in a kitchen. You would usually bake eggs in a small dish, can use nearly any ingredients, and best part, bang them in an oven and go have a shower while they cook. The mix of ingredients here are mouthwatering but of course you can omit what you want. I went to Sheridans and bought some Chorizo from Cork, uncooked, but you can use cooked or uncooked here, doesn't matter. It's a good healthy start to the day, and can also make a damn fecking great lunch too. Go for it, trust me.
GF
Ingredients
– 2 ripe avocados
– 10 cherry tomatoes
– 140g gubbeen fresh chorizo
– 100g mixed olives
– 4 small eggs
– Seasalt and black pepper
– Paprika
Method
1.) Preheat the oven to 170c.
2.) Cut the avocados in half, take out the stone, scoop out the avocado flesh and roughly chop it. Sprinkle some seasalt on the avocado. Leave to the side.
3.) Cut the tomatoes in half.
4.) Slice the olives.
5.) Peel off the outer skin of the chorizo sausage, cut in half, then quarter and dice into small cubes.
6.) In a pan, add the oil from the olives (or any oil of your choosing) and lightly fry the chorizo, olives and tomatoes.
7.) Add the chopped avocado. Take off the heat and mix everything well.
8.) Place a good spoon of the mix into each avocado shell. Pack it in and make a well.
9.) Crack an egg into each avocado. Sprinkle some paprika and black pepper on top of each.
10.) Bake for 10 minutes. Simple.
And don't forget, if you manage to make it look pretty, take a snap and share it on the This is Galway Instagram or Facebook page.
---
Sources: Chorizo and olives from Sheridans Cheesemongers. Veg from Ernie's Fruit & Veg
About the Chef
You wouldn't know by looking at him, but Stephen Byrne likes to eat, a lot. He has cheffed worldwide; Canada, Australia, San Francisco, Dublin and now resides in Galway. Not afraid of the unhealthy appetite, he has a keen interest in simple whole foods, a love for Asian flavours and an awful sweet tooth. With years of experience, he will create weekly recipes of meals he devours regularly, and hopefully inspire people to cook at home and embark on a healthier lifestyle.
He writes on his site: http://therantingbeast.com/