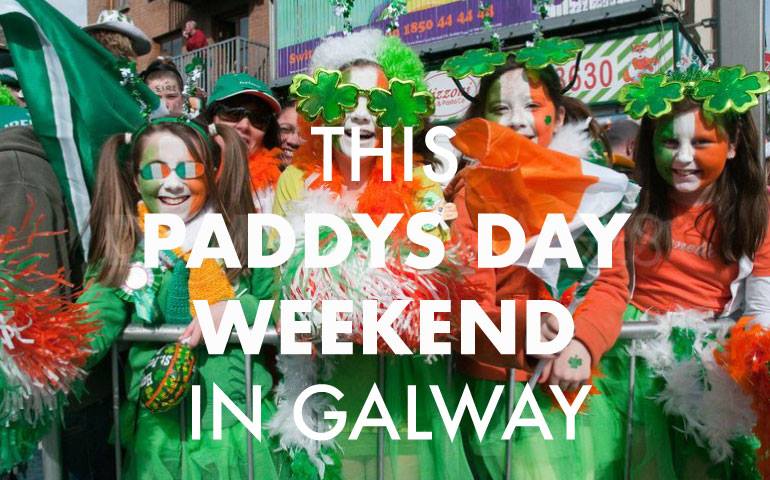 10 things to do this Paddy's Day Weekend
Plenty to do for Paddy's Day in Galway this weekend! Whether you're going full steam ahead with the face paint, drinking and general debauchery or you're trying to keep it more low-key, we've got the scoop.
Source: ChrisDidThis
Watch the Paddy's Day Parade
We have high hopes for this year's parade. Gavan Harrison, the absolute Galway legend who took a one-person boat across the ENTIRE ATLANTIC OCEAN, will be leading the parade this year. Macnas will be making an appearance, too! Pick your spot (we recommend Eyre Square) and get the day rolling!
Paddy's Day // from 11.30 am // more here
---
Enjoy the sounds of the Pogues from Pogue Ma Thoin
Saturday night, this cheeky nine-piece tribute band to the Pogues will be coming to the Loft. We're not sure if they've got the teeth, but they've got all the songs and that should be good enough.
Saturday, March 18 // The Loft // 9pm // more here
---

Get super green at McGettigan's
If Paddy's Day to you means getting decked out in leprechaun hats and drinking cheap cocktails, head to McGettigan's. The bar will be ktted out in Paddy's Day green, with themed cocktails for a fiver. There will be trad music from 6pm to 8pm, followed by a love band til 10pm. Then a DJ and live saxophone player will take the stage til late. There will be food served all day too!
Paddy's Day // McGettigan's // more here
---

Go hard for a 24 hour sesh at the Day 2 Night Garden Party
Electric will be opening its doors for a party that lasts all day and all night, starting at 2pm. There's a full lineup of DJs bringing you all types of music, and of course Electric's signature delicious cocktails… And the rooftop at Biteclub will be serving up delicious food into the evening to keep the party going.
Paddy's Day // Elecitric Garden // from 2pm to late // more here
---
Pray for rain at the Salt House
Last year, it rained stout on Paddy's Day inside the Salt House after a keg exploded. It was a gift from the gods of drink, truly. This year, we suspect they might be hoping for more of the same — they're putting craft stout on all their taps, which means lots of stout kegs upstairs… Just saying. Bring an umbrella maybe?
more about the Salt House here
---

Try to make a dent in those kegs and kegs of beer
I mean, this goes without saying. Paddy's Day falls on a Friday this year so we're expecting town to be mental from Thursday night onward. Pubs in Galway are known for their preparation…. Just look at Neachtain's, from last year. That'll take some drinking.
---
Rock the Docks with the Rye
Head to Dock No1 for some Paddy's Day craic and some great tunes. The Rye are a four-piece band from the West, bringing a fresh and exciting spin on Irish music. It's going to be a great way to finish out your Paddy's Day celebrations.
Paddy's Day // Dock No1 // 9.30 // more here
---

Get in some Sparch action
Paddy's Day in Galway sees people going crazy for a few cans by the river. It'll be wedged, full of music and laughter, and probably also garda coming by to move everyone along. Remember to clean up after yourself since we've got a Green Leaf Award and all now!
---
Bring your dance shoes for Stomptown Brass
From Electric Picnic to the streets of Dublin, this nine-piece brass band is well known for their loud and lively sets. Dance the night away, have a couple pints — the lads will be keeping you on your feet until the wee hours.
Paddy's Day // Monroe's Live // 11:30 // more here 
---

Bring the family to watch the Fun Cycle relay in the Latin Quarter
Cyclign clubs from around Galway will be coming to the Latin Quarter on Sunday evening for relays and knockout races around town. It should be a bit of Paddy's Day-themed craic and silliness.
Sunday, March 19 // from 5pm // Latin Quarter Galway
---