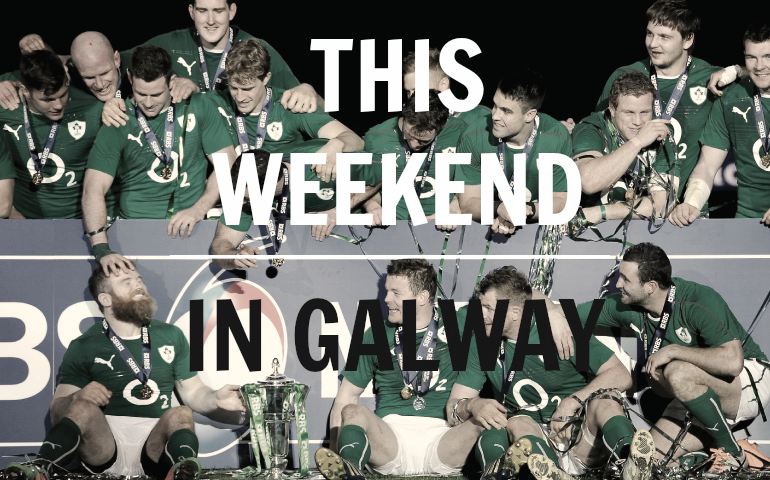 9 things to do in Galway this weekend
Disco brunch, great music, charity, sexy Six Nations… Whatever floats your boat, it's happening in Galway this weekend. 

Here are 9 options for making this weekend a great one in Galway. 

Have a good laugh with Damo Clark
Big arms, a peaky cap, an Aussie accent and a childlike sense of humour — sounds like our dream man. Er, comedian. Clark's infectious energy and childlike outlook makes him one of the most uniquely entertaining acts on the comedy circuit. 
Friday, Feb 3 / 9pm / Roisin Dubh / more here
---
Friday, Feb 3 / 9pm / Roisin Dubh / more here
Catch One Man Town at Monroe's
Their first single, Cut Throat Desire, made waves in 2016. Now the Donegal/Derry natives will be kicking off their 2017 tour in Galway!
Friday, Feb 3 / 9pm / Monroe's Live / more here
---

Indulge your inner Transporter at the Galway Rally
The Corrib Oil Galway International Rally gets underway on Friday and it looks like its going to be a weekend of intense competition between locals and international rides from as far as Germany.
All weekend / more here 
---

Dance to support the Hospice
You don't actually have to dance (but you should). Great cover bands from around Galway will be heading to Seven Bar on Saturday night, to raise money for the Hospice. Donate what you can, and then listen to some great tunes and have a good night. It's a good way to justify going on the piss — it's for charity, after all.
Saturday, Feb 4 / 8pm / Seven Bar / more here
---

Eat, drink and watch Ireland dominate on Saturday
Well, we hope so. For drink deals, food, and massive screens, check out our list of great spots here. 
---

Good times, for a change with These Charming Men 
This Morrissey/The Smiths cover band have simultaneously charmed and saddened crowds around the world since 1995. They even stepped in for Morrissey himself when, true to form, he didn't show at the Fuji Rock Festival in Japan 2004. A great mix of energy and melodrama, they hit it on the head. 
Saturday, Feb 4 / 9pm / Roisin Dubh / more here
---
 
Check out the Black Gate Cultural Centre if you haven't 
A meeting place for artists, coffee lovers, dancers, wine drinkers and everyone else. If you're still wondering what it is (or where it is), check out this article from At Áit Eile here. 
---

Get out in nature
Try some horse back riding at the Slieve Aughty Centre in Loughrea. Or take a drive up through the Connemara mountains — gorgeous even in lashing rain. Take a wander through Barna woods, or a stroll along the Atlantic. Galway is lovely – take advantage of it!  
---

Stuff your face and get your groove on at Disco Brunch
Disco Brunch at Biteclub is back this Sunday! With an extended brunch menu, exclusive disco brunch cocktails from noon, and Anthony Collins on the disco jams all morning, it's a great way to chill out and do brunch a little differently.
Sunday, Feb 5 / from 10am / Biteclub / more here
---

Turn your brain back on with a new book 
January is always a hectic blur. We try to do a lot of good things — exercise, eat right, return our mam's calls — and mostly just end up feeling a little sick at the end. Take some time to recuperate this weekend by picking up a new read and relaxing. Head to Charlie Byrne's or Bell Book and Candle — don't be afraid to ask for a recommendation!