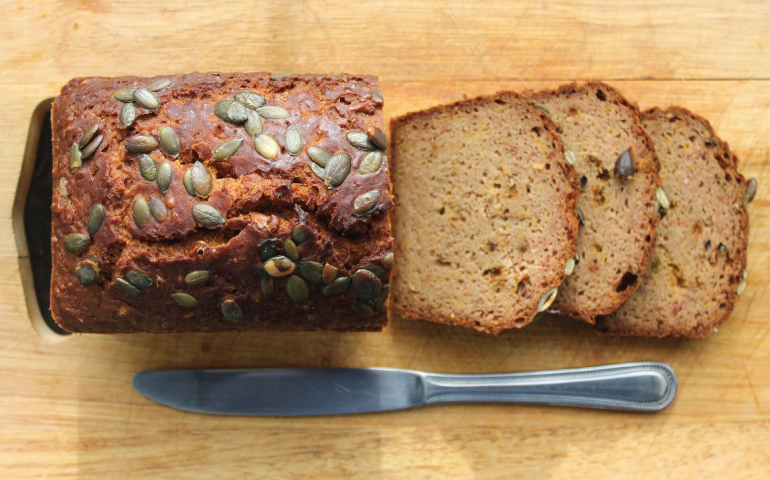 6 Ways To Use Up That Pumpkin You Are About To Throw Out
Murder, Disembowelment, Butchery yet no Cannibalism…Come on Halloween Lovers
If you wander any shopping centre or market this time of the year you will come across thousands of big chunky pumpkins, waiting to be bought and butchered for fun. Whether to carve stupid faces (see above) make lanterns or decorate the front of a house, the majority of these pumpkins will be left to rot and dumped as soon as Halloween ends.
This drives me insane. With huge attention been aimed towards food waste lately, it's still surprising people do not use the pumpkin for food. Imagine billions of pounds of pumpkins are grown worldwide specifically for decorative purposes with severe food shortages in many parts of the world. Mind-fuck. Also, when dumped in landfills, pumpkins generate green house gas emissions.
Now, these specifically grown pumpkins aren't the tastiest but with a bit of TLC you can create many decent dishes as you will see below. Pumpkin flesh is high in fiber and beta carotene and their seeds can be rich in potassium and protein. With the pumpkin I purchased above I was able to create meals for the next few days. So, as they are now at a cheap price, I recommend buying a couple. Follow the recipes below and even find new recipes such as pumpkin curries and pies and go mad…they are delicious even the chunky ugly purposely grown version when a little attention is laid up it's ugly mush.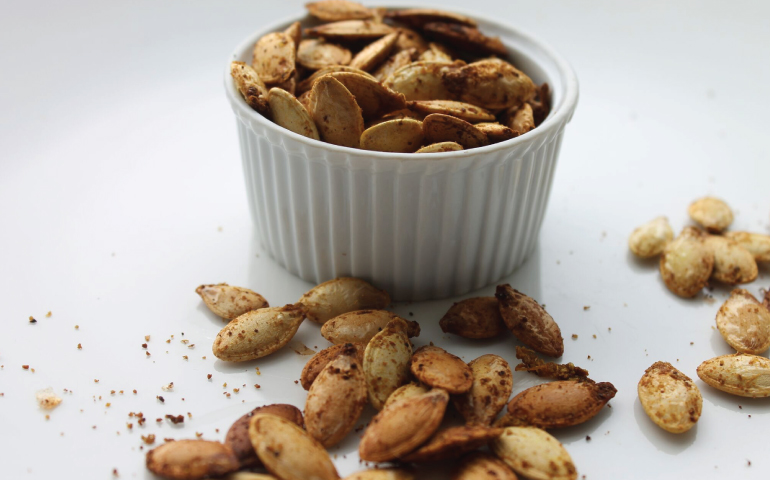 1. Seeds
Even if you have just bought a pumpkin to carve, still, scoop out the seeds, they are so damn tasty. Soak them in water and rinse clean. Pat dry. In a bowl, toss in a little oil, salt and pepper, and a spice or spices of your choice. I use curry and cayenne. Roast them for around 10 minutes until a little brown and crispy. Eat when cold they taste like popcorn, actually better.
2. Soups
With the good size of these pumpkins in the shops, you can make a lot of soup, soup for a few days, soup to even freeze and prepare for the winter. The flesh of these pumpkins makes many versatile soups and can be damn tasty and healthy too. A while back here on This is Galway I made this very simple recipe "Fast, Simple, Squash, Honey and Spice Soup" using squash. Follow it and replace the squash with pumpkin for a delicious soup.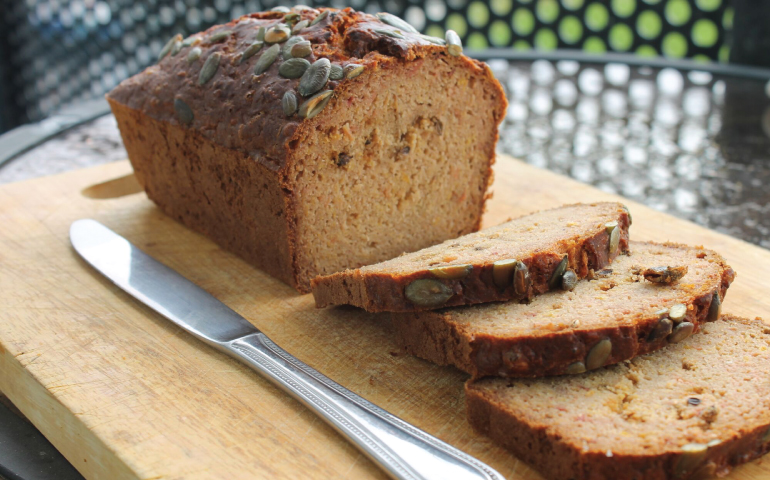 3. Spiced Pumpkin and Apple Bread
This is a simple healthy bread to make that is outstanding with dips like hummus (such as the one below) and tapenades. It also tastes amazing when lightly fried. It is not too sweet and the spices added really bring it alive. I did a similar recipe before; here is the one I made today.
Ingredients
– 240g buckwheat flour
– 1 ½ tsp bicarbonate soda
– ½  tsp baking powder
– 300g grated pumpkin
– 1 grated apple
– 3 large eggs or 4 small
– 120 ml oil (your choice, I use Rapeseed)
– 2 teaspoon of roasted coriander seeds
– ½ tsp of nutmeg
– Sprinkle of pumpkin or sunflower seeds
– Seasalt
Method
1. Heat oven to 180c
2. Peel and grate the pumpkin and apple
3. In a mixing bowl, electronic or by hand, either works, add together the flour, soda, baking powder, nutmeg, coriander seeds.
4. Slowly whisking, add the eggs in one at a time.
5. Add the oil slowly. The mix should be nice and thick.
6. Add in the grated fruit and veg. This combination should thin the mix.
7. In a greased bread tin (I use sunflower spray) add in the full mix, should fit perfectly. Bake for around 25 minutes. Spike the center with a knife to check if it is cooked right through.
---
4. Pumpkin Tapenade
This is a delicious dip that will take you no time. Making a dip like this is great to use for lunch using it in pitas, wraps or with salads etc. I created a savage sweet potato hummus/tapenade a while back here on This is Galway. You should follow it replacing the sweet potato with 300g of pumpkin, roasting the pumpkin the same as you would the sweet potato. Check out the recipe here.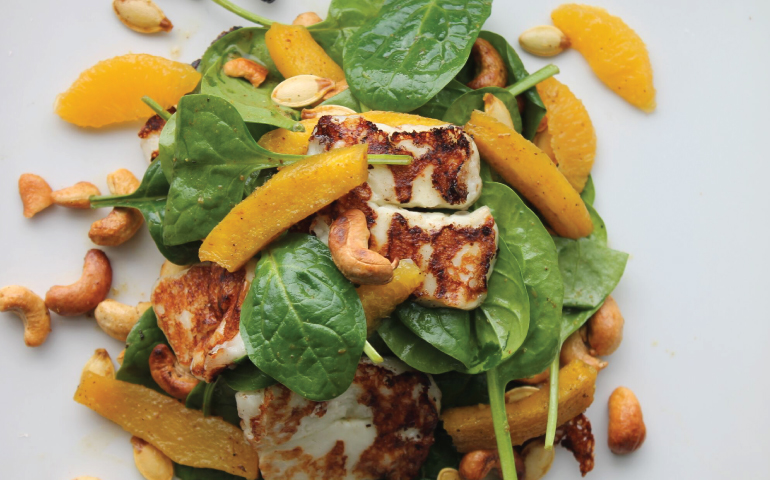 5. Pumpkin, Halloumi and Cashew Nut Salad
I love halloumi, especially grilled and warm, so good. This is a quick enough salad with plenty of healthy ingredients using orange and lime juice as a dressing. Roasted pumpkin makes a perfect salad companion; fleshy, healthy with a unique flavour, basically adds bite to a salad. I used cashew nuts because they are actually cheap at the moment and roasted, they are divine. Try this.
Ingredients
– Handful of spinach leaves
– 5 thick cut slices of halloumi
– 1 small chuck of pumpkin
– 50g cashew nuts
– Toasted left over pumpkin seeds
– 1 orange, segmented and juices
– ½ a lime
Method
1. With the piece of pumpkin, peel it, cut it into thick sticks, toss them in a little oil and cumin, salt and pepper and roast in an oven at 180c until soft.
2. Roast the cashew nuts for 5 minutes.
3. In a pan or on a griddle, fry the halloumi both sides adding a light crisp brown to the skin.
4. In a bowl, add all ingredients, squeeze the lime and orange (eat the orange left over flesh-no waste) and serve. That's it and damn tasty.
Adding in toasted halloumi with all these ingredients is going to make your mouth water trust me.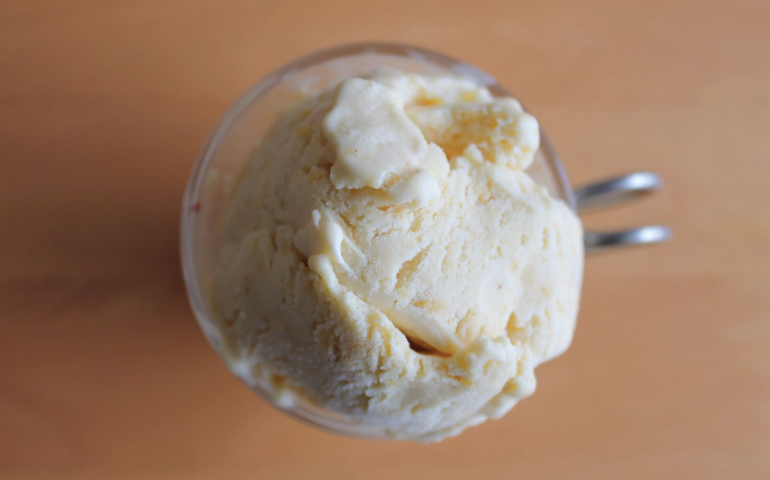 6. Pumpkin and Nutmeg Ice-cream
Yes, we will also make some very easy, no churn, no machine, no cook ice-cream. This is a very good recipe you can use and make any flavour you want. It freezes very well and is easy to scoop. Go for it
Ingredients
– 1 can of Condensed Milk. Around 250ml
– 250ml fresh cream for whipping.
– 300g or roasted pumpkin
– 2 teaspoons of nutmeg
– Flavouring. You can add anything to this mix.
Method
1. Whisk the condensed milk well in a bowl.
2. Whip the cream to stiff peaks.
3. Roast the pumpkin then blend until smooth. Cool.
4. Along with your flavouring, in this case the nutmeg and pumpkin, fold everything together in the bowl with a spatula. Place in a container, cover and pop in the freezer for around 12 hours. Simple and mouth watering and made with your hands.
---
So there you go. These are just some of the things you can do with a pumpkin. So much unnecessary food waste happens this time of the year and this should not be the case. Plus, with money tight for some, now is a good time to buy up this type of ingredient and stretch it to get some value from it. Go find some of the millions of recipes online and experiment. Most of all, enjoy, and happy Halloween.
And don't forget, if you manage to make it look pretty, take a snap and share it on the This is Galway Instagram or Facebook page.
About the Chef
You wouldn't know by looking at him, but Stephen Byrne likes to eat, a lot. He has cheffed worldwide; Canada, Australia, San Francisco, Dublin and now resides in Galway. Not afraid of the unhealthy appetite, he has a keen interest in simple whole foods, a love for Asian flavours and an awful sweet tooth. With years of experience, he will create weekly recipes of meals he devours regularly, and hopefully inspire people to cook at home and embark on a healthier lifestyle.
He writes on his site: http://therantingbeast.com/