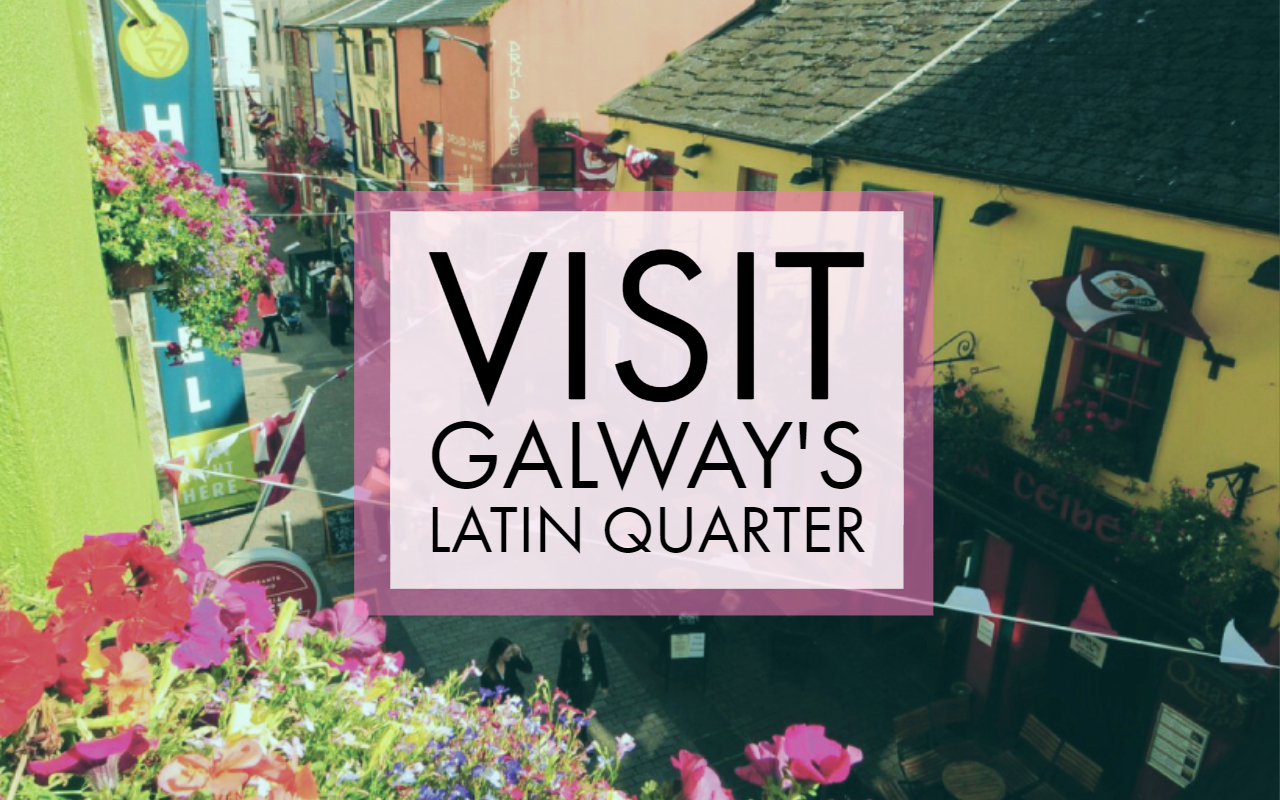 6 reasons to visit Galway's Latin Quarter this year
Street-side buskers, flavours from around the world, wild nights out, colourful shopfronts and an electric atmosphere… It has to be Galway's Latin Quarter. Here are six reasons you need to get here before the year is out!
A city's worth of restaurants within a five-minute stroll
The Latin Quarter is home to nearly fifty eateries, ranging from Asian-style tapas restaurants to cosy cafés and family restaurants. Whatever you're in the mood for, you'll find it in the Latin Quarter.
If travelling has you in need of something stronger than a pot of Barry's, head to Coffeewerk and Press. This award-winning coffee-shop and design hub is formed around minimalistic Scandinavian design. They serve a rota of imported and Irish coffee roasts, always prepared to perfection. Sit upstairs, browse the beautiful curation of art and home elements for sale, enjoy your cuppa and enjoy the views of Quay Street below while the caffeine does its work.
Americans looking for a taste of home will be very happy to find The BurgerStory, which serves up burgers, chicken, fries and milkshakes with high-quality flair. There's limited seating inside, but if it's a fine day you can take your feast a few steps across the street and enjoy right outside the Spanish Arch.
For family meals, date night, or pretty much any other occasion, Fat Freddy's is a warm and welcoming spot and a local favourite for over thirty years. Their menu has something for everyone, including pizza, burgers, pasta, and salads. The food is always great, and it offers a very comfortable environment whether you're taking a lunch break or wrapping up the day with a hearty dinner.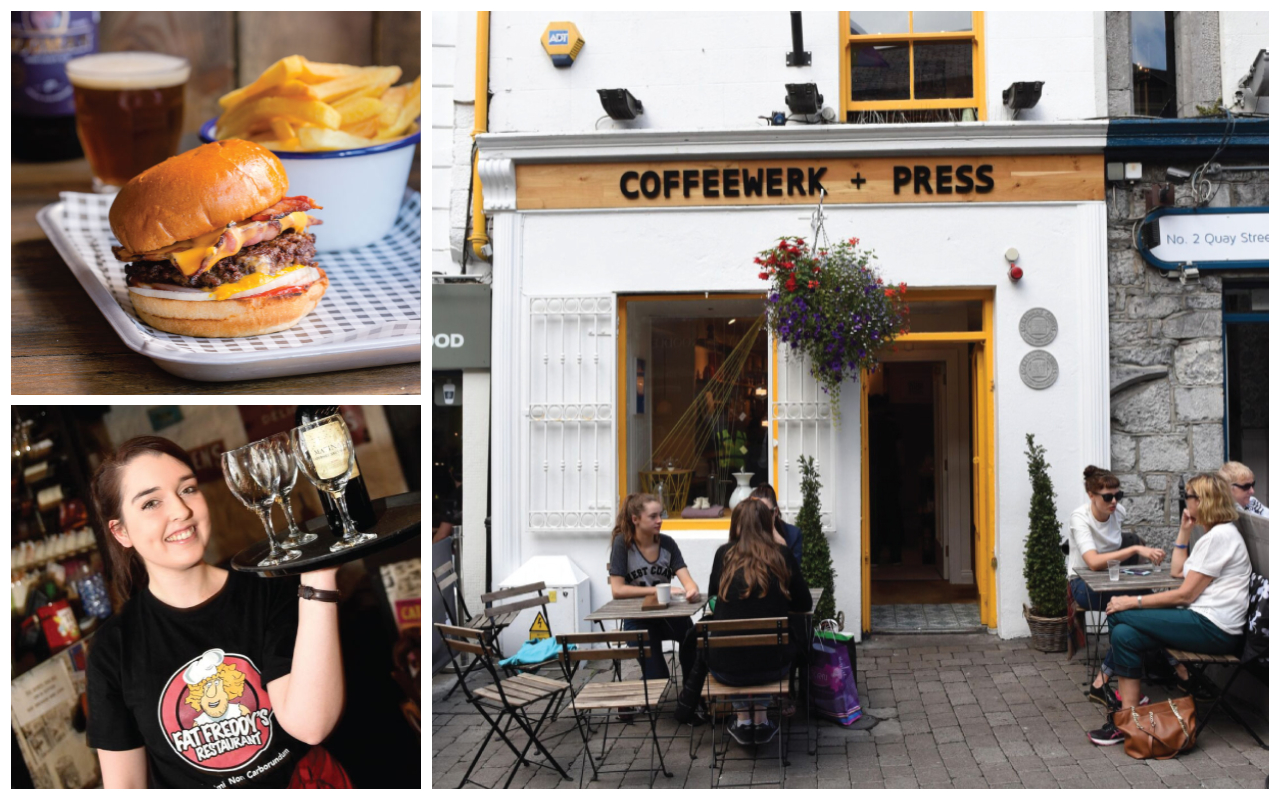 More than just your average hotels
Choosing a hotel can really make or break a visit to Galway. Luckily, the Latin Quarter makes it easy with accommodation to suit every budget.
Staying at The House Hotel is really more an experience than just a place to rest your head. It's fabulous inside, perfect for a girl's-night getaway or a celebratory weekend in town. Their new kitchen & bar, The Yard, serves some of the nicest cocktails around in a space inspired by the boutique hotels of Paris.
For a budget weekend in Galway, Barnacles puts you at the centre of it all. This fun, welcoming hostel has four to twelve-bed dorms and private apartments to fit any budget. Double-glazed windows quiet the hustle and bustle of the city, so when you finally call it a day, you can get a good night's sleep!
The Residence Hotel offers contemporary rooms kitted out with all the necessities: a smart TV, Netflix and gorgeous ensuite bathrooms to make you feel right at home, or comfier. And the location couldn't be more convenient. It's right on Quay Street in the centre of all the best bars and restaurants, which means you won't miss a moment of the action!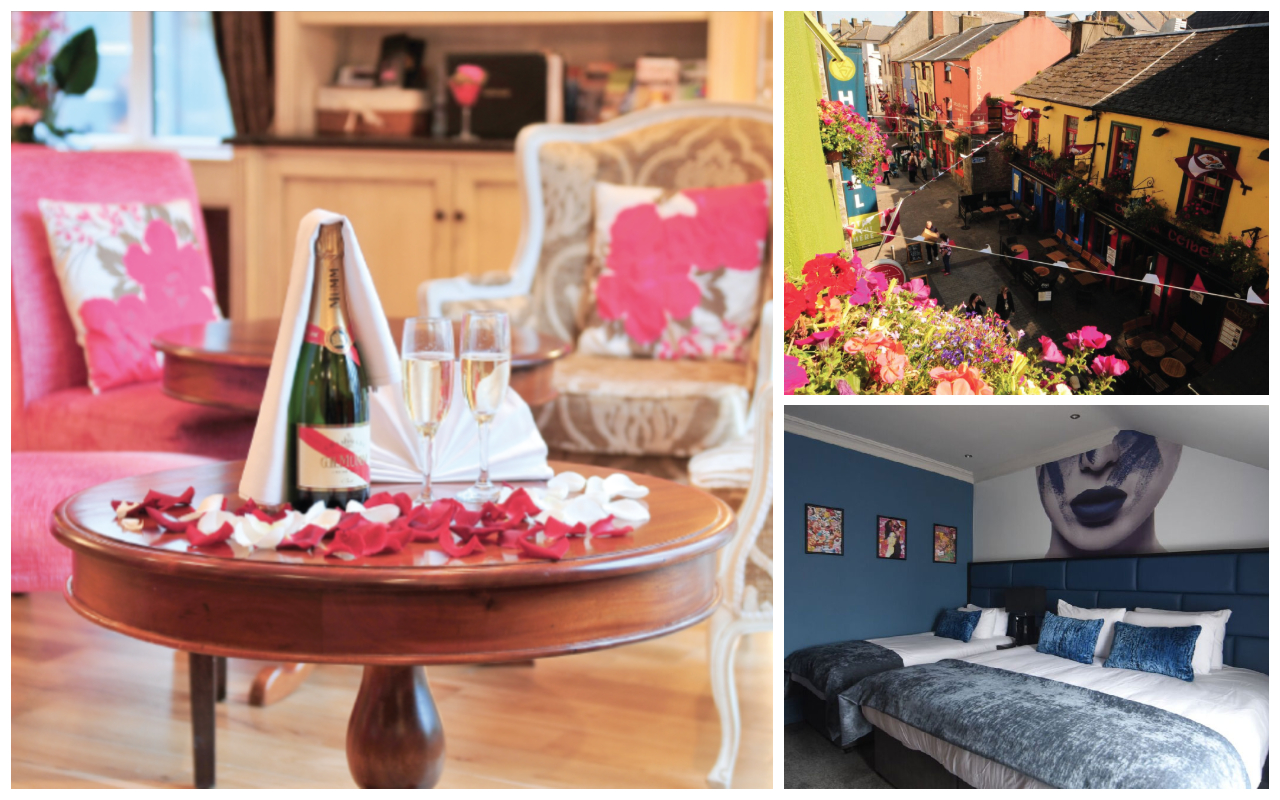 History and culture come together in Galway's medieval streets 
As part of the original medieval city, the Latin Quarter is steeped in centuries of history. It's also a buzzing centre for the arts, from film to theatre. 
Galway's first arthouse cinema, Pálás, recently opened its doors in Galway's Latin Quarter. It's worth the trip for the architecture and design alone. You can enjoy a light meal and a glass of wine or beer in the little restaurant before the show, and they always have something different and exciting on. Their double-features and themed seasons of film bring something new to the cinema experience!
Get acquainted with Galway's long history at the Galway City Museum. From locally-curated exhibitions to information about Galway's seas, the museum offers an insight into life in Galway through the centuries.
To really dive into Galway's cultural scene, check out a show at the Mick Lally Theatre. Once a tea storeroom, it's now a lovely contemporary theatre which regularly hosts live music, comedy nights, and of course theatre. You'll often find the Druid Theatre Company's award-winning productions on stage here, but you'll want to book well in advance!
Today, the Spanish Arch is a sight-seeing destination for tourists, and a popular place for a food and a few cans for the locals and blow-ins. It was originally built in the 16th century as an extension of the city's medieval walls, to protect merchant ships from looting. There's no real link between the Spanish and the walls — in fact, its original name was Ceann an Bhalla, or Head of the Wall. Check it out, and then enjoy a picnic lunch by the River Corrib.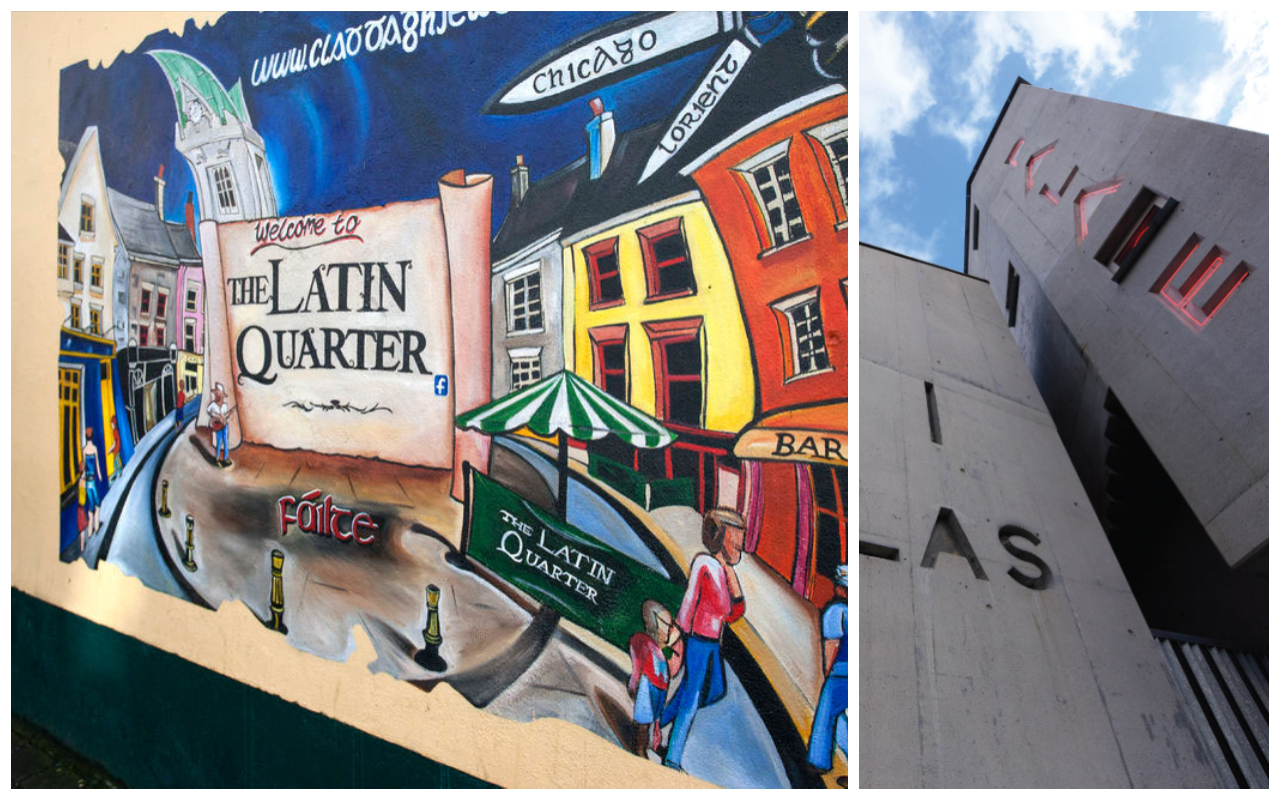 Trad pubs beside elegant cocktail bars 
Whatever your speed and your drink choice, whether you're looking for a perfectly-poured Guinness or a fabulous cocktail bar, you'll find it in Galway's Latin Quarter. 
Tigh Choili is a family-run business with a serious love for a good auld trad session. They have live music twice a day, mostly from local musicians. On a fine day, you can sit out and enjoy a pint in their outdoor area and watch the world go by.
If you're looking to watch the match, The Dáil Bar has to be the go-to sports pub in town. They serve up a mean pub-grub menu and have TV's all over the place. If you're looking for something a little more refined, head upstairs to the Liquor Lounge for cocktails in their urban garden!
Taaffes is another great option for that traditional Irish pub feeling. Taaffe's is decked out with local pub memorabilia and even has a wood fire for maximum cosiness. They have trad sessions and music most nights, and serve a lovely menu of soup and sandwiches along with your Guinness!
Freeney's is full of old-school charm, and boasts a serious whiskey collection. They've got shelves and shelves of the stuff, best enjoyed either tucked into a snug on a wet day, or out on their patio, which is the perfect place to people-watch. The front of the pub is a bait-and-tackle shop, which lends it an eclectic, old world feeling.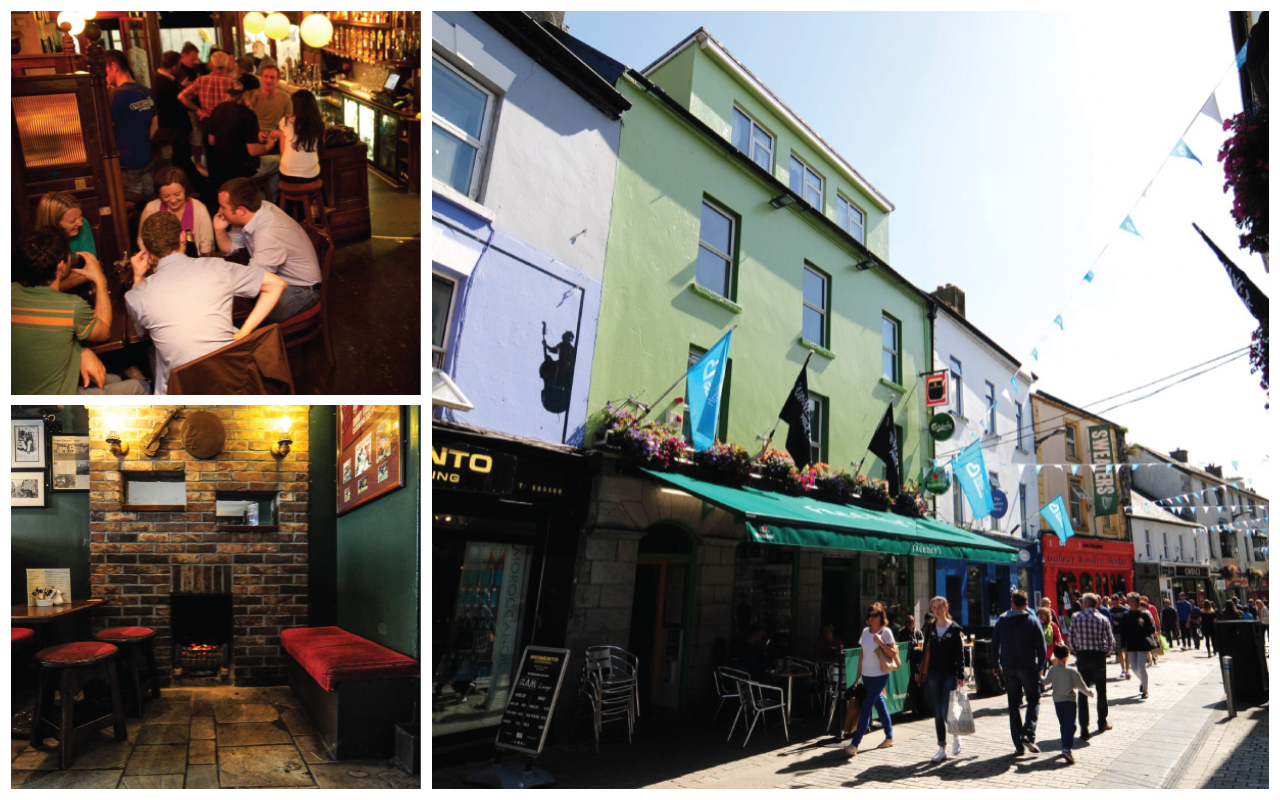 Plenty of dance floors and live music 
It's no secret that the Latin Quarter is one of the best places for a great night out in Galway. You'll find live bands, DJs, and dance floors at every corner if you know where to go! 
The King's Head has a massive bandstand on the first floor with a big dance floor and more room upstairs for listening and enjoying your drink. They do great cocktails and have plenty of high stools and booths if you need a break from all the tunes.
The Quays Bar is another popular spot for dancing and mingling, and it's worth a visit just to check out the space. It's spread across two floors, and decorated with stained glass and Gothic archways, imported from a French church. There's a bandstand on the mezzanine level which is always welcoming great live acts, and four bars in the main pub so you're never without a pint for long!
Great food, cocktails, a whiskey bar and a weekly rota of live acts makes Seven Bar a great place to spend an evening, from dinner til late. There's a big old dance floor right in front of the bandstand so you can get your groove on!
Right around the corner, Busker Brownes has a popular live jazz evening on Mondays, and live music and DJs throughout the week. Their restaurant, Kirby's, is always a great choice and then all you have to do is mosey on through to Busker's, which has a big dance floor and plenty of booths to collapse into when you've overdone it. Upstairs at the Hall is another popular space for dancing the night away.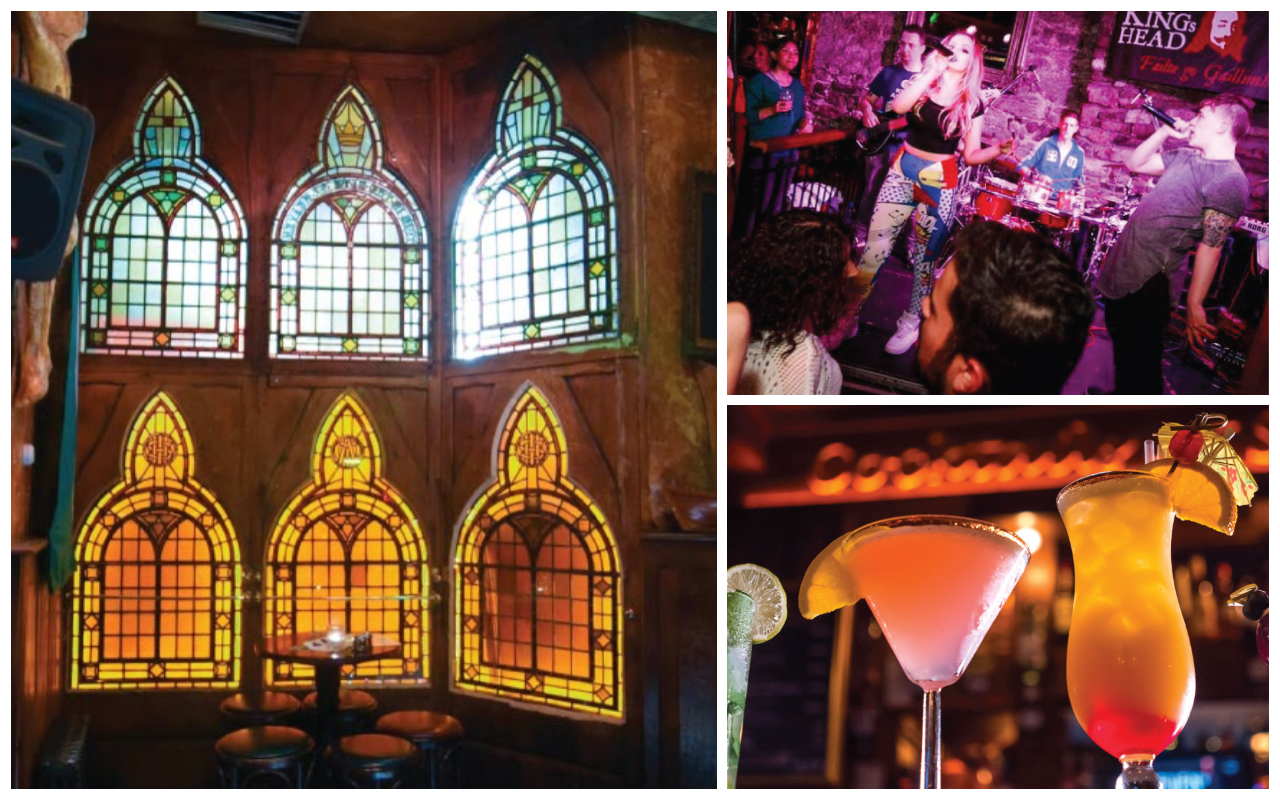 Independent shops with stuff you won't find anywhere else
From urban street-wear to occasion outfits sourced from some of London's best, you'll find it in Galway's Latin Quarter. There are no big chains, but we promise you won't miss them. Here are some must-visits! 
For something a little out of the ordinary, head to Galway Designers Studio House. Their rails are full of fashion and accessories made by local Galway designers. They have fab silk scarves, handmade bags, millinery, kids clothing and tons more, all made locally. How's that for shopping local?
Carousel have popular locations in Dublin and Cork, and we're very excited to welcome them to Galway. Everything in the shop is Irish-designed, with a distinctly vintage feel. Fun, whimsical patterns and figure-flattering lines will give your wardrobe a little pop!
If you're visiting Galway, you can't leave without getting a ring on your finger! A Claddagh ring, that is. Thomas Dillons are the original Claddah jewellers, and they make their rings on Quay Street. It's part shop, part museum, part workshop and well worth a browse around while you find the perfect match!