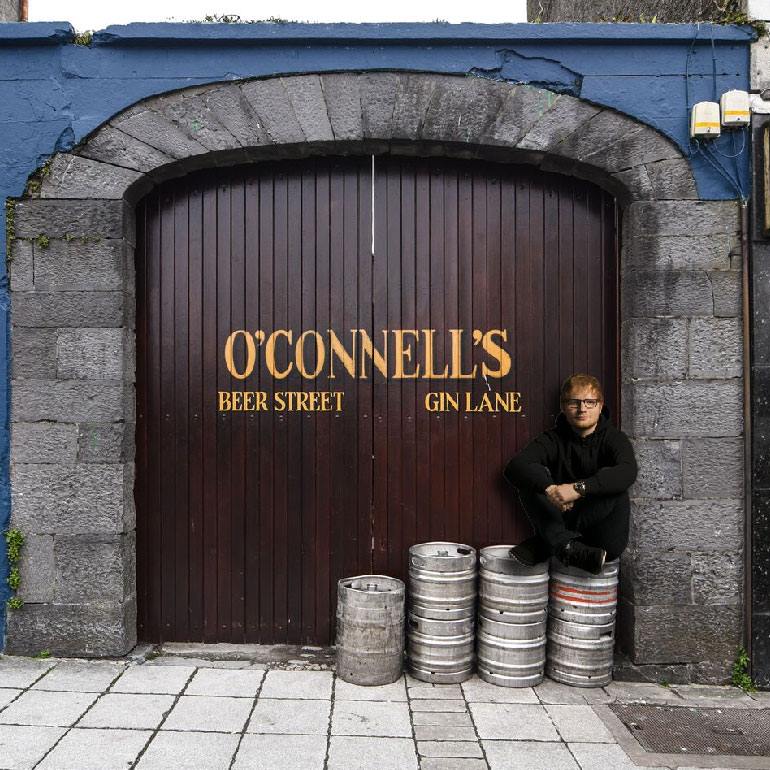 5 things we (might) know about Ed Sheeran's Galway appearance
Tuesday night, Ed Sheeran rocked up to Galway without warning, leaving us all in tears. What was he doing here? Well, we've done some sleuthing.
Also, disclaimer: you might not have noticed because of our sick editing skills but yes, the feature image is edited. Because Ed Sheeran would likely have been dismembered by an adoring crowd, had he sat down like that on some kegs outside O'Connell's!
---
1. Most of the action happened in O'Connell's Bar in Eyre Square
Straight from our detective notebook: "Tuesday afternoon, 1pm. Rumours fly that Ed Sheeran is in O'Connor's, Salthill. Many teenagers wait outside O'Connors all afternoon. We try to get #SheeranWatch to trend. It doesn't happen."
What else happened there?? Pints were had, a few scenes were shot… But the real party started across town that evening in O'Connells. Crowds amassed outside in Eyre Square around 8pm and we've got inside info that most of the craic was had there. Here's a taste of the madness:
---
2. He was probably filming the Galway Girl music video
You probably figured this out on your own. Light and camera crews, tight security, bars and streets closed off to the general public… We can practically see it already. My pretty little Galway Girl…

---
3. We have a strong suspicion that a certain Oscar-nominated Irish actress was there
She's beautiful, and would have turned 23 at midnight on Tuesday (was it a birthday party?). She might not be from Galway but she'd make a stunning Galway Girl… You see what we're getting at here? Check out this video and in the first couple seconds, you can see a slight, blonde-headed dipping into the bar… Joined by Ed himself.

---
4. Tommy Tiernan was in town… Just saying
We saw this on his Facebook page. Tommy Tiernan in an Ed Sheeran music video would be absolutely class.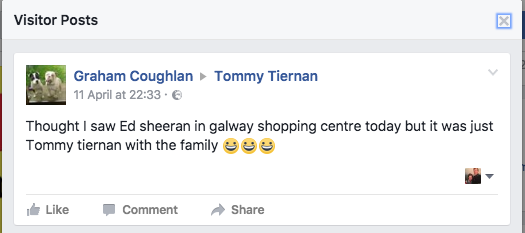 ---
5. Other suspects seen in the vicinity include….
Fran and Elmo from Love/Hate. And two of the sexiest biceps on the Connacht Rugby team… (It's Ronan Loughney and Kieran Marmion, in case you had a differing opinion. And we won't hear any arguments about it.) Also figure in there somewhere the possibility of Hector Ó hEochagáin.

This is going to be one hell of a music video. And safe to say the night was absolute craic. We can't wait to see the video and say we were there, practically — well, I mean, we were outside, so…