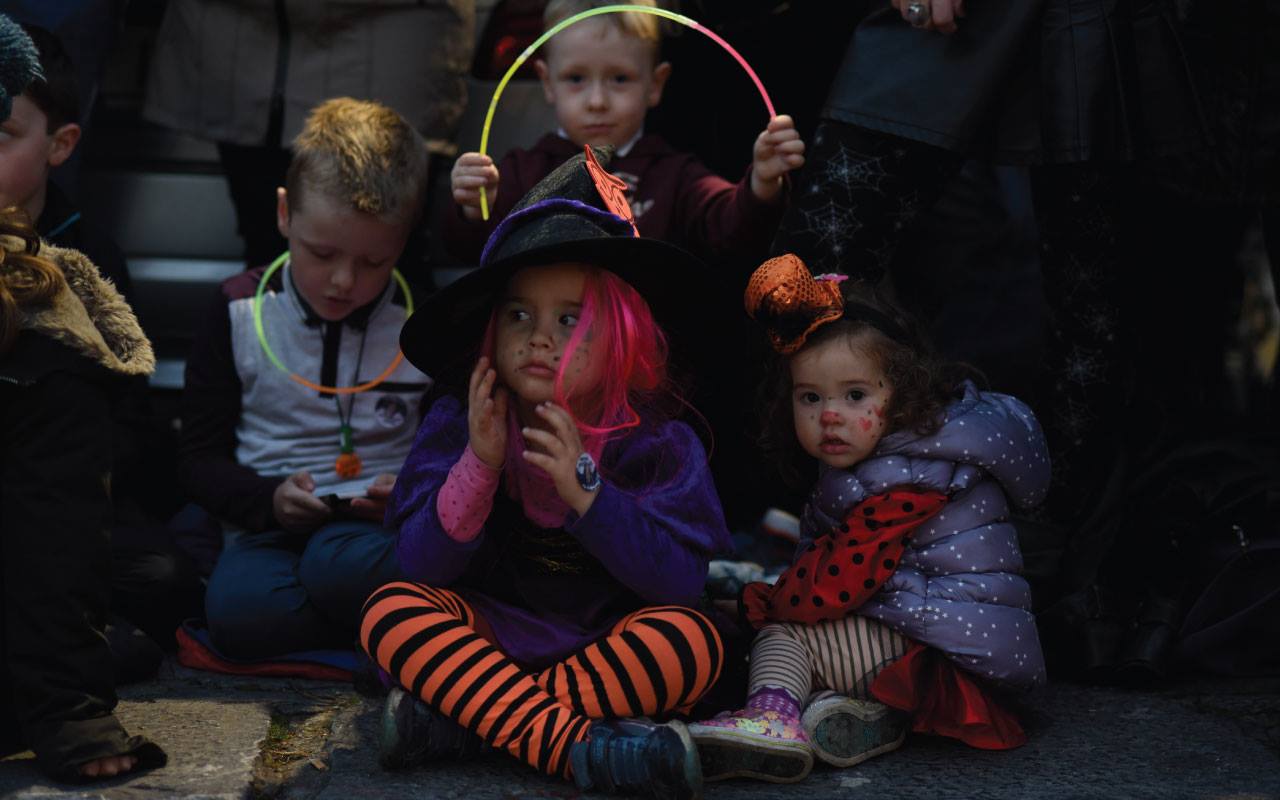 11 spooky Halloween activities in Galway
From frightening to family-friendly, there's plenty spooktacular events happening in Galway to help you celebrate Halloween this year! Check them out.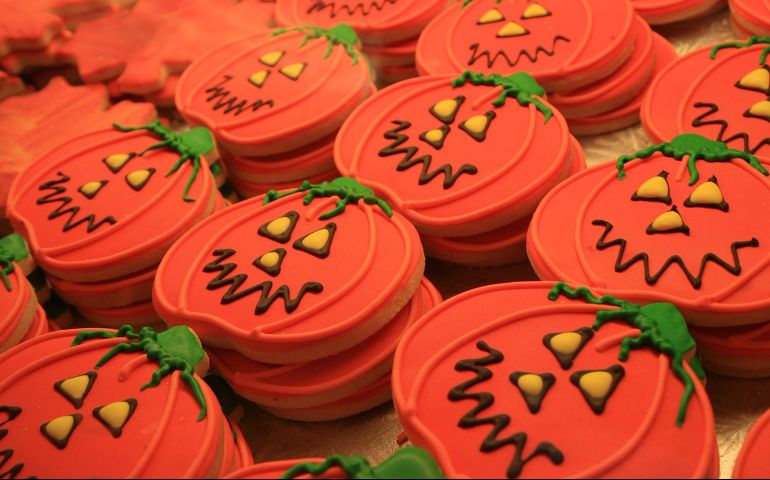 1. Spooky Wooky Halloween at the Burren Nature Sanctuary
Walk across crisp autumn leaves and breathe the crisp autumn air when you arrive at the Burren Nature Sanctuary! Their barn has become haunted for the season, with plenty of spooky characters, face-painting and storytelling. This time of year is perfect for a stroll through nature too — and tickets to Spooky Wooky get you a day pass to the Sanctuary.
October 21 & 22 // October 28 – 31 (bank holiday) // more info here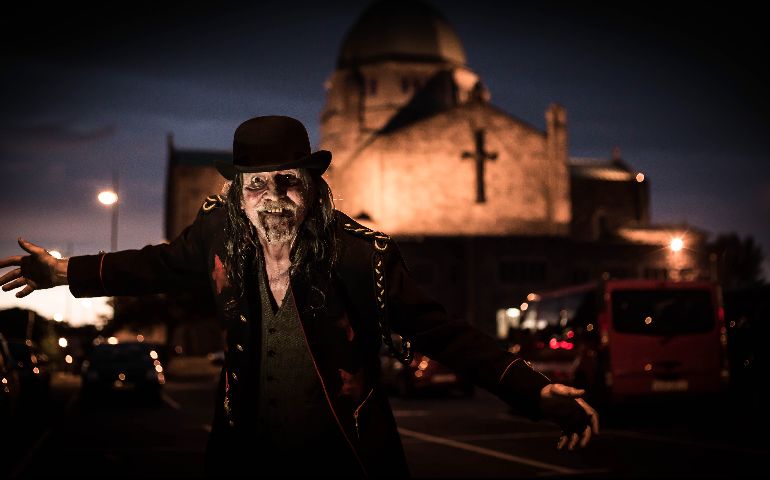 2. Carnevil: walk-through scare attraction
Are you feeling brave? Are you feeling nervous? Now in its third year, Carnevil is a haunted house of horrors and they invite you inside to explore and be scared! "Chicken doors" throughout give you the option to run for your life. This is a chilling experience that will put fear in your bones and keep you awake at night… Over 15's before 9pm, and only over 18's after 9pm.
October 11 to 31 // more info here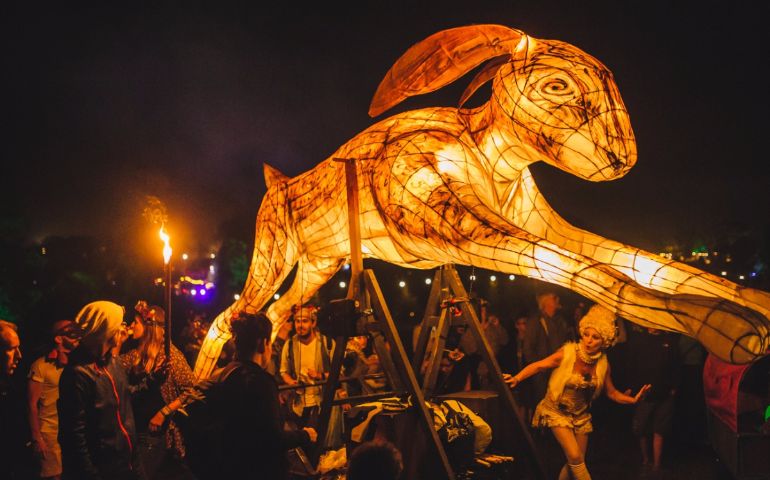 3. Macnas Parade in Galway City
The pinnacle of Halloween celebrations in Galway has to be the Macnas Parade. Last year, Michael D Higgins even turned up. This year, they'll premiere stunning new work to add to the collection of spectacular ghouls and spooks parading down the streets of Galway. It's a night of magic and mischief, so take your place early, bring the family and definitely don't miss out.
Sunday, October 29 // more info here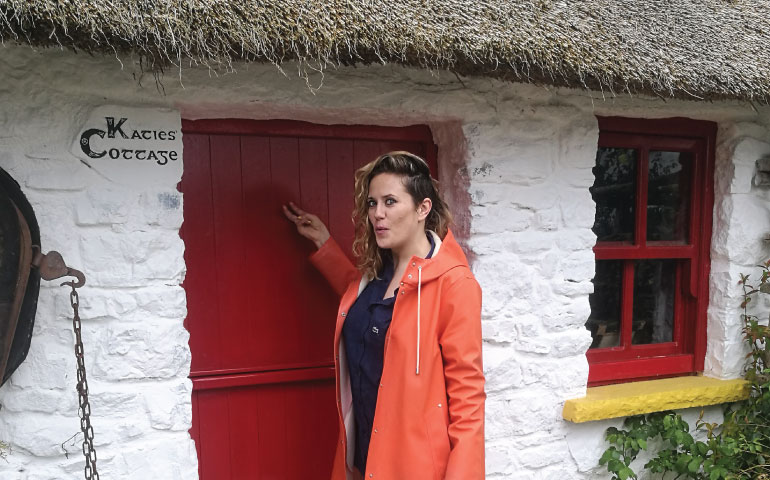 4. Go on a Mystery Food Tour of Galway
For the season, Sheena Dignam's Mystery Food Tour will be a feast of wine and cheese, Poitin and storytellign around an open fire, signature drinks, desserts, board games and spooky stories as the tour hits four mystery venues, all in walking distance of the City.
26 October to 2 November // more info here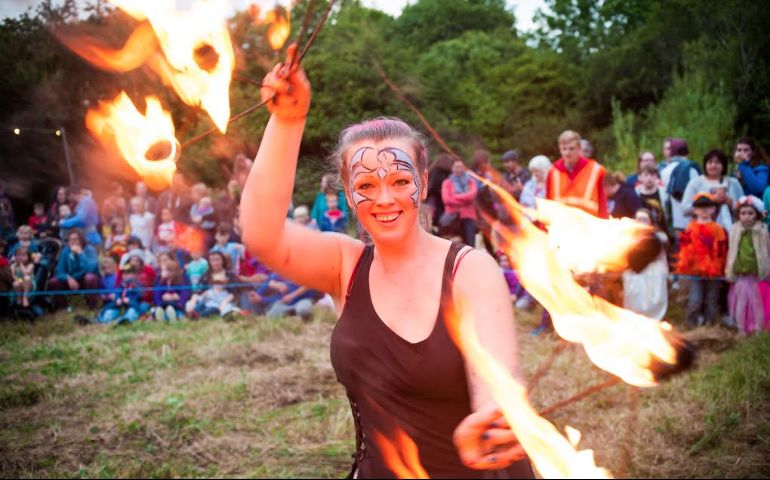 5. Halloween bonfire and family fun at Brigit's Garden
A full day of activities awaits families at Brigit's Garden for their Halloween celebrations. Face-painting, mask-making, treasure hunts, spooky tales with Rob Fulton, a parade and a bonfire are all happening on the day, with a BBQ to finish out a spooktacular experience.
Sunday, October 29 // more info here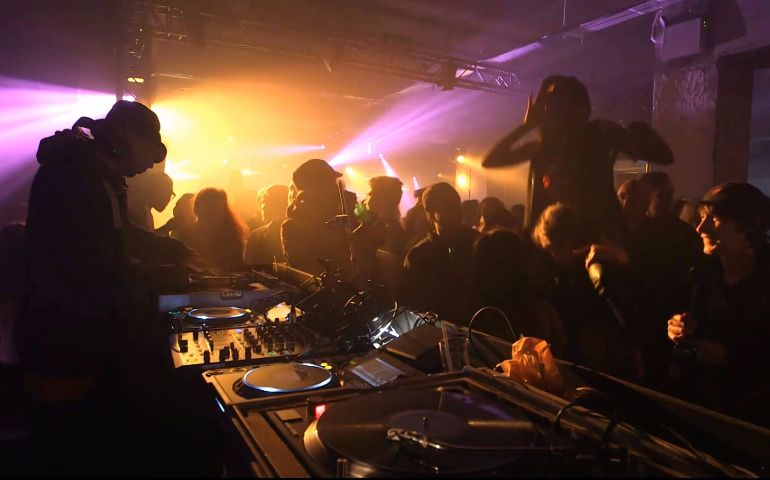 6. Shivers Halloween Party at Electric Garden
Here's one for the adults. Floors of dance music, early opening and fancy dress makes this one of Electric's biggest parties to date — and it's spooky for the season! Who's coming?
Friday, October 27 // more info here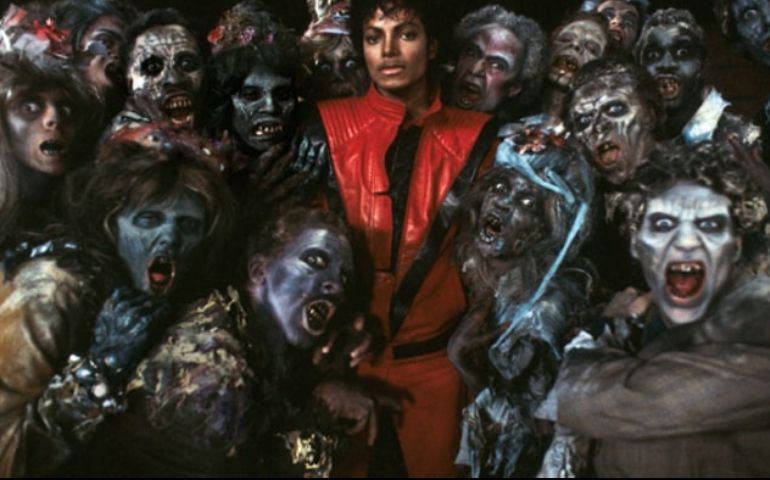 7. Zombie Ball at Galway Glamping
The evenign will start with a zombie survival course, and end with a big bash in the spooky Old Coach House, with live entertainment, a best-dressed competition and a big dance floor! The night will finish off with a night in warm and cosy accommodation. Let's all get sheet faced!
Saturday, October 28 // more info here
8. The Village Salthill Zombie Chase
Over Halloween weekend, a herd of terrifying zombies will be chasing folks through Salthill! All humans that make it to the Safety Zone in Salthill Park with tags intact will be entered into the monster raffle and in with a chance of winning a prize and all little humans taking part will be rewarded with a finishers goodie-bag after the chase.
Saturday, October 28 // more info here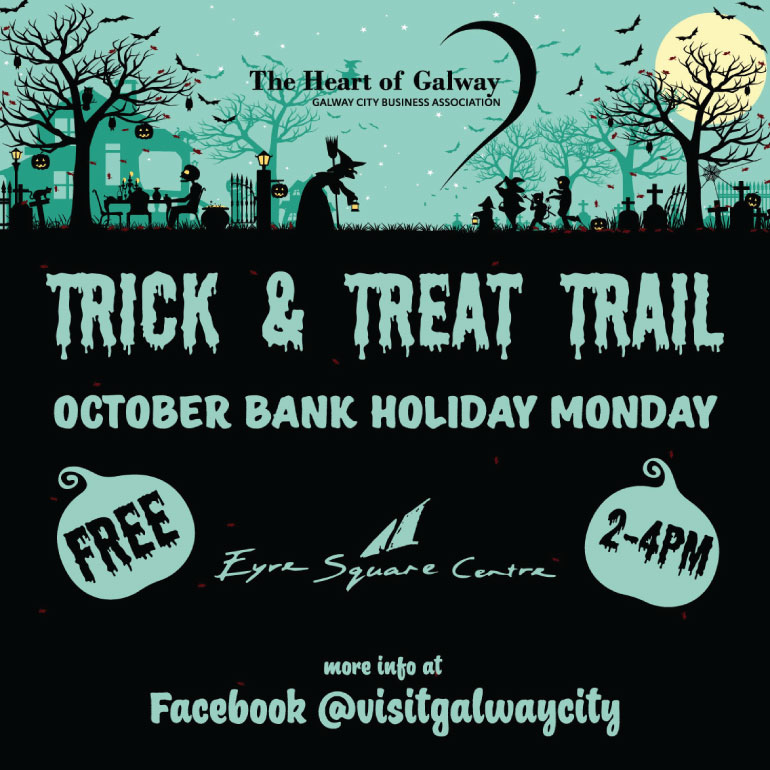 9. Trick And Treat Trail through Galway
This unique — and free! — Halloween experience will have kids exploring the City with their families, unearthing spooky surprises and ghoulish goodies as they go! They'll get their trick-or-treat bag, and map of the trail, and who knows what you'll encounter along the way!
Monday, October 30 // more info here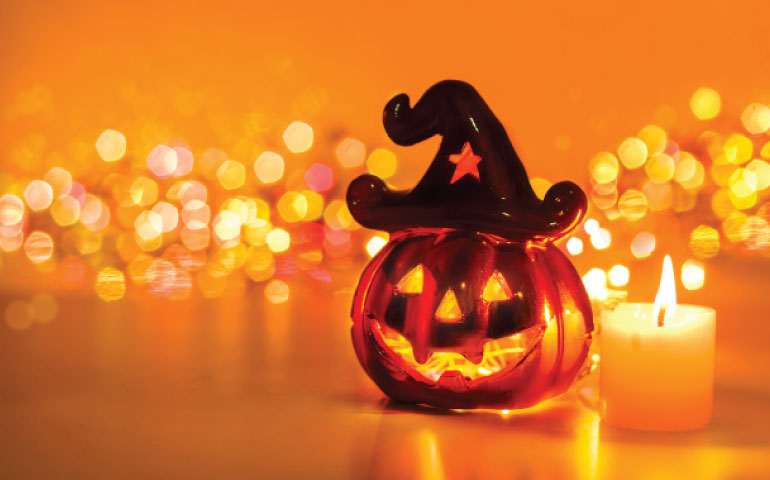 10. Night at the Aquarium
Galway Atlantaquaria is hosting a family friendly Halloween themed event for kids aged 6 to 10. Activities include a fun 'Haunted treasure hunt' through the aquarium, a special 'slimy' slime workshop and arts 'n crafts!
Wednesday, 1 November // more info here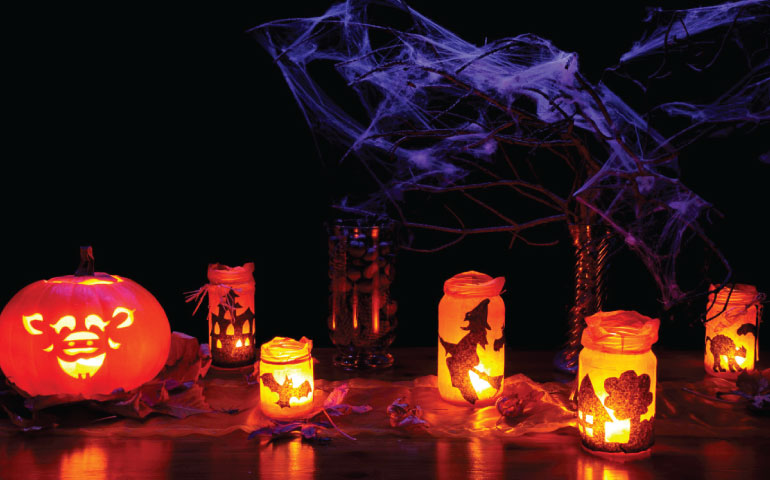 11. Halloween Ball 2017
Come along to our Halloween Fancy Dress Ball on Sunday 29th October at the Galway Rowing Club, Woodquay, 8pm-1am Tickets available on the door on the night €10/8 students. Lots of best fancy dress costume prizes, a Halloween movie corner, DJ and live music!

Sunday, October 29 // more info here