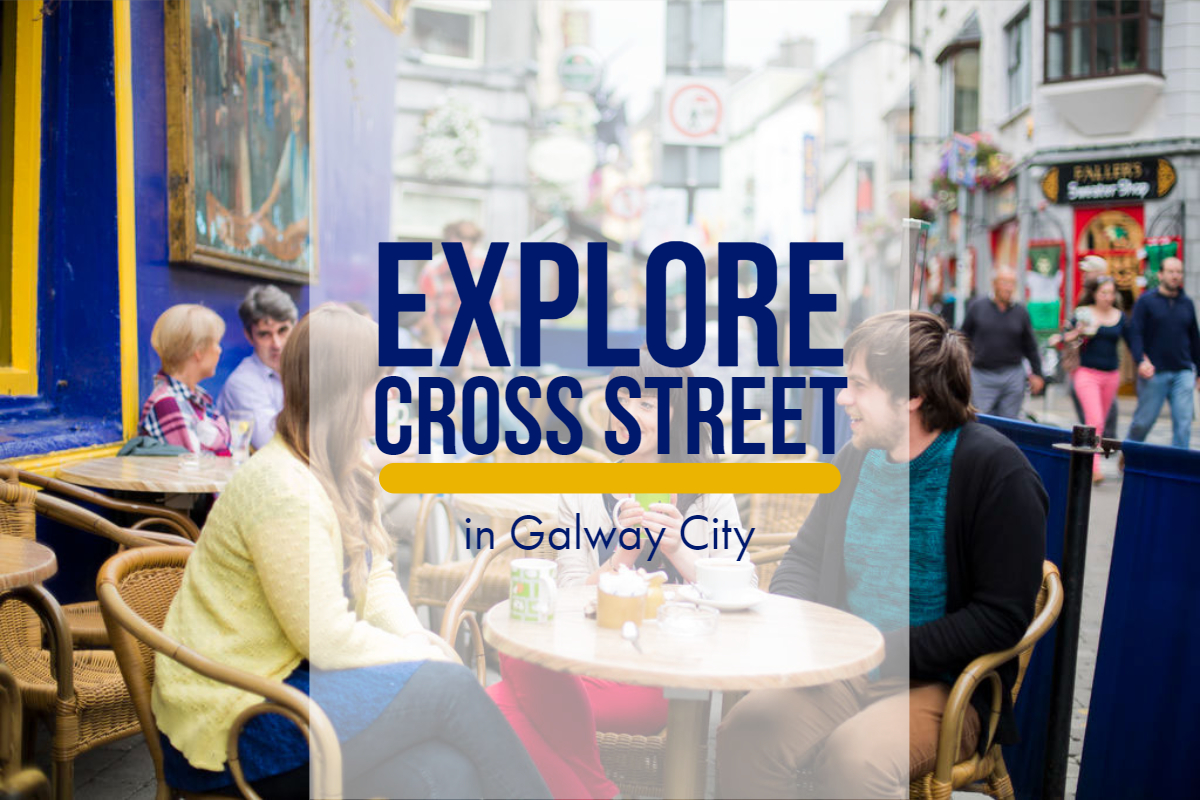 11 places to check out on Cross Street in Galway
Cross Street doesn't have the same fame as Shop Street, but it's got all the charm and then some. It bisects Quay Street and is bumping with new shops and restaurants, and stalwart with some of Galway's old favourites.
You're going to look at this list and wonder how one street can hold so much goodness. That's why you 100% won't want to miss it.
DC Store
This is the only place in Galway you'll find the popular street brand DC. They stock cool urban ladies' and men's clothing and shoes, as well as skateboarding hardware. They've been in Galway for many years, and more than a few Galway lads have gotten their start in skateboarding and work experience at DC! Get more here.
Carousel
Brand-new to Galway is this Irish-owned, vintage inspired independent store, with locations also in Dublin and Cork. Their dresses, blouses and skirts feature gorgeous patterns and flattering, vintage-style cuts for a stand-out look. Shop them online here! 
Nine Crows
This little shop is full of all the best of reworked and vintage clothing! You'll find Adidas straight out of the 90s, high-waited jeans with that comfy worn-in feeling you can only get from secondhand clothes, and tons of festival wear. Get more here.
Lady Galago
This new ladies' clothing boutique has limited stock of some seriously fabulous items, from bold jumpsuits to tea frocks and super-luxe jumpers. It's the perfect combination of elegant and trendy. Get more here!
Sinead Lee Hair Design
Because no outfit is complete without the perfect hairdo! This salon is full of brilliant stylists who can deliver on any look, whether it's a big change or regular maintenance to keep you looking fab. Get more here. 
Judy Greene Pottery
This beautiful shop of handmade pottery is the perfect place to peruse and pick up something special for your home. They have tea services, bud vases, decorative plates, planters and all kinds of pretty options for the home. They also stock other Irish designed goods, from jewellery to home decor. If you turn off Cross Street and follow the shopfront, you'll end up on Kirwan's Lane, a gorgeous medieval street off the beaten path, with cafés and restaurants.
Yes Flowers
One of Galway's best-loved storefronts, Yes Flowers adds a dose of charm and magic to Cross Street. It's overflowing with fresh-cut flowers, decorative branches, potted plants and usually a decorative critter or two. Yes Flowers are a boutique florist perfect for weddings, special occasion arrangements, or simply decorating your home.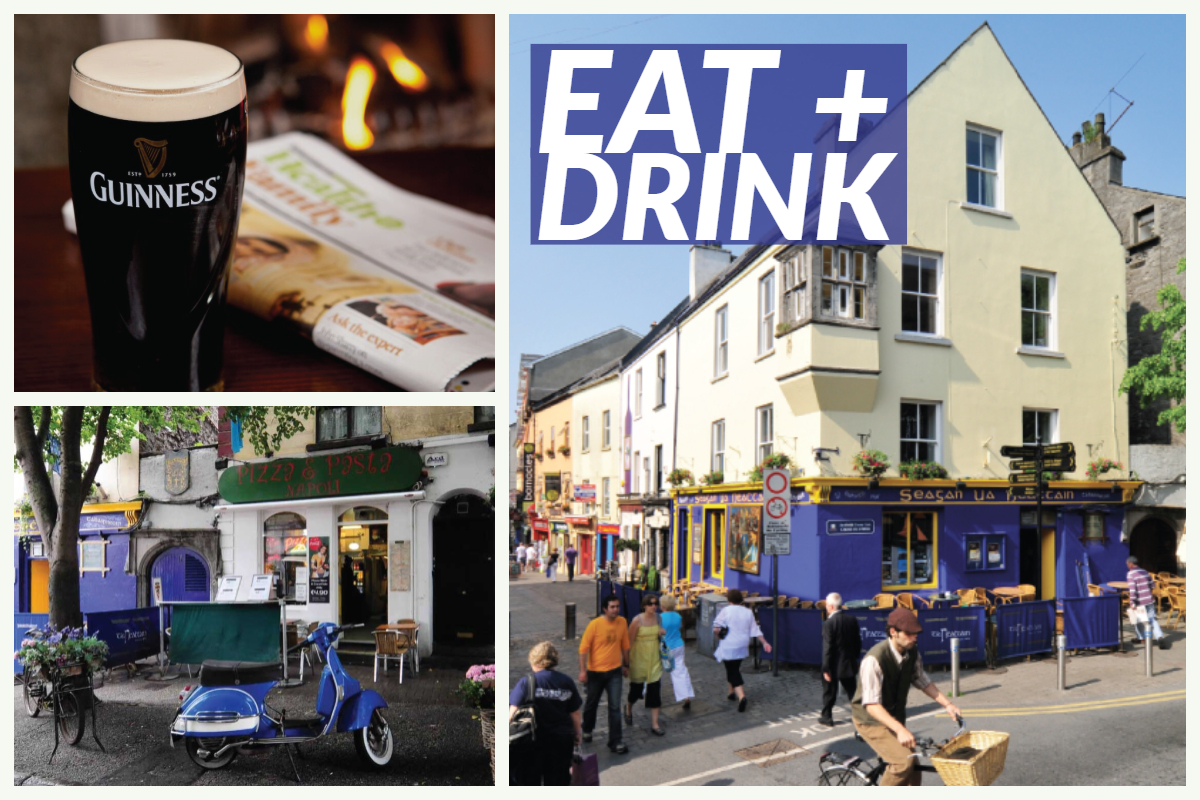 Pizza Napoli 

This is a great spot for getting fed on the move, or sitting down for a casual lunch while watching the world go by. Pizza Napoli serves up delicious pizza by enormous slices all day until late, making it one of the most popular stops for a post-sesh feed! It's also a great lunch spot for a heart serving of pasta and garlic bread, best enjoyed on their curbside patio. Get more here! 

Busker Browne's and Kirby's Restaurant

Whether it's an elegant dinner or all-night dancing with a cocktail in hand, Busker Browne's have you covered. They've got HD screens for the matches, live music most nights of the week with a big old dance floor, and their attached restaurant serves up some seriously amazing grub throughout the day. Get more here! 

The Pie Maker

They've recently expanded their restaurant to include the medieval corner building. (Is it actually medieval? It sure looks it.) They serve deliciously warming personal pies, from your classic Guinness beef stew to vegetarian options, loaded up with lots of sides and gravies. You can take it to go or sit down in the restaurant and enjoy! Affordable, great-tasting and hearty, perfect for those rainy days in Galway. We certainly have enough of them!

Tigh Neachtain

This is one of Galway's best-loved spots for people-watching, and has been a favourite of locals and blow-ins for decades. Their enormous patio wraps around both sides of the corner pub, with plenty of seating for everyone. Inside is full of nooks, crannies and private booths, perfect for a few pints and chats with friends. They even serve a bit of food, always delicious and warming. Get more here!

Front Door

If your "few quiet ones" turns into something a bit more, head to the Front Door. In the early evening it's a great spot for dinner and there's always a match on. By night, the Front Door is one of the most popular late-night spots for visitors and students. It's got a great, high-energy atmosphere, more than a couple bars, and a live DJ most nights! You can even call in the next morning for a boozy brunch — hair of the dog and all that. Get more here.

Tigh Nora

Galway's gone mad for gin and Tigh Nora is where all G&T loving folk go to worship at the juniper alter. Tigh Nora always have fun gin-spired events on, sometimes in honour of their namesake lady — Nora Barnacle, Galway woman and wife and muse of James Joyce. It's a fun, cosy place for a few drinks and it's connected to the Front Door, too!

The Dew Drop Inn

Ireland's smallest comedy club lives here, and it's a great place for a pint of Guinness, too! It's technically got a Mainguard Street address, but you can find it on the opposite corner of Cross Street from Tigh Neachtain's. It's cosy and comfortable, always with a bit of banter!